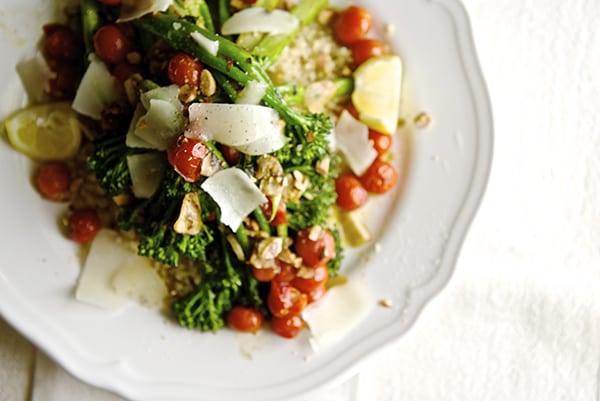 After the weekend taco indulgence, I'm craving Green! Green! Green!
Broccolini it is a Hybrid between Broccoli and Kai-Lan commonly known by the name of Chinese Broccoli. Broccolini inherited the best part of the broccoli, the little mini flowery tops and the long steams of the Kai-Lan.
The flavor profile is like eating broccoli and asparagus at the same time!. Sweet broccoli and crunchy yet delicate and full of tender green flavor. The best way to cook it is with absolutely no doubt sauteing. A high temperature quick saute turns it bright green, the heat cooks the tops and the steams stay a bit crunchy. What do I have on my produce basket tonight?… cherry tomatoes,lemons, and garlic. In the pantry I have some roasted almonds and quinoa. I ran out of Parmigiano but I had some Manchego cheese and it worked great, nutty and creamy with the quinoa. On the side green salad…I think this will make a great light and comforting dinner for tonight…a piece of fish or chicken on the side will go fantastic too…for us, sauteed broccoloni and lemon quinoa-vegetable night is enough…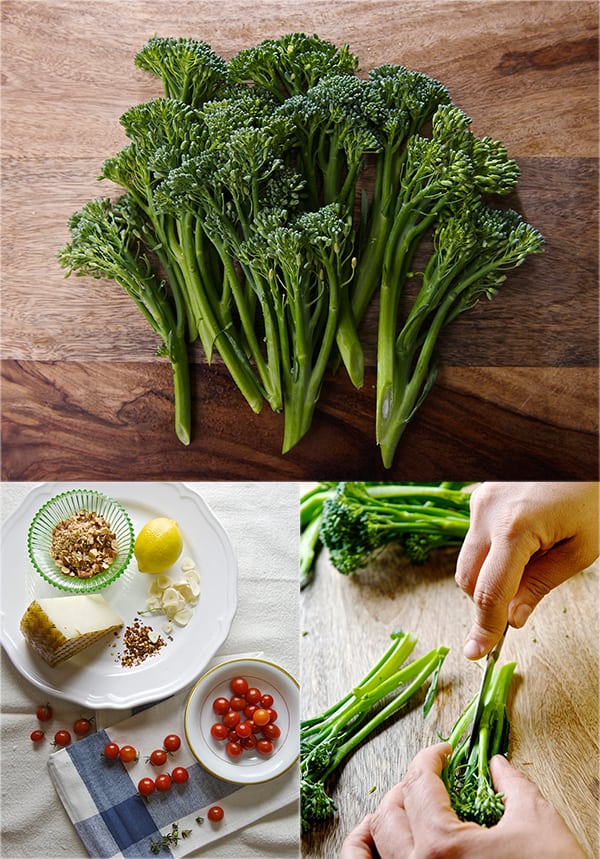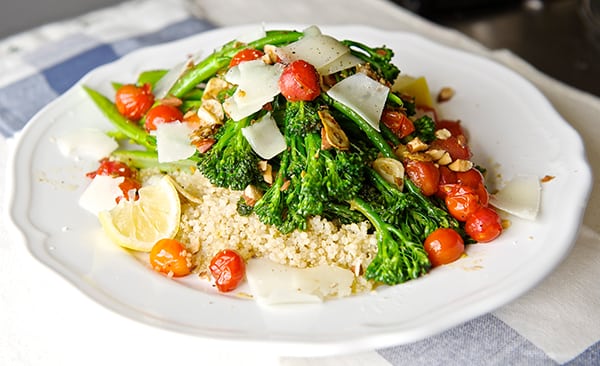 Sauteed Broccolini and Lemon Quinoa
Serves 2 for dinner or 4 as a side dish
1 Broccolini Bunch
1 cup of cherry tomatoes
4 tablespoons of extra virgin olive oil
1 tablespoon of butter (or soy butter if vegan)
3 cloves of garlic
The juice and the zest of one lemon.
Salt and Black pepper to taste
1 cup of Quinoa
1 garlic clove
The zest of one lemon
2 cups of water
salt
Garnish with:
Roasted Almonds chopped
Manchego or Parmesan cheese shavings or even crumbled Feta cheese will work too.*
Squeeze some lime juice right before serving.adjust salt and pepper.
*eliminate the cheese if you are Vegan.
Directions:
Quinoa cooks just like rice, is 2-1 ratio. In a medium size pot bring the water to boil add the garlic cut in half add the salt . Once water is boiling add the quinoa, lower the temperature to medium, and cook for about 18-22 minutes, at this point add the lemon zest and cover with a lid remove from stove and let it cook with the residual heat.
To avoid the blanching step, cut the broccolini stems in half-length wise (see photo above*). Heat up a large saute pan, add the extra virgin olive oil and add the broccolini. Toss and within 2 minutes, add the garlic, salt and pepper. Wait 1 minute, add the cherry tomatoes, lemon zest and squeeze some lemon juice. Keep moving the pan and toss the vegetables around. Once the tomatoes look like they are going to burst remove from fire add the tablespoon of butter, and toss. Fluff your quinoa with a fork, drizzle a little olive oil add salt and pepper to your taste. Promptly, on a large platter, serve the cooked quinoa topped with the sautéed broccolini and chopped roasted almonds, Manchego or Parmesan cheese shavings. Adjust with salt and pepper squeeze some lemon and drizzle a little more extra virgin olive oil to finish the dish.