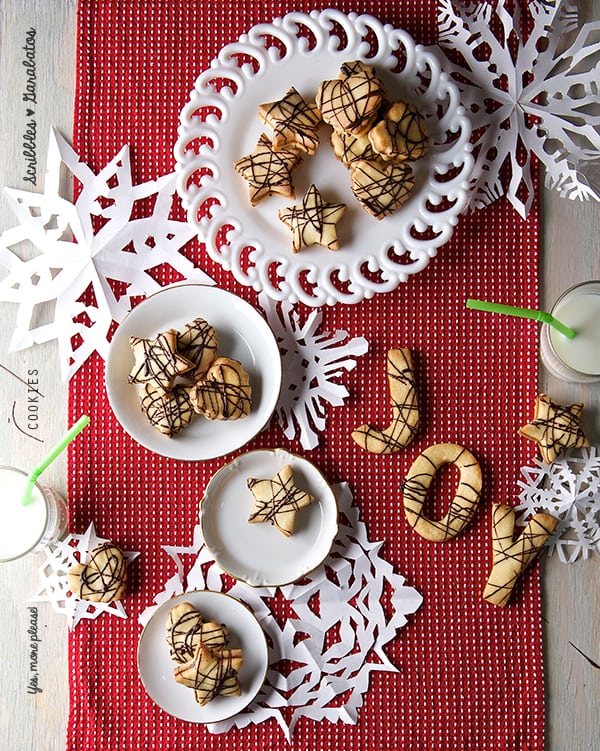 At less than 10 days until Christmas there are too many cookies and so little time! This year I decided to go with just ONE cookie, yes believe it or not just one… Ahem.. let me re phrase that…because there is no way I can eat just one of these buttery and nutty lil cookie sandwiches. I mean one type of cookie, and I chose my favorite ones Garabatos, which translates to: scribbles. The name of these Scribbles Garabatos Cookies comes from the freedom and delightful abandon in which the chocolate is drizzled all over these buttery cookies.  This cookies are very popular and loved in Mexico.
These crisp cookies with a soft crumb like a shortbread are filled with raspberry jam, chocolate ganache or hazelnut spread. A fine scribbling drizzle of dark chocolate, makes these little cookies not only delicious, and appealing, but equally easy to make. Dough is made in a flash in the food processor, chilled for 30 minutes, then rolled, cut, and baked 8-10 minutes. When you bake these cookies a butter cloud hugs you with love and Christmas feelings.
If you want to enjoy and make a simple and delicious effortless buttery cookie, start scribbling, this is the perfect last-minute letter to Santa! Ho, ho, ho!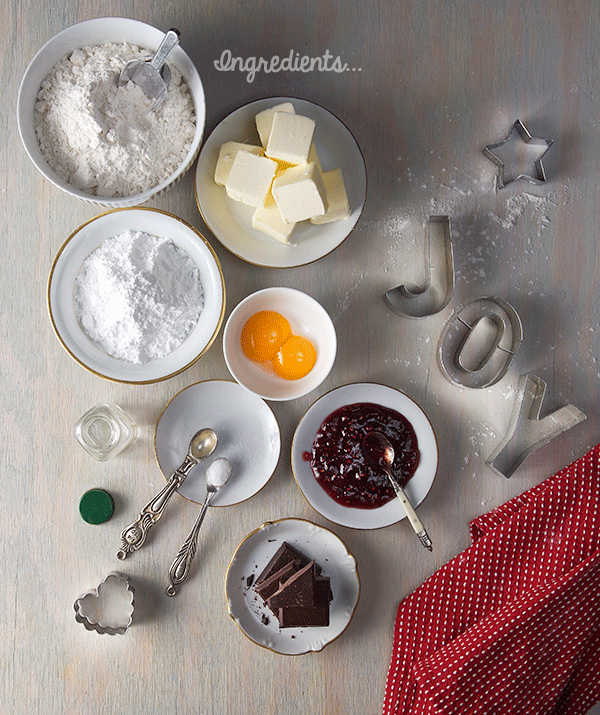 For the recipe you will need…
Scribbles Garabatos Cookies
Makes about 24-26 little 2" cookie sandwiches
2 -1/2 cup unbleached all-purpose flour
½ cup confectioners or powdered sugar
1 good pinch kosher salt
1 cup butter* Use the best unsalted butter you can buy because it will make the difference on flavor.
2 egg yolks room temperature (save whites for an omelette)
½ teaspoon almond extract
For the filling:
¼ cup raspberry jam
¼ cup hazelnut spread
For the drizzle:
6-8 oz. 71% Dark bittersweet chocolate, I used Valrhona
Le Noir Amer 71% or Le Noir Extra Amer 85% cacao
Note: Any chocolate of your preference will work, I love the dark rich bittersweet chocolate, it plays great with the delicate sweet butter cookie, making the cookie not overly sweet.
If you prefer other brand or no so intense chocolate adjust to your taste.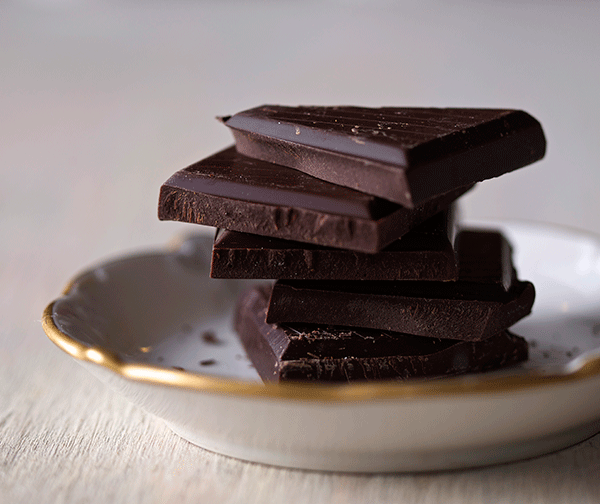 Preparation Method:
1. In a food processor add dry ingredients first then pulse to mix. Then add butter, egg yolks, almond extract and quick pulse until is well combined. Do not over mix.
2. Remove from processor into a piece of plastic wrap, shape into a tick disk and refrigerate for 30 minutes.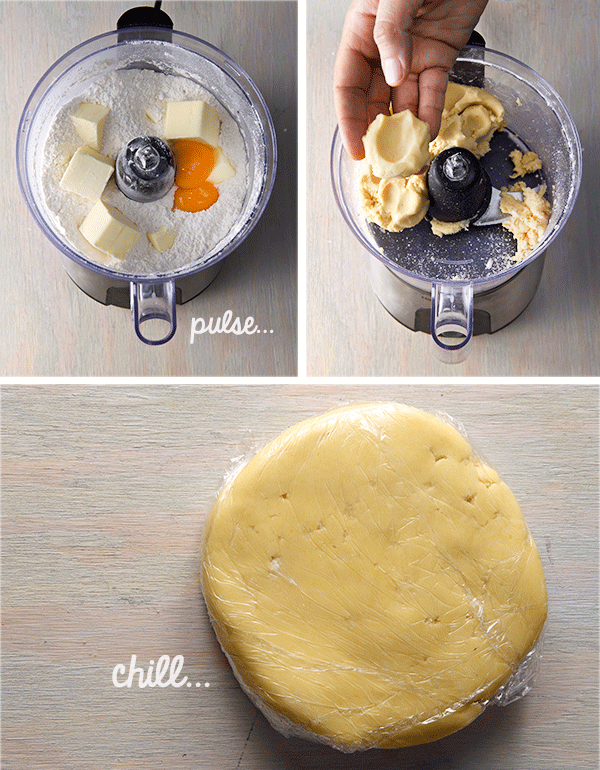 3. In the meantime prepare your sheet pans, line them up with parchment paper or a sil pad. Next prepare your cooling rack and cookie spatula. Select your cookie cutters. I prefer 2" as they are small and perfect little 2 bite cookies. Preheat your oven at 375F.
4. After 30 minutes, remove dough from refrigerator and on a light floured cold surface, roll the dough about 1/4" inch thick. Making sure your dough is not sticking to the table.
5. Cut out as many cookies you can from the first roll up. And place them about 1" apart on the cookie tray. Gather the cut up straps, reshape into a disk with out over kneading the dough. Place in the refrigerator for 10 min. before re rolling.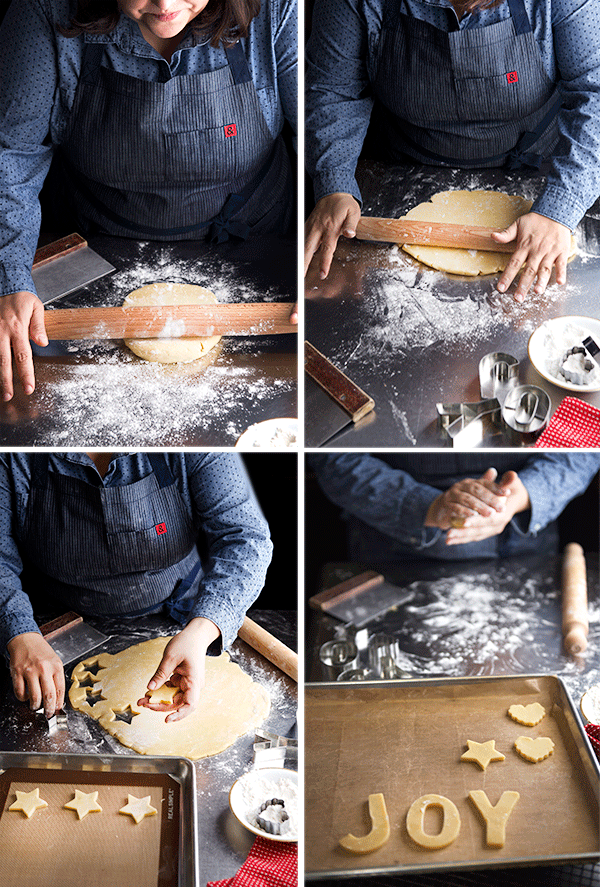 6. In the meantime bake your first batch. 8-10 minutes, check your cookies at 7 minutes and judge from there. Watch your cookies at all times, they can over cook very easily. Adjust temperature and time if you have a gas oven, or convection oven as they might be ready in less time. Cookies are done as they just turn color slightly.
7. Once they are baked, take cookies out of the oven and let them rest on the tray for 2 -3 minutes. Transfer cookies on to a cooling rack, let the baking pan cool off a little, and meantime re-roll the rest of the dough. Repeat steps 4, 5 6, 7 until you are out of dough.
8. Once you baked all the cookies, cut a big piece of parchment paper and place it on your work table. Start lining up the cookies placing half top side down and half topside up.
9. Melt half of the chocolate and add 1 tablespoon butter. Stir your raspberry jam, and stir your nutella spread. Star placing about ¼ teaspoon or so on the top side down cookies, and sandwich them. Usually I divide them into 3 parts so I have an equal amount of flavors. I also like to choose a different shape for each flavor to identify them better. These preferences are totally up to you, you can make them all the same if you prefer. I advice you if you are using different shapes do not mix shapes in the same batch as they might cook differently. For example, the stars tend to get golden brown picks, and they need to be pulled maybe 1 minute earlier. While the hearts might take a minute longer. Keep this in consideration. Regardless the shape, my favorite ones are the raspberry jam filling!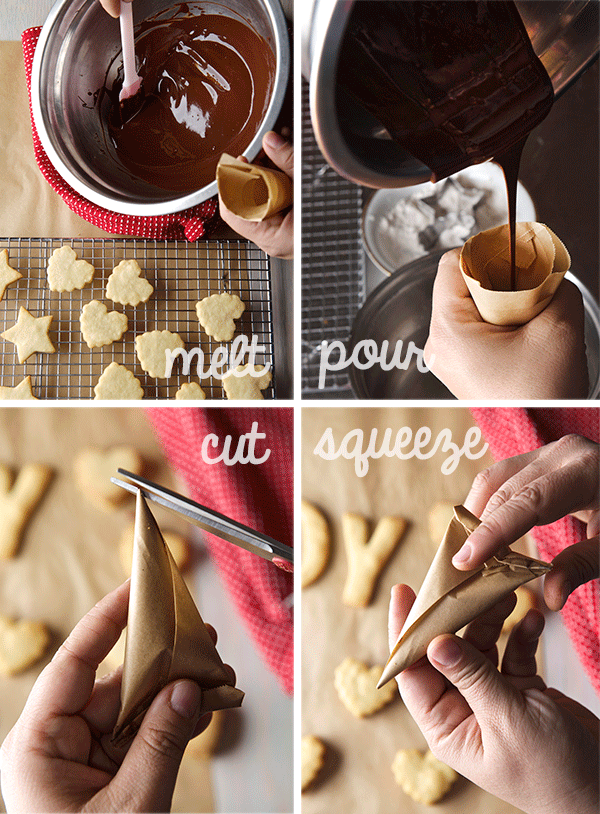 10. Once you have all the cookie sandwiches, melt the rest of the chocolate on a double boiler or microwave. Follow the guidelines based upon your chocolate brand. Once melted, make a little parchment cone, or use a small piping bag or Ziploc bag and start drizzling the cookies with freedom and abandon.
Remember, you are scribbling with chocolate! *yum* This is a great step to involve your kiddos.
Let the chocolate harden and proceed to enjoy.
Have fun, eat, dunk in milk, tea or coffee. repeat. And keep writing to Santa!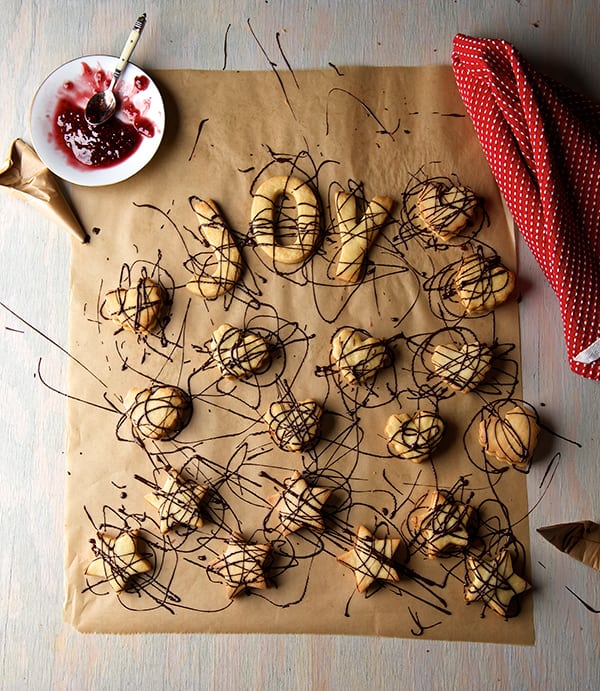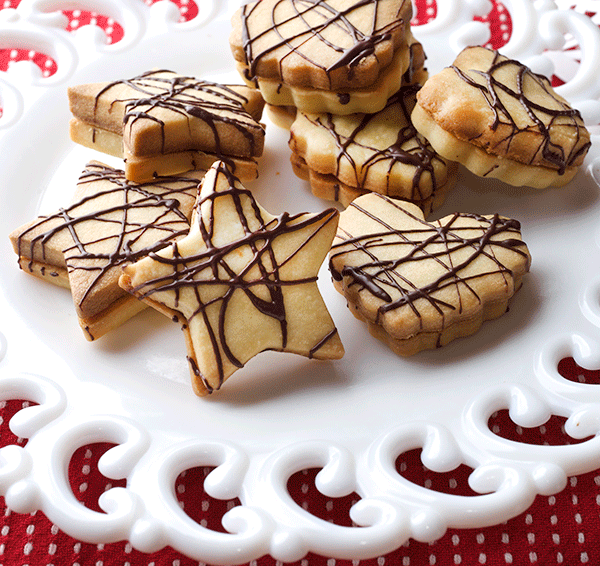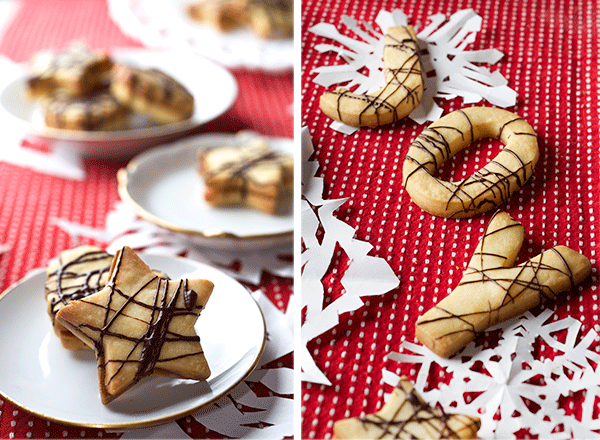 ~ Scribbles Garabatos Cookies ~
Music Pairing: Ella Fitzgerald & Louis Armstrong "I've got My love to keep Me Warm"