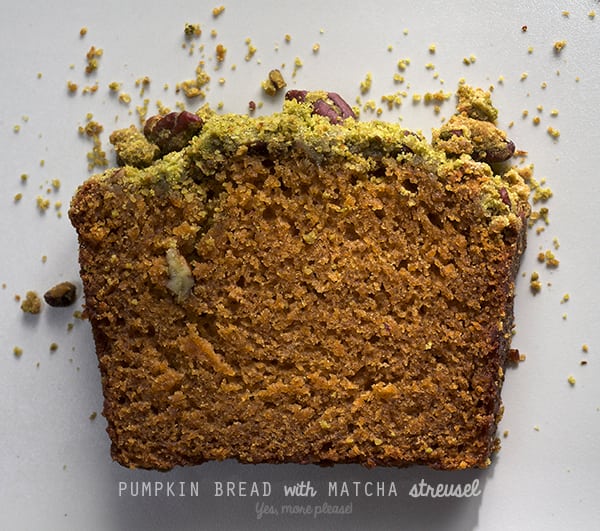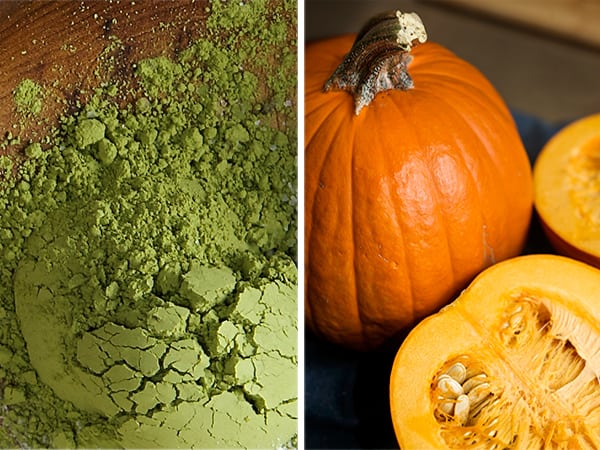 October is here and I can't wait for pumpkinized everything. My primary pumpkin craving is pumpkin bread (delicious moist and spiced). So, here is my spin for this season. Its delicious and a new flavor combination for you to try.
The pumpkin flavor with Matcha is like having tea within your slice. The Matcha green tea powder, tames the sweet sweet notes and enhances the pumpkin, and the spices. These are the ingredients that ordinarily don't meet in a recipe and come from opposite sides of the planet. Sometimes thats the kind of combo that we need. Matcha Streusel Pumpkin Bread will pumpkinize your tea time. Enjoy!
Happy Fall and stay tuned for Octoberfest! Pretzels, sausage, and beer recipes coming up soon!
Matcha Streusel Pumpkin Bread
Makes 1 loaf 9″x5″ or 10″x5″ or  about 24 muffins
Dry ingredients:
1 Unbleached all purpose flour
3/4 whole wheat flour
1-1/2 cups of turbinado sugar
1 teaspoon salt
1 -1/2 teaspoon baking soda
1 teaspoon ground cinnamon
1/2 teaspoon ground all spice
1/2 teaspoon nutmeg
Wet ingredients:
1-1/2 cups roasted pumpkin
2 eggs room temperature
1/4 cup olive oil
1/4 cup melted butter
1/3 cup natural Bulgarian yogurt
1 teaspoon fresh grated ginger
1 teaspoon vanilla
For the streusel:
1/2 cup Unbleached all purpose flour
1/8 cup packed light brown sugar
2 tablespoons turbinado sugar
1/4 teaspoon kosher salt
2 teaspoons organic Matcha powder
1/4 cup roughly chopped pecans
6 tablespoons butter room temperature.
Directions:
Preheat oven at 375F
1. Prepare the matcha streusel, with a fork, combine all the ingredients with the softened butter until the mixture resembles a coarse lumpy dough. refrigerate while you prepare the rest…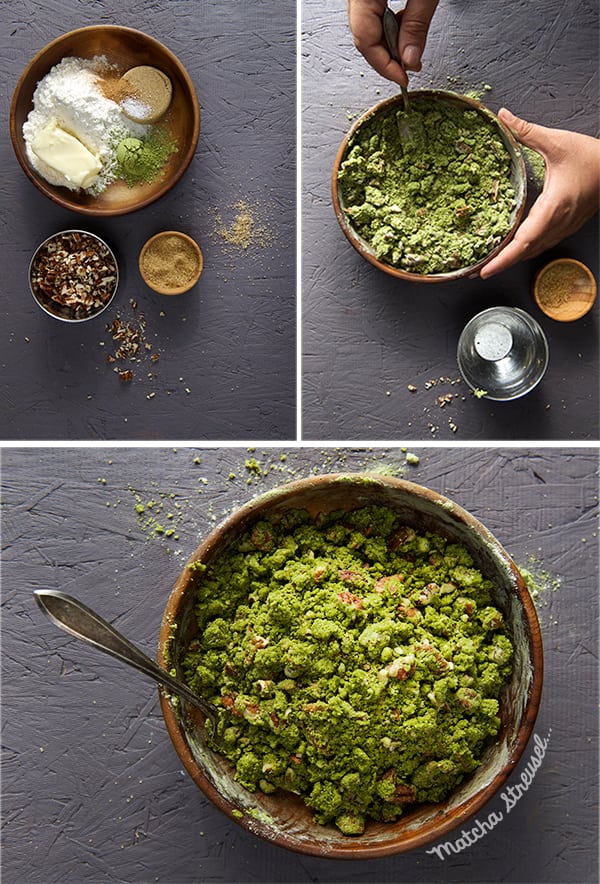 2. In a large mixing bowl combine all dry ingredients except for the sugar. Whisk.
3. On a medium size bowl combine all wet ingredients, mix well add the sugar whisk until well combined.
4. Combine wet into dry.
5. Butter up a 10″x 5″ loaf pan, lined up with a piece of parchment paper long enough to hang about 4-5 inches on each side. (See picture below)
6. Pour batter into the mold and cover completely with the matcha streusel mixture. Lightly press so the crumbs stay attached to the top.

7. Bake at 350F for the first 30 min.- Check your bread at 30 minutes mark and tent it with a piece of aluminum foil shiny side up, to prevent he streusel to over-brown . Lower the temperature to 325F and bake for another 25-30 minutes.
8. Passed the 50 minutes mark, check near the center with a toothpick to check for doneness. Toothpick should come out clean with a few moist crumbs attached.
Remove from oven and cool it on a rack for 20 minutes, before slicing.
Once cool, slice it and enjoy!!!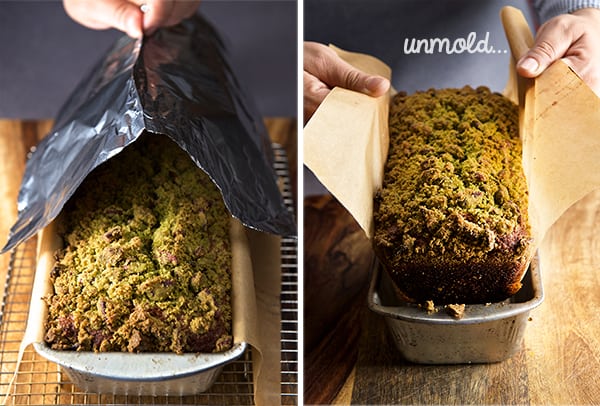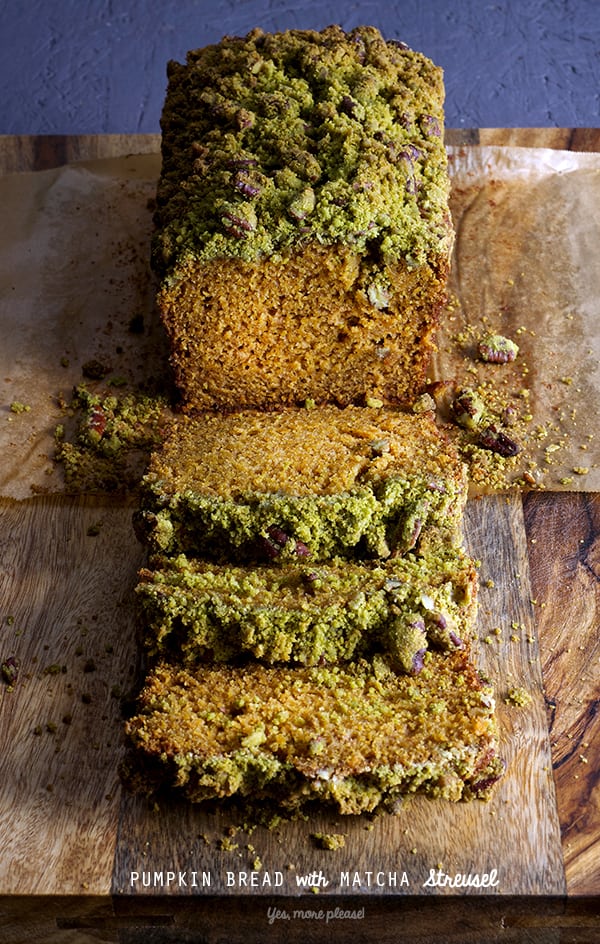 Notes:
Store the bread in a piece of parchment paper and plastic wrap. It tastes better the next day!!!.. keep it safe and away from temptation… It will last for about a week, no need to refrigerate.
This recipe will work for muffins. Divide the batter into cupcake molds lined with cupcake liners, fill up a bit over 1/2 way and add 1 heaping tablespoon of matcha streusel, you will need to make a double batch of the streusel. Bake at 325F for about 20-25 minutes.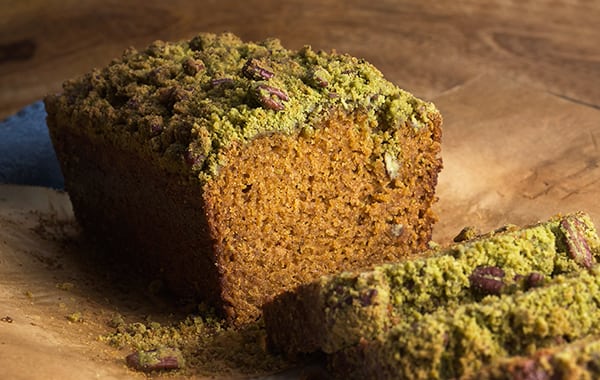 Music Pairing: The Smashing Pumpkins – Tonight, tonight