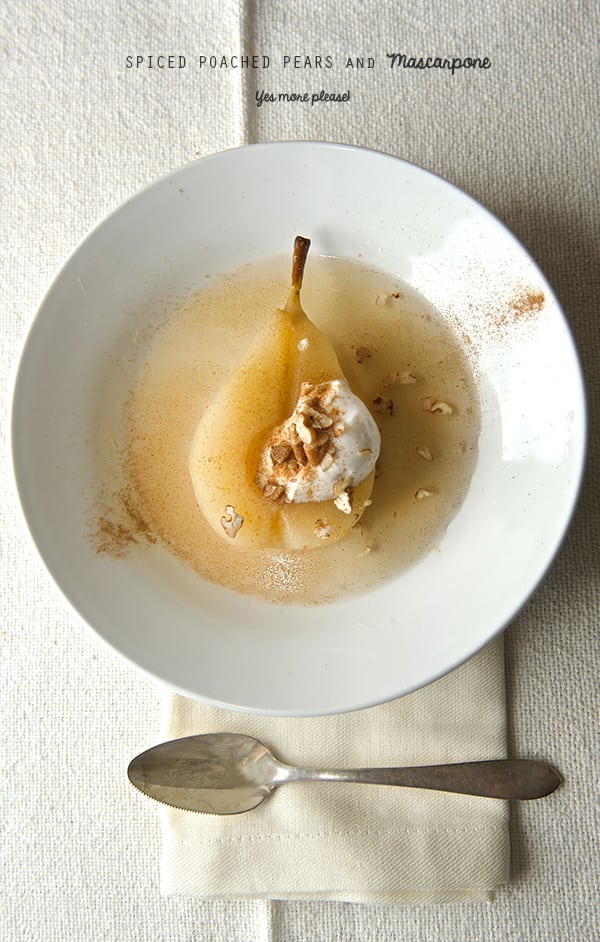 Stone fruits are in season, I found beautiful pears at the market, Bosc and Red Anjou.  I will describe the Red Anjou pears as aromatic, juicy, fresh and sweet: while the Bosc pears are crisp, woodsy and  have a honey-sweet light flavor.
I could not decide which ones to bring home for this recipe…so I used both and the characteristics of each pear gave a great flavor to this simple recipe. Poached pears sounds so boring right? A dessert out of the 70's…well its not and done right and with aromatics and the right cooking method its a great fruit dessert, the perfect end to a rich dinner like Thanksgiving… Or just for a simple treat on a rainy day…
The rum and the spices add warmth and great flavor to the light syrup, which is not overly sweet. The alcohol evaporates leaving all the good woodsy rum flavors in the fruit. A little dollop of whipped mascarpone cheese and honey add the perfect creamy  balance that makes these spiced poached pears irresistible.
This is one of those recipes with plenty of freedom for adjustment, and have the certainty that its gonna come out great. I like the light flavors and the delicate pear flavor is the star of the show. One of the best parts when you are cooking this recipe is the smell that your house is infused with…*sigh*..
Enjoy!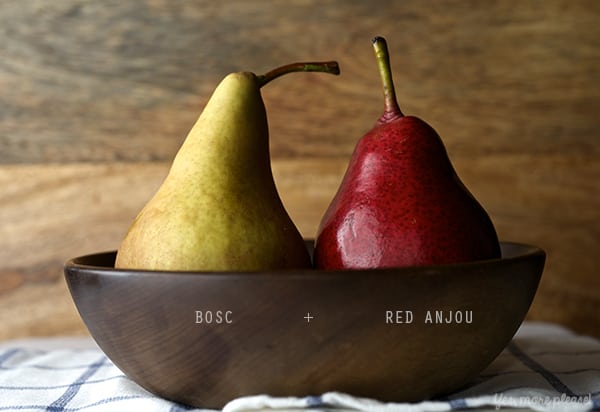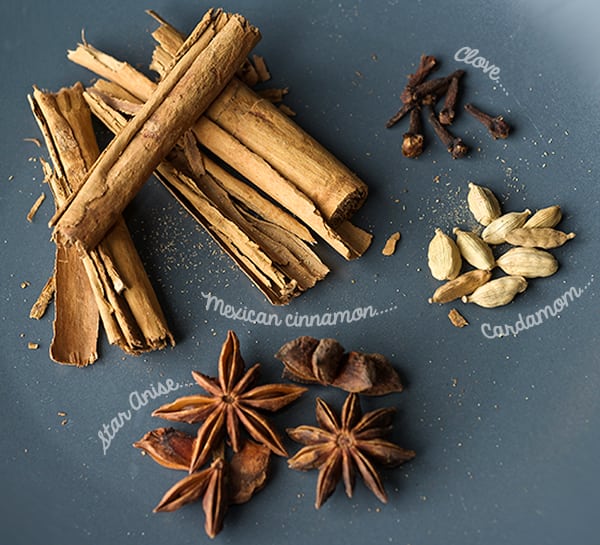 Spiced Poached Pears
Serves 6
3 Red Anjou Pears peeled, halved, removed the seeds and steam.
3 Bosc Pears peeled, halved, removed the seeds and steam.
4 cups water
½ to 3/4 cup spiced rum…up to you!
4 lime or lemon slices
1/2 cup turbinado sugar
½ cup honey
( you can substitute the total amount of sugar and honey for ¾ agave nectar, or nectrase)
Aromatics:
5 sticks Mexican Cinnamon
6 cloves
5 star anise
6 cardamom pods smashed
1/8 teaspoon grated nutmeg
Parchment paper
Garnish with:
Whipped mascarpone and honey
About ½ cup of mascarpone and 2 tablespoons of honey, whip them together until light and fluffy.
Toasted chopped pecans
Ground cinnamon
Directions:
1. Peel, half, remove core and stem in the pears. Keep them in a bowl with water and a few drops of lemon juice to avoid oxidation. (see picture below)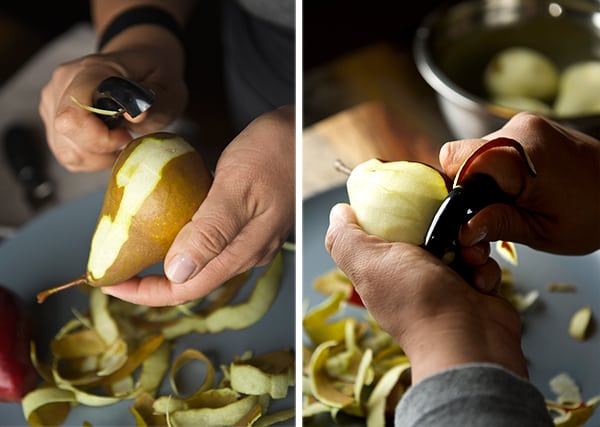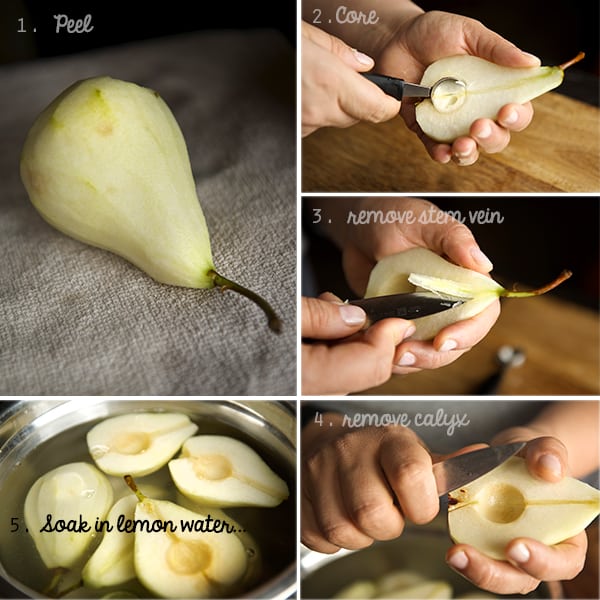 2. In a medium size pot over medium high heat add water, turbinado sugar and honey to dissolve.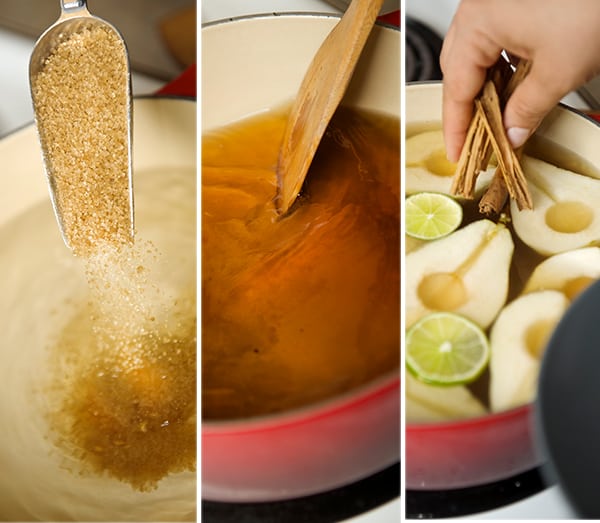 3. Once the water is simmering and sugar is dissolved, add rum, spices and simmer for 7 minutes.
4. Make a parchment paper square, fold it into a triangle, measure your pot radius and cut. Once you unfold the triangle you'll have a nice circle to cover the pot.
5. Add Pears into the simmering liquid and cover with the parchment paper.Make sure the paper is touching the water to avoid the pears from any discoloration.
6. Simmer in low for about 20-25 minutes, or until the pears are tender when a knife is inserted.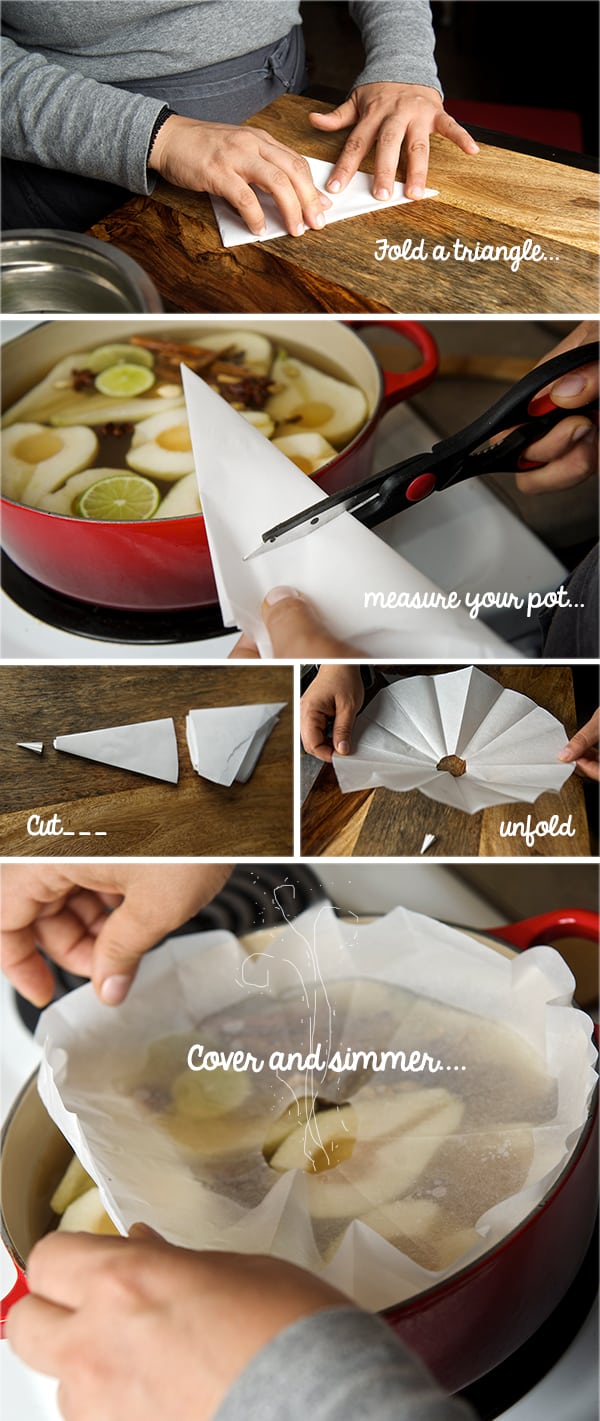 7. Turn off the heat and Let them cool for about 30 minutes. Remove pears from liquid. Heat up the liquid and reduce by half. It should have the viscosity of a light syrup. At this point you can adjust the flavors by adding more honey or more cinnamon if you desire.
8. Plate the warm pears individually or on a platter. Keep the syrup on a little serving pitcher to add the warm syrup when served. Top with a dollop of whipped mascarpone and honey, toasted pecans, sprinkle some cinnamon. Enjoy!
Note: This dessert can be made ahead. Just keep the pears inside of the syrup, and reduce the syrup until the next day. The pears will taste even better the day after is made. It's a crowd pleaser dessert fit for Vegans, if the mascarpone is omitted, gluten-free and a light sweet bite to end a nice dinner…. Enjoy!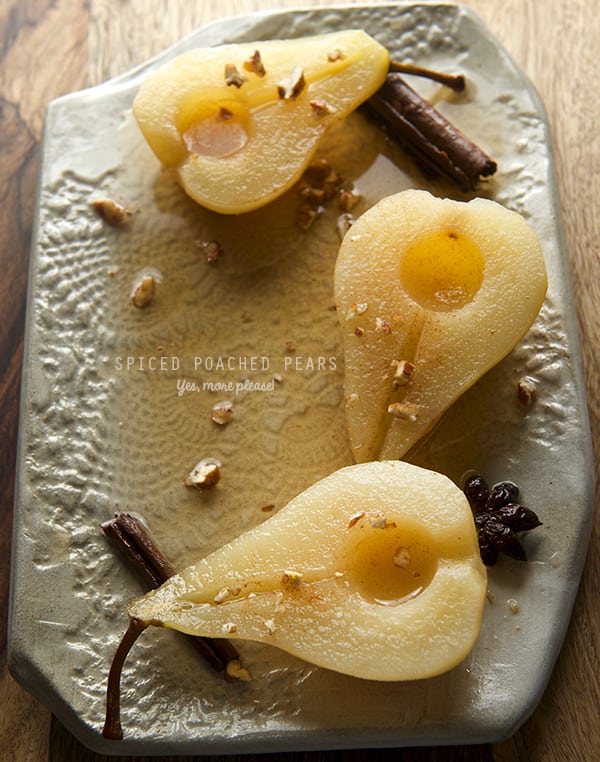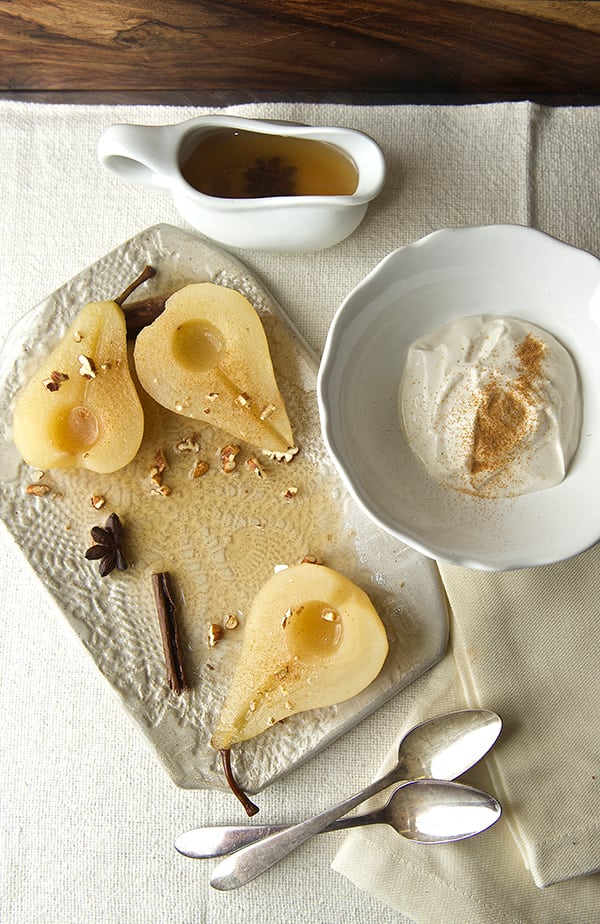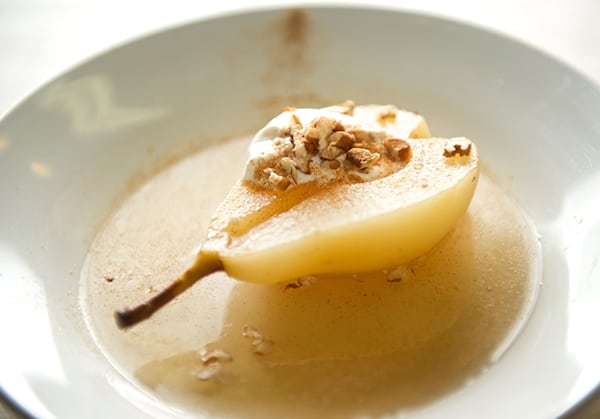 ENJOY!
Music Pairing: Nat King Cole – I love you for Sentimental Reasons