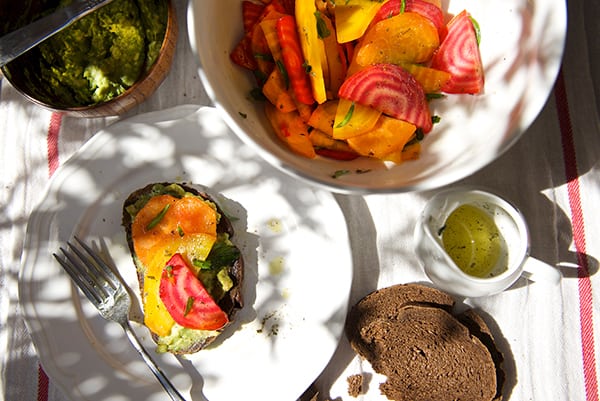 This weekend Ian and I had really good eats. Beets are one of my favorite root vegetables, My mom used to make steamed beets sliced with a squeeze of lime and salt and served as an afternoon snack for my brother and I when we where kids. As a grownup, I love them in all preparations; raw, shredded over salads, ROASTED, steamed, in soups, chips and one of my favorites is to pickle them. Sometimes I don't have the patience to wait until they are pickled, so I refer to a recipe like this and it works like a charm.
I made this Beet Salad, with avocado spread and pumpernickel crostini last Sunday with the type of beets they had available at the farmers market, beautiful Golden and Chioggia Red beets. I believe some are sweeter than others; to me, golden beets taste less earthy and less sweet compared to Red beets. Every kind of beet is extremely healthful and full of anti-oxidants, phytonutrients, so use any kind you have available. They can lift up any simple green salad, or become a meal as in this instance. This light vinaigrette works like a charm in combination with the following cooking method: I steamed them for a short time until just al dente, with a little crunch. The contrast in textures between the bread and the avocado spread and the sweet-tangy beet salad is what grabs me the most. The vinaigrette is light and tangy with bright fresh herbs…. done! This is a very easy and full-flavored recipe. You can serve this as an appetizer, light lunch, or with the addition of the avocado in slices and some pecans as a great side salad.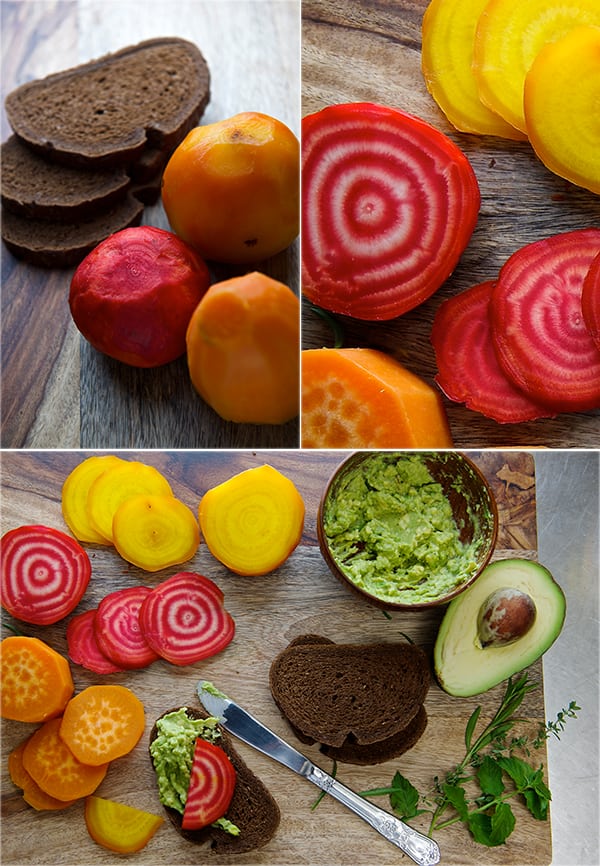 Beet Salad, Avocado spread & pumpernickel crostini
Serves 2-4
1 Golden Beet
1 Red Beet
1 small sweet potato ( it adds contrast and creamy texture)
¼ cup seasoned rice vinegar
2 tablespoons of Extra Virgin Olive Oil
1-2 Tablespoons of fresh thyme, tarragon and mint.
(you can replace any of these for dry, but at least use one fresh herb if you can.)
Avocado spread:
1 small avocado smashed
1 small clove of garlic grated
Lemon Juice, salt and pepper.
Pumpernickel Bread
Some butter or extra virgin olive oil to grill the crostini.
Directions:
Scrub and rinse really well. In a double boiler steam the beets whole do not cut them, for 15- 18 minutes*
set them aside and allow them to cool. Once cool, peel them and slice them thin. ( a little less than ¼" inch.) Place them in a Bowl, add the herbs, rice vinegar, oil, salt and pepper. Gently toss these together and set a side.
Smash the avocado with a fork in a small bowl. Add grated garlic, and a squeeze of lemon, with salt and pepper to taste.
For the Crostinis: on a medium-high heat nonstick skillet, add a dab of butter and toast about 4-6 pieces of bread, both sides. ( I highly recommend the butter , it plays so well with the bred and the tangy notes from the beets!… However, the vegetarian or vegan version using the extra virgin olive oil also tastes terrific. Enjoy!
For service there are two options: assemble to serve or serve everything separately and assemble as you eat.(the second option is more fun, and it prevents your crostini from getting soggy.
* note: if you keep your root vegetables in the refrigerator, allow them to come to room temperature before you start cooking them, to ensure they cook evenly.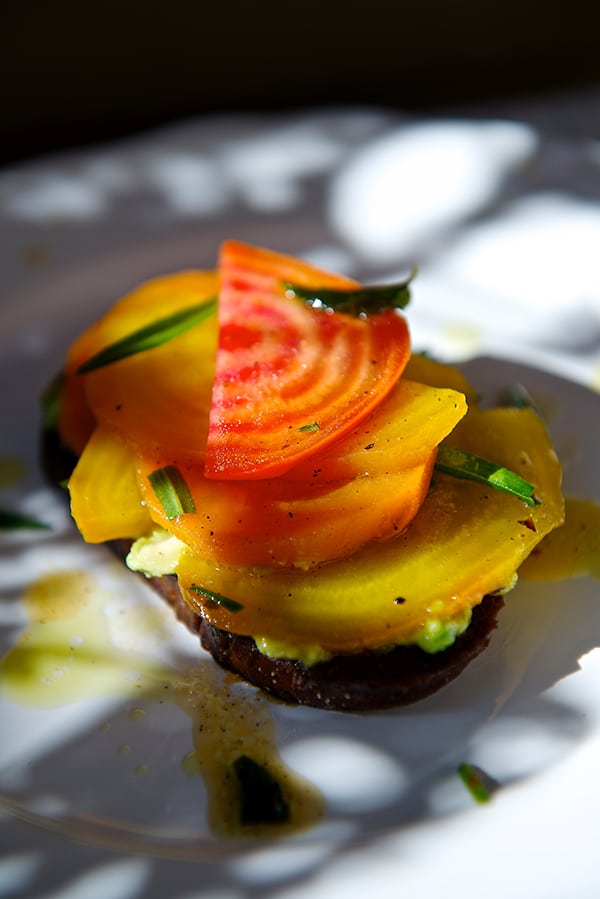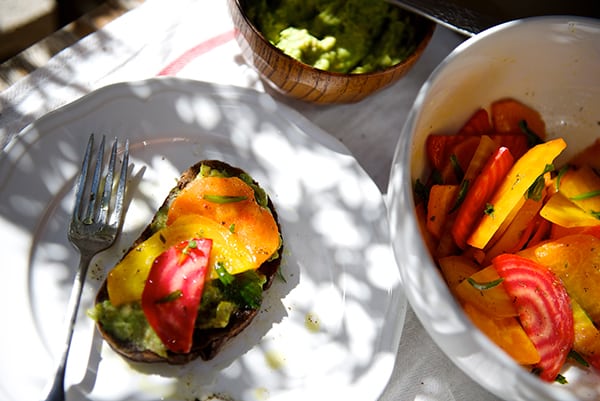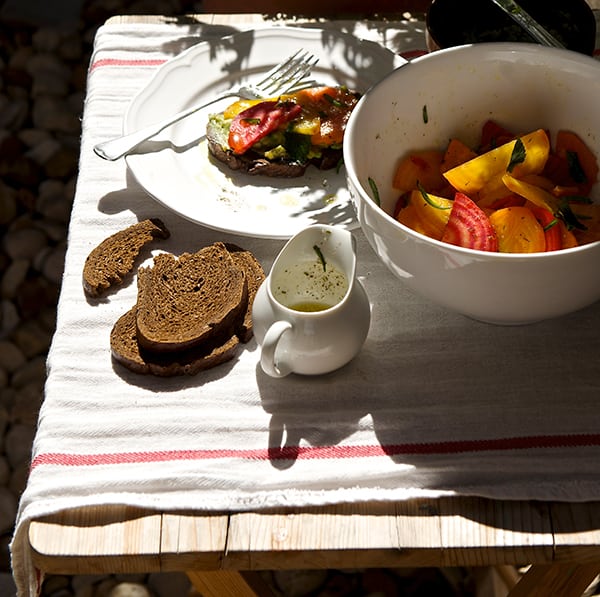 ~ Enjoy under the sun ~