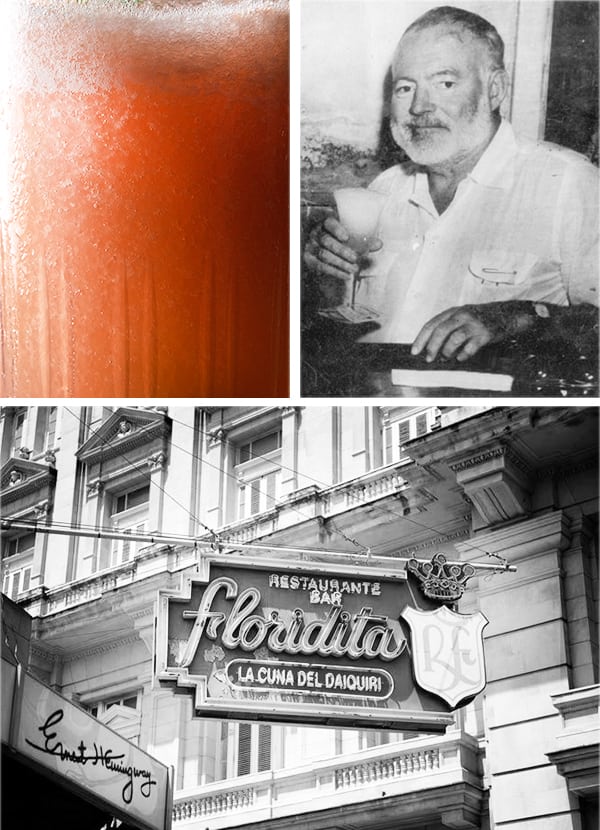 The great Hemingway, a classic cocktail, a daiquiri to be precise. This iconic Cuban drink was born in La Floridita restaurant, one of the favorite bars of Ernest Hemingway.
Summer is here, in full bloom and we thought about making this drink a lot. What can we add, what can we change… can we make it better? Well pretty much, no.
I think the Hemingway daiquiri is perfect as it is. The drink is a refreshing mix of white rum, fresh lime juice, fresh grapefruit juice and maraschino liqueur, the perfect combination for a summer drink. With simple ingredients, natural fruit juice, this drink is a hit. Refreshing, not too sweet, with a bitter edge.
We've seen various versions where is made on the rocks or as a Martini. But after reading what Ernest Hemingway said about one of his favorite drinks: " The drinks had no taste of alcohol and felt, as you drank them, the way downhill glacier skiing feels running through powder snow." Now this sounds refreshing to me! We decided to take it "literally".. ehehm, and we added a couple of scoops of ice to a blender and a rim of pink himalayan salt, making it a slushy. Now it lives, feels, and tastes like Hemingway's description. Its just what you dream of on a hot summery day specially when you are dreaming of a beachy vacation that seems so far away… yet so close, as close as our couch on the living room besides our bookshelves.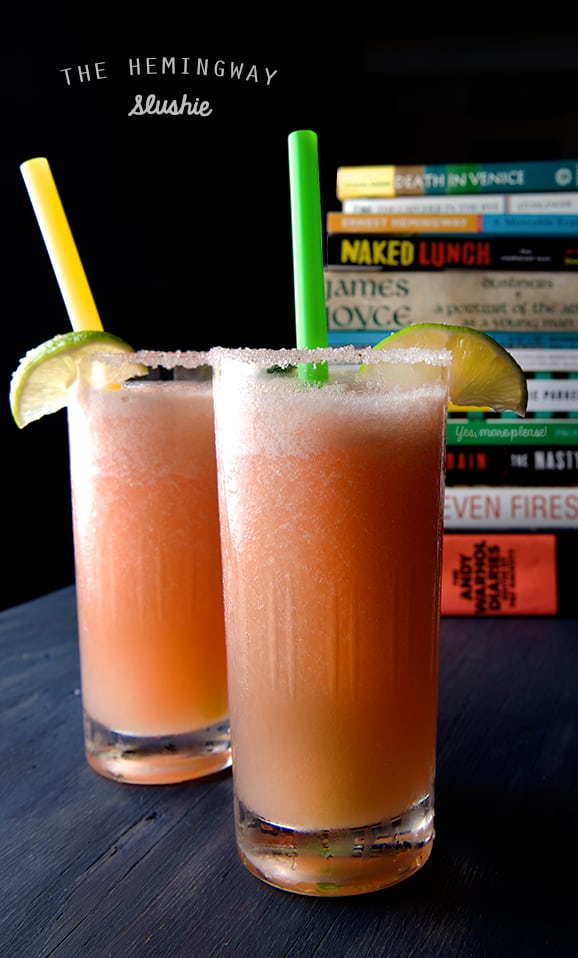 Yes, this is our staycation summery treat, along with a list of our books we aim to read, this are not the newest titles out there, they are what we have not been able to read, you know those books that stay on the bookshelfs and you promise yourself you'll read them soon. Well we have quite a homework to do.
But first things first set your self up with a drink, relax, and read…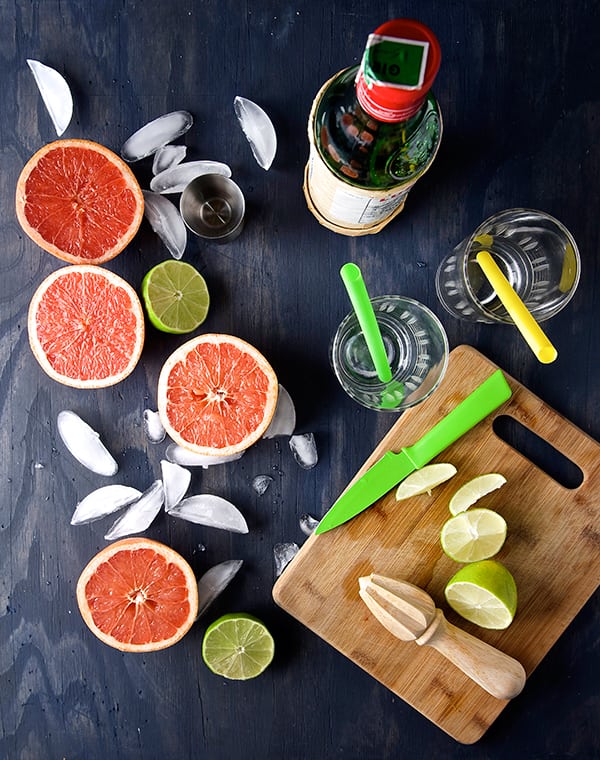 To make a Hemingway you will need…
The Hemingway
Makes 2 generous tall glass cocktails
The juice of 2 medium size pink Grapefruits
The juice of 2 juicy green Limes
3 oz. White Rum
3oz Maraschino Liquor
2 large scoops ice
Himalayan pink salt and 2 lime wedges for the glass rims.
Preparation :
Juice the grapefruits, and limes directly into the blender, add rum, add Maraschino liquor, and the two scoops of ice. Blend well until a fine ice consistency.
Rim the glasses with lime and then dip them into the pink salt. Pour the slushy and Enjoy.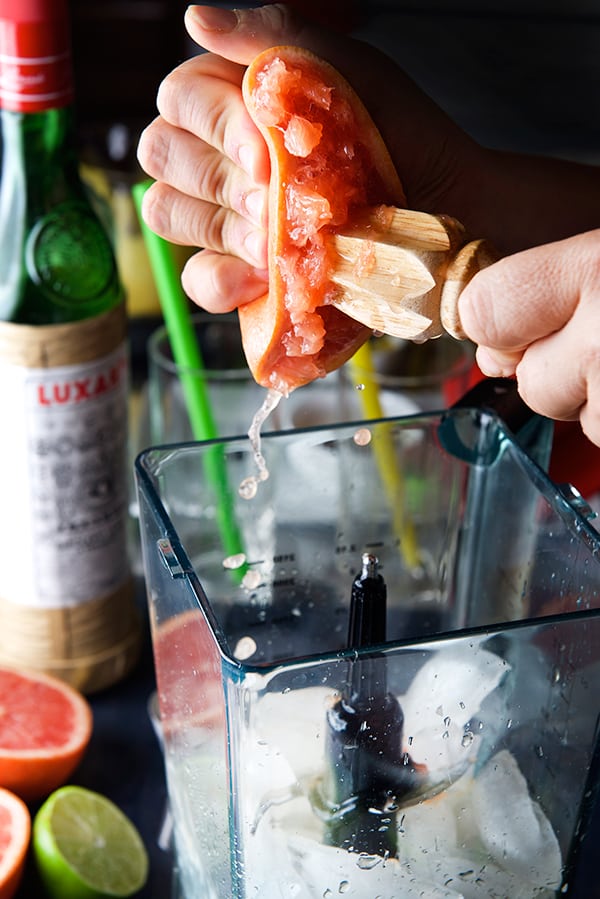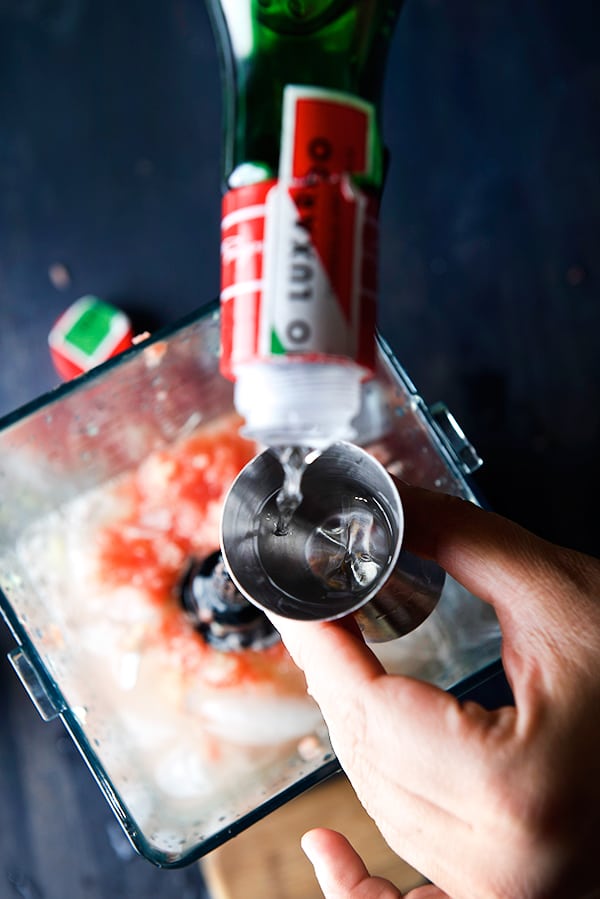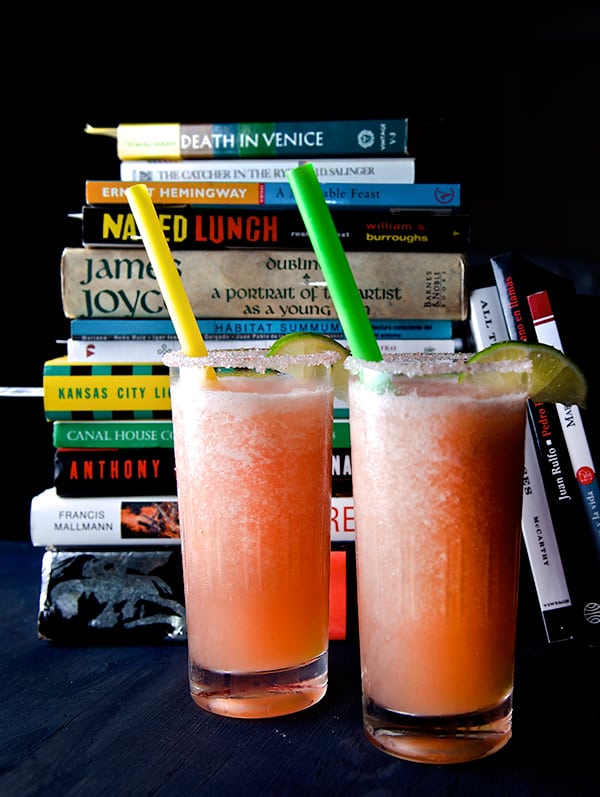 Our Summer Book-it list…
Ian's bookit list:
Naked Lunch, by William S. Burroughs…a breakthrough book from the beat generation.
Death in Venice, by Thomas Mann…a master of prose narrates a writer's struggle with inner passion.
Kansas City Living The Rise and Times of Charlie Parker, by Stanley Crouch,…the greatest of the Be-bop musicians is born and grows up in the Midwest, influenced by the place and the musicians of the time.
James Joyce: Dubliners, a Portrait of the Artist As a Young Man, Chamber Music….great stories and vignettes of a national identity.
A Movable Feast, by Ernest Hemingway.
Mariana's bookit list:
Movable Feast, by Ernest Hemingway, Who would not have wanted to lived in Paris in 1920's? Hemingway's personal stories, specific places addresses of cafes, bars, hotels, and apartments, some of which can still be found in Paris today. Even if you stay at home this Summer, you can travel to Paris with this Novel…
Habitat Summum "Una Arquitectura concsiente del Sujeto y del Entorno,… My Tesis, a colaborating project along with Igor Ivan Ojeda Delgado, and Juan Pablo de la Torre Ruiz Velasco my like brothers friends. We worked together about a year on this project, we believed in what we wrote and were convinced of our theories about the symbiosis between environmental psychology and architecture. Ten years later, I think it would be a good idea to refresh those convictions…
The Andy Warhol Diaries Edited by Pat Hackett,…This reads are for fun, this crazy Andy and the way he saw and talk to the world it is like reading a Woody Allen character, yet better…
The Nasty Bites, by Anthony Bourdain,… Who does not like a raw, sarcastic, honesty in food, coming from Bourdain everything is better, even hot dogs.
The Canal House Cooking the Spaguetti booklet,… These Ladies have such a simple narrative on their recipes, simple ingredients you can almost taste them in every page… Besides, for my waist line sake, it is better to read about pasta than to eat it…hehehe
Seven Fires, by Francissi Malmann, Grilling, the season. This is my summer bible.
Libro de cocina del hermano fray Gerónimo de San Pelayo, Coleccion de Recetarios Antiguos, by Dirección General de Culturas Populares e Indígenas en coedición con la Dirección General de Publicaciones…Cooking History, I'm always intrigued and amazed the ways the flavors, the food preparations before any pre-made, or fast and easy concepts… 
Nothing Fancy, By Diana Kennedy, A re-visit of the amazing Diana and her shenanigans in the kitchen, I love the Diana, I wish we cooks would have at least a dash of  her ethics and convictions in the kitchen.
Want to Know more about Ernest Hemingway?,
I found this great article: 10 things you probably didn't know about Ernest Hemingway….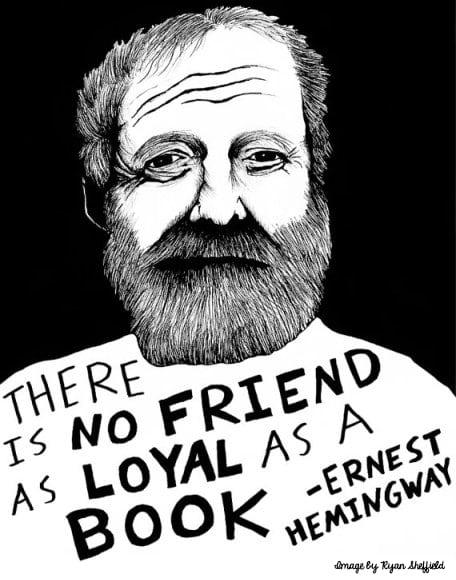 Enjoy your Summer!