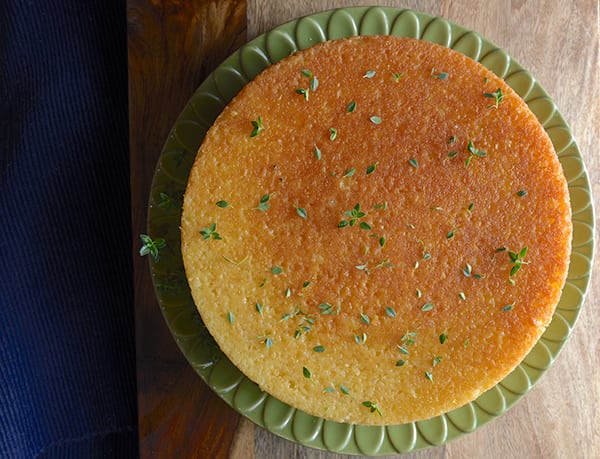 It is cakes like this that make me happy…really simple cakes with a light crumb and buttery flavor. It's so basic and cozy that hits you straight in your heart.
The flavors in this buttery Ricotta cake stand alone and the honey and lemon make a good balance of sweetness; the thyme adds a little herbal note and enhance the lemon zest in the batter. This cake is pure comfort and simplicity.
Honey Lemon and Thyme it 's one of my favorite glazes for this type of cakes, there are many other good glaze flavor combinations that I will recommend like Honey and rosemary, lavender, orange, camomile you name it, or just dust it with a little confectioners sugar. It's a cloud of buttery and light cheesy crumble goodness.
You can make this cake in the morning for a nice breakfast or brunch. Or it can be part of your bake-goods repertoire for Thanksgiving….why not? Give it a try.
This Ricotta Cake & Honey-Lemon-Thyme glaze is great with a cup of tea in a rainy afternoon, or a glass of milk for the little ones.
You can add some fresh fruit or whipped cream on the side to complement this cake… enjoy!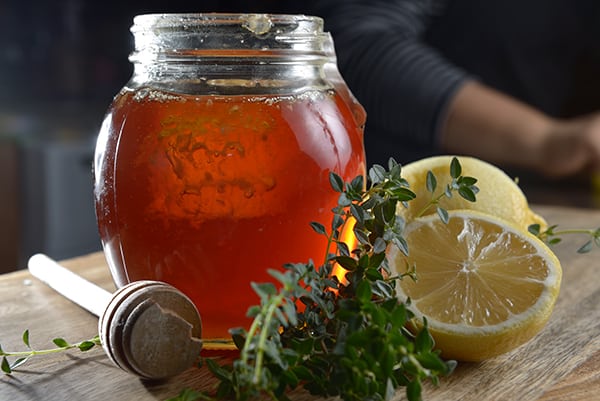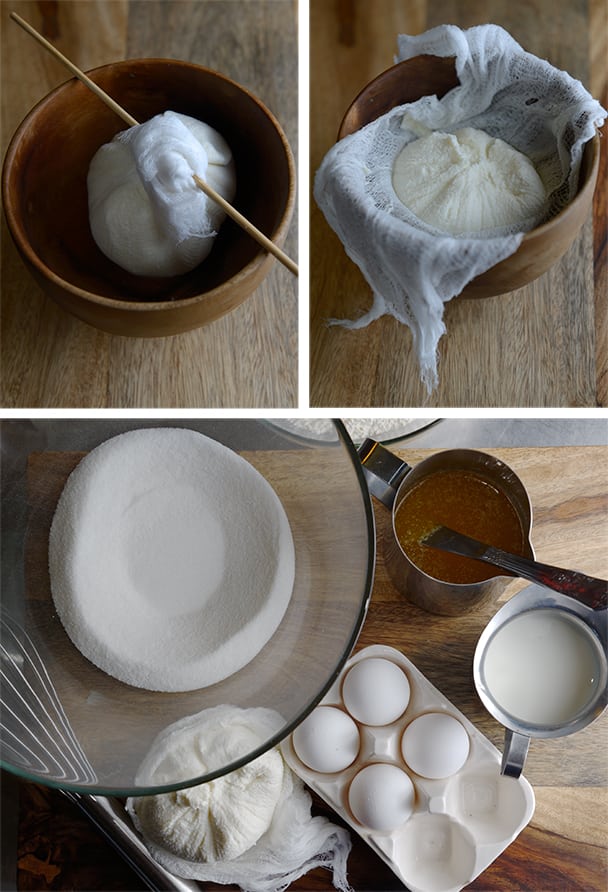 Ricotta Cake & Honey-Lemon-Thyme Glaze
Serves 12-14
2 cups All purpose flour
2 tablespoons Baking Powder
1 pinch of salt
½ pound ricotta cheese (strain some of the liquid with a cheese cloth or fine sieve)
2 cups sugar
4 Large eggs
1 cup whole milk – room temperature.
8 oz / butter melted
1 teaspoon lemon zest
For the Glaze:
¼ cup Honey
the juice of half a lemon
3-4 thyme sprigs and a little more for garnish.
In a small pot, gently warm the honey lemon juice and thyme once that the honey resembles a light syrup. Remove from heat and let it cool down. ( do not let the honey boil or to form small bubbles around the pot)
Directions:
Preheat Oven at 350 F /
1. Grease a 10" x 3" round aluminum cake pan (use a light color pan for best results).
2. In a medium size bowl, sift the flour, salt and baking powder.
3. In a large bowl mix sugar, ricotta, eggs, and melted butter mix well.
4. Start alternating flour and milk in 3 additions. Until well incorporated, do not over mix.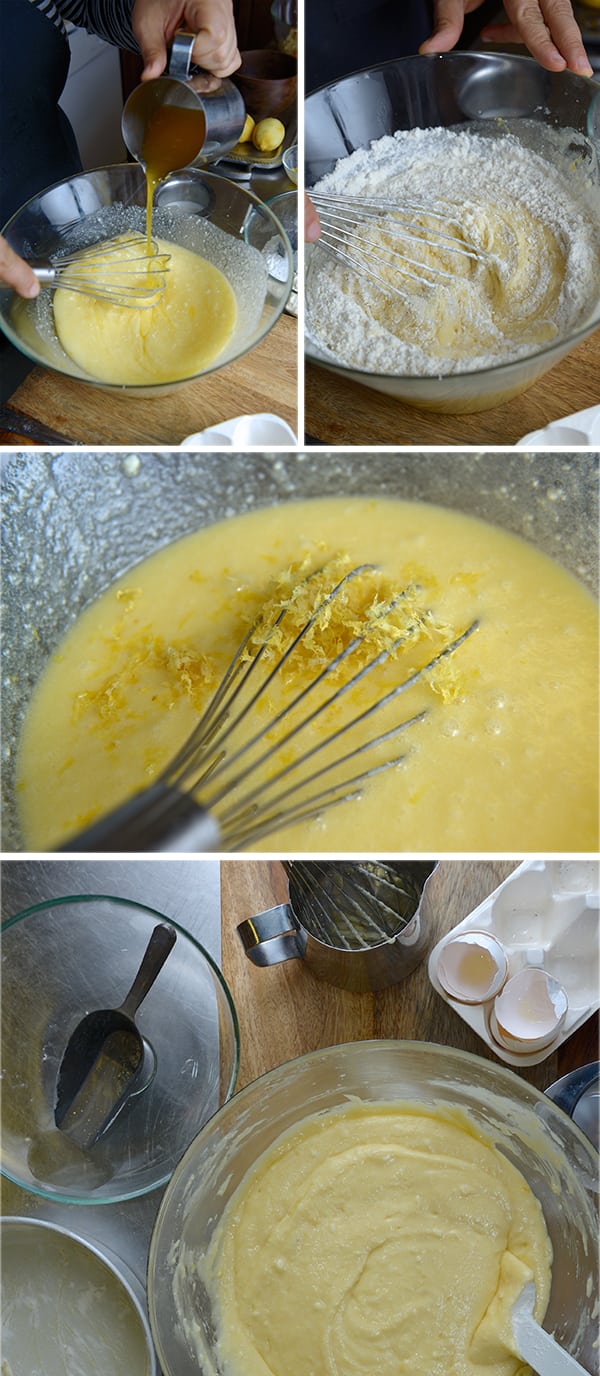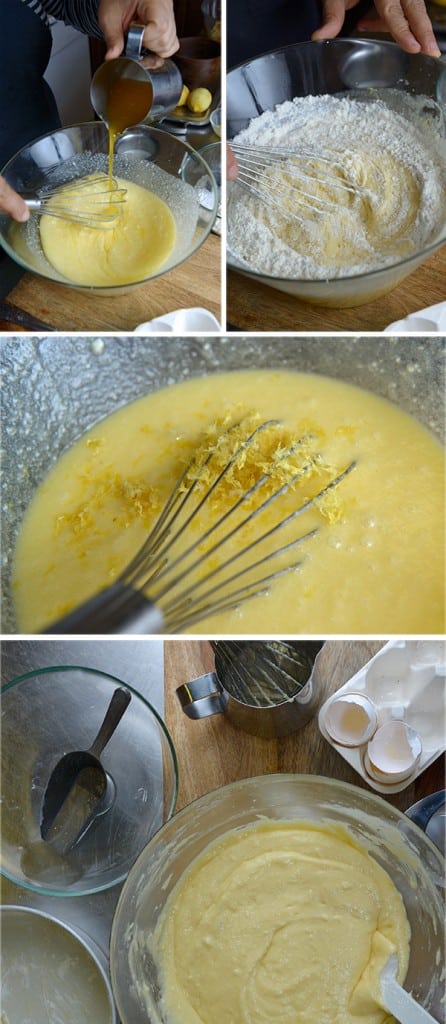 5. Pour the batter into your prepared pan and bake for about 25-30 minutes or until a skewer comes out clean or with a few little crumbs.
6. Cool on a rack for 15-20 minutes and unmold.
7. Place the cake on a plater and poke the top of the cake with a fork or skewer.
8. Once the cake is cool, with a pastry brush, apply the honey- lemon-thyme glaze .
9. Garnish with a few more sprigs of thyme on the side and sprinkle some leaves on top.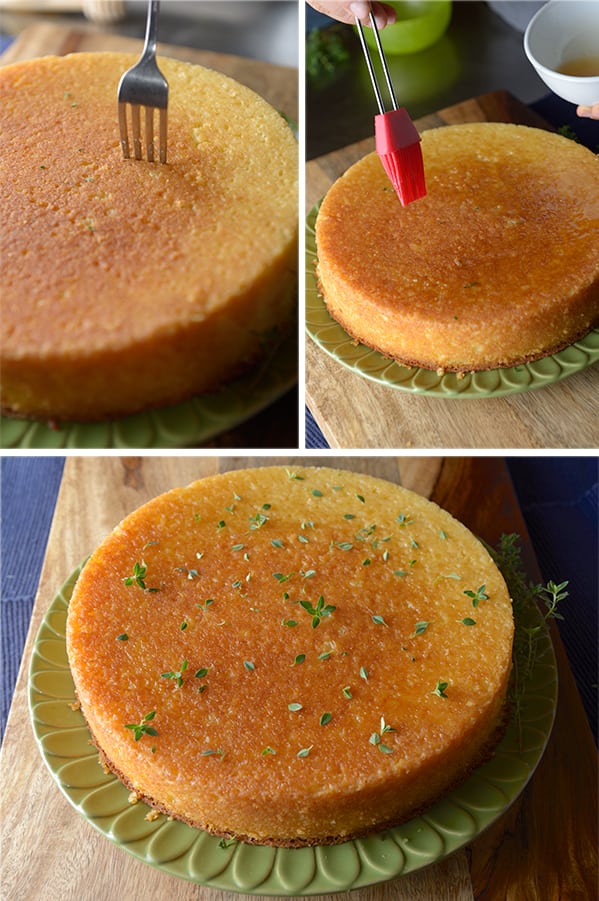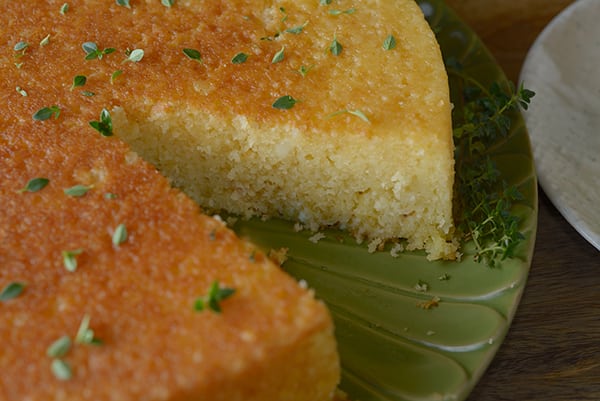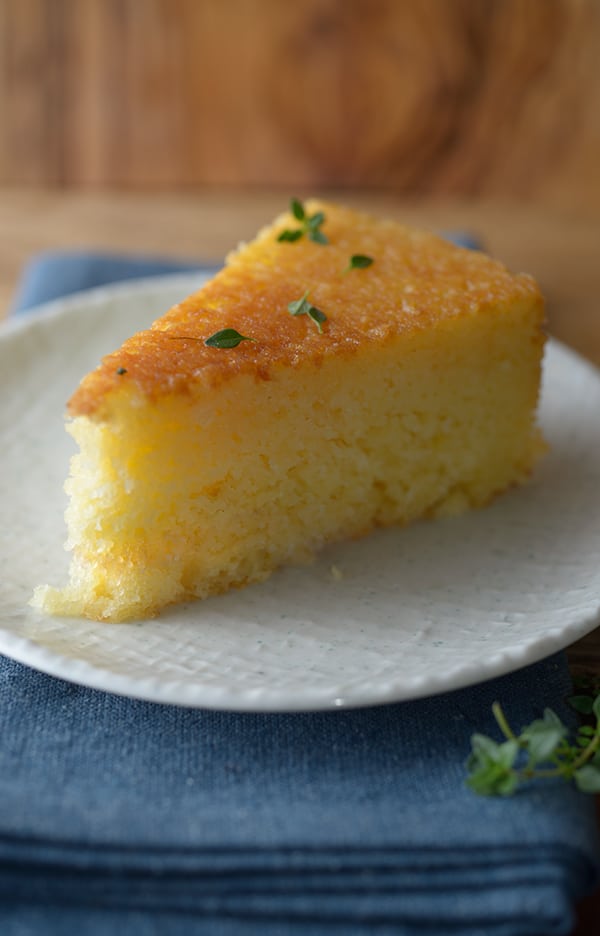 Ricotta Cake & Honey-Lemon-Thyme Glaze
Enjoy!