Revisited: May 1st, 2018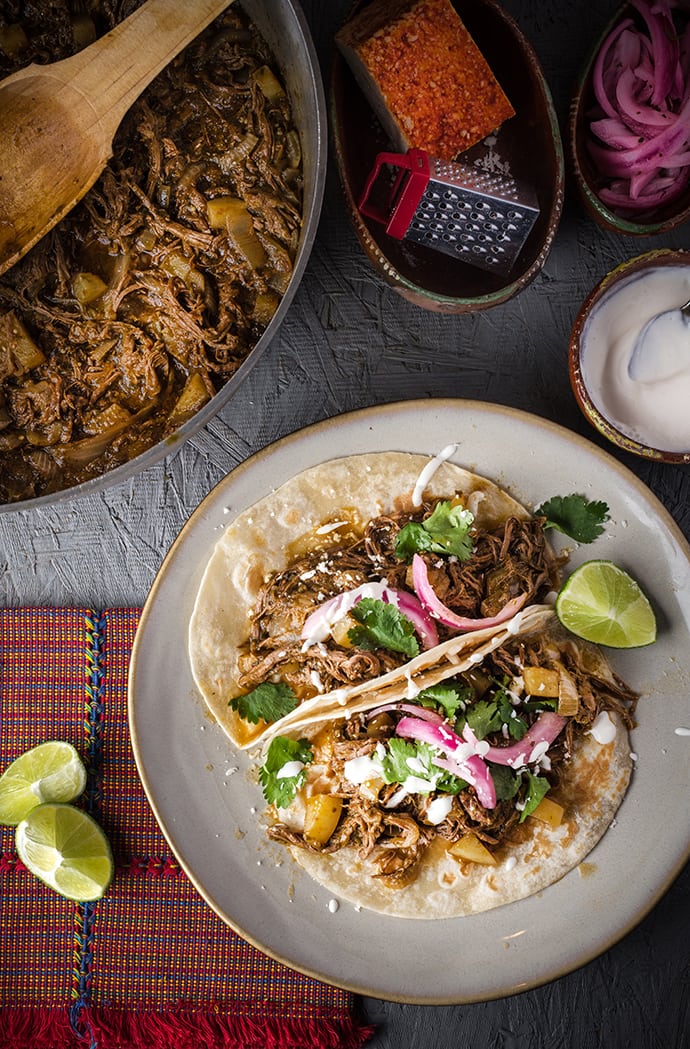 Hello!, We are back, with an amazing recipe for Tinga Verde de Res-Green Beef Tinga.
Where have we been? Very busy with our project, giving it our best. We have learned a lot through this journey. Writing a book is not easy and it takes your all and a little more, and some more and right when you think you are done… it needs the last effort. Often it seems like you are never done. After nearly a year things are moving along and soon we promise to give you the full disclosure and we are certain it will be worth the wait.
As you can read our sanity is not 100% restored yet, but we hope to return to form and post a recipe weekly. I hope you had the chance to try previously posted recipes in the meantime and now you must be ready for the new ones!.
The focus of the blog has always been very diverse in nature and based on seasonal, local ingredients. I enjoy new takes and variations on classic recipes, like my Root-a-touille (a version of Ratatouille made with root vegetables), or pancakes made with nutty delicious buckwheat flour, our French onion soup using a crisp bagel, and even a refreshing vegan version of ceviche substituting cauliflower for fish. Recipes also include some fundamental techniques, from how to make beans from scratch, and the popular Chilaquiles Manifesto which is quintessential in my Mexican cooking heart. I think you will be seeing more Mexican recipes in future and the occasional twist on a classic and or borrowed inspiration from other cuisines. I have many suppressed cravings and new recipes I intend to share with you in the upcoming weeks and months.