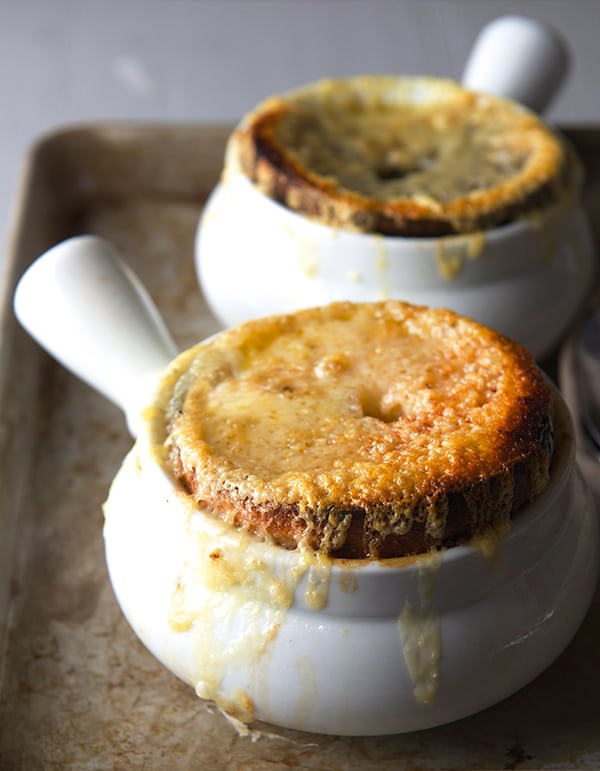 Soup season it's here and the soup I'm craving: French Onion Soup, a classic of classics, deep mahogany broth, soft sweet onions, and that crusty bread soaking all the juices and keeping afloat the most amazing crusty cheesy cloud on top of the soup. A wintery elixir. There is something cosmic about a cold day and simmering pot of soup on the stove. The House is warm with a cozy smell, a sweater, some crusty bread, warming your hands by holding the cup is just one of the best feelings…wiiihkkk…Now can you hear the wicked record on the back?… I just remembered we live in Texas.
This "El Niño" is driving me crazy. Almost 6 months of summer here in Austin to much Summer for me I wish I could be in Yakutsk for the weekend and then come back to be able to appreciate this Texas weather… But for now I'm just in need of cool down so I can make soup, lots of soup.
Dreaming with cold weather while the thermometer reads 80 F… I'm making soup anyway…We will crank down the AC just for tonight and pretend it's cold outside… Adjust your AC accordingly.  Now with the right temperature (thermometer reads 70F), Lets cook!…
Well, here we are revamping the unrevampable, and I thought about giving this classic French onion soup a little twist. I used a bagel instead of the crusty bread. Yes, a crusty chewy pumpernickel bagel toasted, with a bellybutton that helps the steam escape from the soup and let's the oozing cheese talk to the soft onions below. The good thing about using a bagel is that stays crunchy for longer and it madly absorbs the oniony broth.  It is ridiculously good and satisfying.
Through out the recipe you will find a couple of tips and tricks that I've learned to use when making onion soup. I know they will help you make the best onion soup you can make, or to improve the one you already make.
For now, this is all what I can tell you about one of my favorite soups…
Just relax and cook. I promise all your efforts will be rewarded on the first spoonful, and there will be no words just slurps.