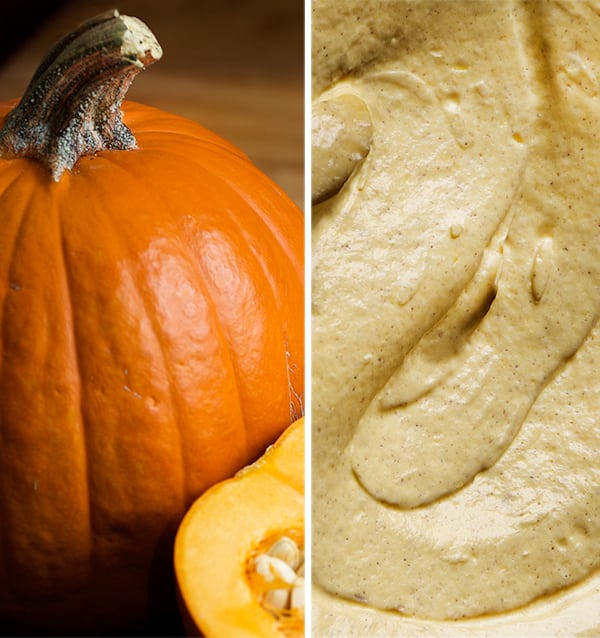 Its coming… It's here… the most wonderful time of the year, you can drop the ball, and roll around with it or you can just keep it simple and delicious.
No guilt trips, no counting calories, just decide what makes you feel good before, during and after you eat it. I think that will be my mantra for the season and the year to come. I do not know if I will survive but I know that at least by asking this question it will make me chose better options with happy endings and no regrets like this Pumpkin Cream Cheese Pie with Pecan Crust. To tell you the truth, when I was creating the recipe I was a little skeptical about if was going to be a recipe that will stand up side by side to all the goodness on a Thanksgiving table. Because after all it is "that time of the year" to be grateful and enjoy.
Trying a slice, this delicious creamy pumpkin pie that made me feel good while eating, before, during and after. I was hooked.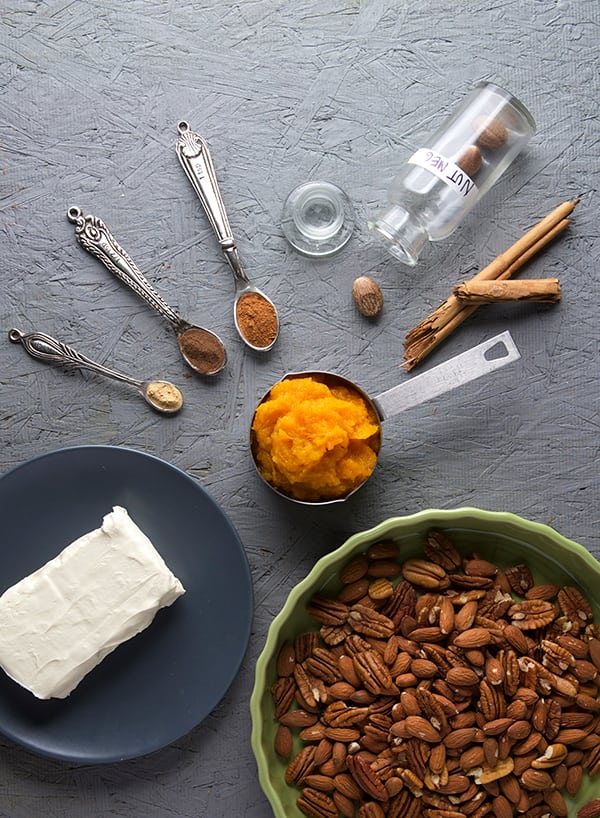 I decided to use simple ingredients, roasting my own pumpkin pure, because that's the way I like it. Then I made a gluten-free crust, using pecans, almonds, and cinnamon. This is a no-bake filling pie, the only component that needs around 15 minutes of baking its the crust. The rest it's just mixing and refrigeration.
A few hours later, I had a firm and creamy pumpkin pie, with the nuttiest crust, plus cinnamon and warm spices that scream Thanksgiving. Heck yeah!
I used Svetia to sweeten up the filling, which it gave the filling a natural sweetness. Svetia is a natural plant based sweetener that uses stevia plant extract as base for its sweet source. You can click here for more information. What I like about this settle sweetness is that you can taste the pumpkin flavor in combination with the warm spices with out being overly sweet.
I believe this pie its a great alternative, to include in your holiday season repertoire and feel good about it before, during and after; Or make it to pamper those special guests needs, by making something delicious they will remember.
I hope you enjoy it as much as we did!
For the recipe you will need: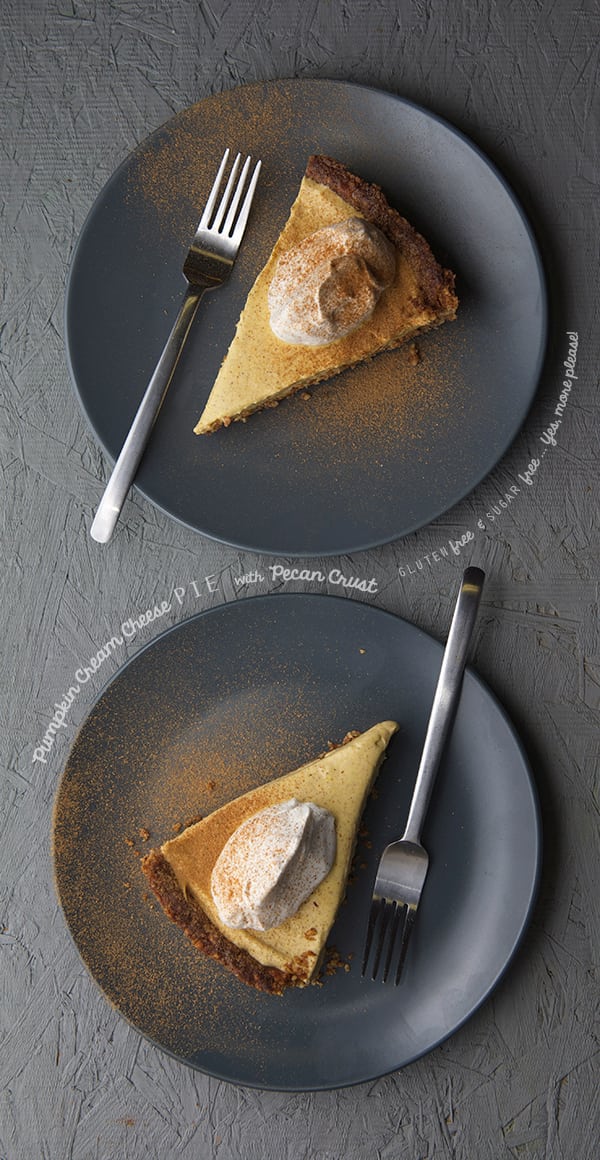 Pumpkin Cream Cheese Pie with Pecan Crust
A feel good alternative Gluten Free and Sugar Free
Makes a 10"round 2" deep Pie
For the Crust:
1 ¼ cups Raw Almonds
1 ¼ cups Raw Pecans
2 Tablespoons extra virgin coconut oil
1 Tablespoon Maple syrup
2 dashes Saigon cinnamon
For the Filling:
1 ¼ cups pumpkin puree* If you need instructions on how to make your own click here
12 oz Cream Cheese room temperature
1/2 teaspoon Vanilla Extract – Nielsen Massey
1 teaspoon Saigon Cinnamon
½ teaspoon Allspice
¼ teaspoon Nutmeg
¼ teaspoon powder ginger
1 pinch of salt.
5-7 Svetia Sweetener envelopes. I will highly recommend to start with 4 envelopes, taste, and then add one envelope at the time according to your taste.
Preparation Method:
1. Make the crust. Preheat the oven at 375F. In a food processor, place the almonds and the pecans. Pulse at least 10 times until resembles coarse sand. Transfer into a bowl and add the coconut oil, the cinnamon and maple syrup. Using your hand, mix well until looks like a coarse paste and when you press it in your hand stays together.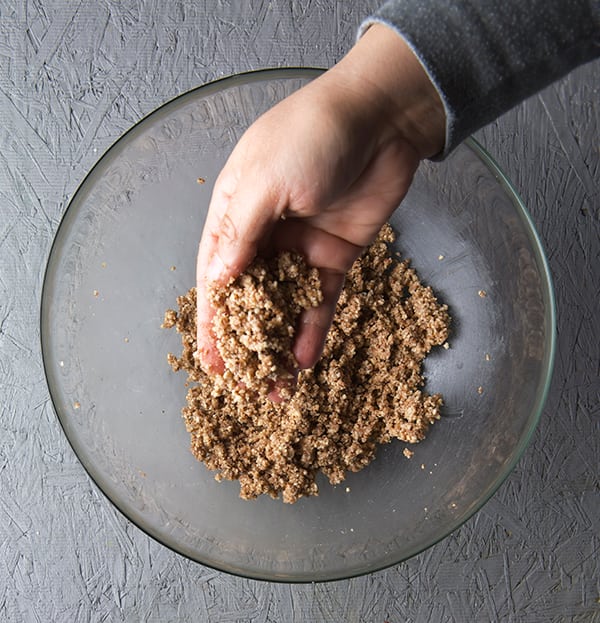 2. Using some coconut oil, rub a 10" ceramic or glass pie dish, and place the nut paste. With your fingers star to evenly distribute the crust. With the help of a flat measuring cup or a flat glass, or ramekin, press some of the crust against the edges of the pie dish leaving about 1/4" all around pie edge.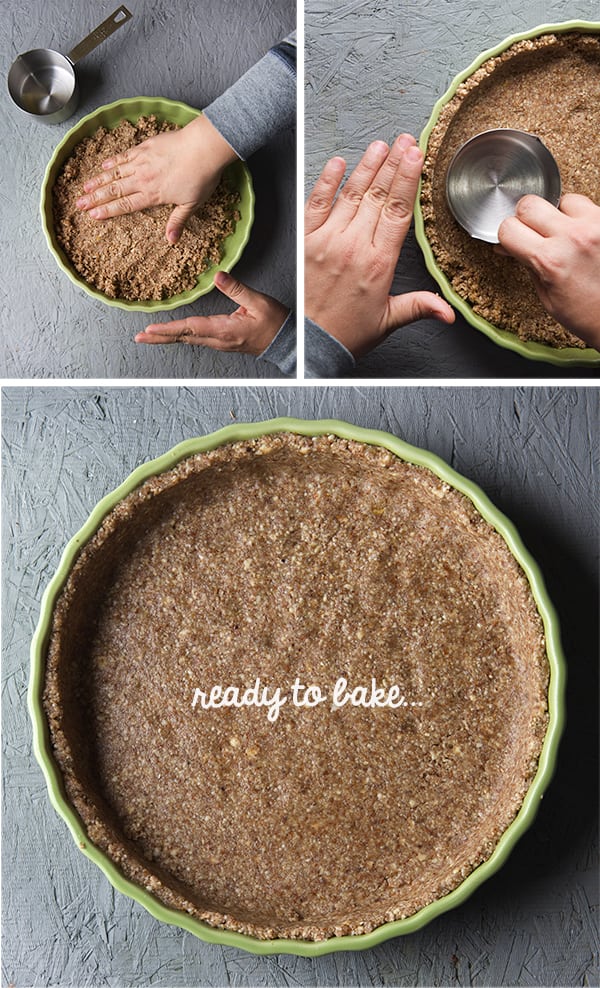 3. Bake for 12-15 minutes until it has a deep golden mahogany brown.Check the crust at 12 minutes.
If the edges are browning faster than the center of the crust, cover the edges with aluminum foil, lower the temperature for 350 and keep baking the crust for 3-5 minutes until the center looks baked and has a rich toasty nuts color.
4. Remove crust from oven and immediately lightly brush it with some bitten egg wash, to seal the crust. The heat from the crust will cook the egg wash really fast so no worries at all about rawness. This step its very important, because it will avoid the crust from getting soggy once you pour the filling.
Let the crust cool completely on a rack. Meantime start making the filling.
5. On a large bowl place the cream cheese and whip until light and smooth with a hand blender.
6. Add 4 envelopes of Svetia and whip for 1 minute.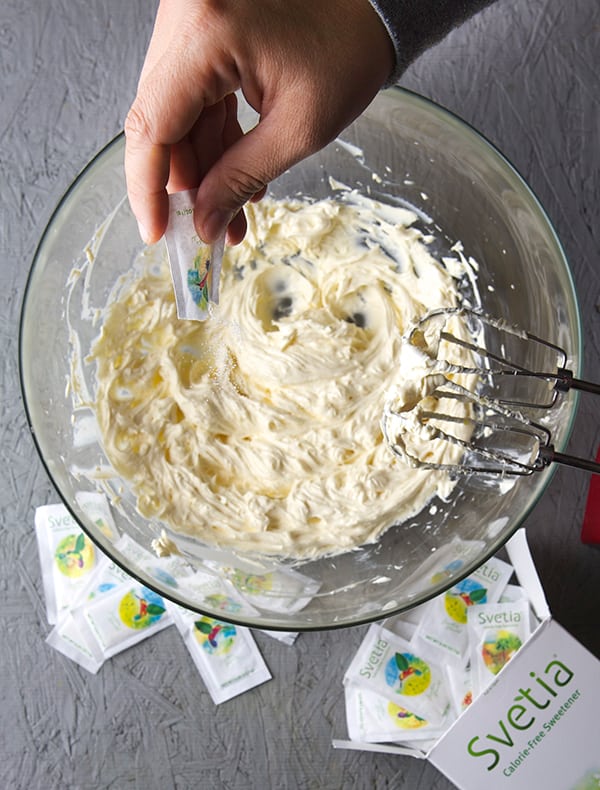 7. Add the pumpkin puree, vanilla, spices and salt whip until well incorporated and fluffy. At this point taste for sweetness. Add 2-3 more envelopes, I used 7 according to how sweet I like it.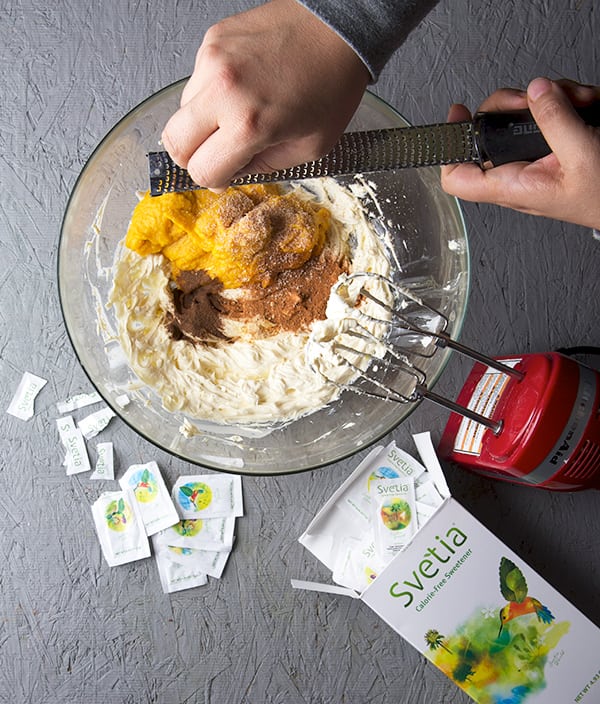 8. Once the crust is completely cool, add the pumpkin-cream cheese filling and using an offset spatula, smooth out the top. Place the pie into the refrigerator for 30 minutes, then cover with a plastic wrap and let it set at least 6 hours. It is best if its chilled over night.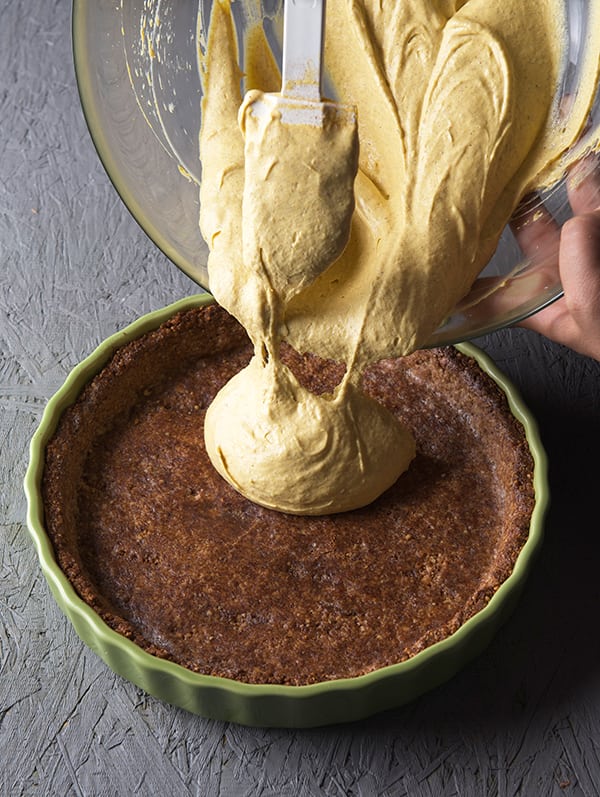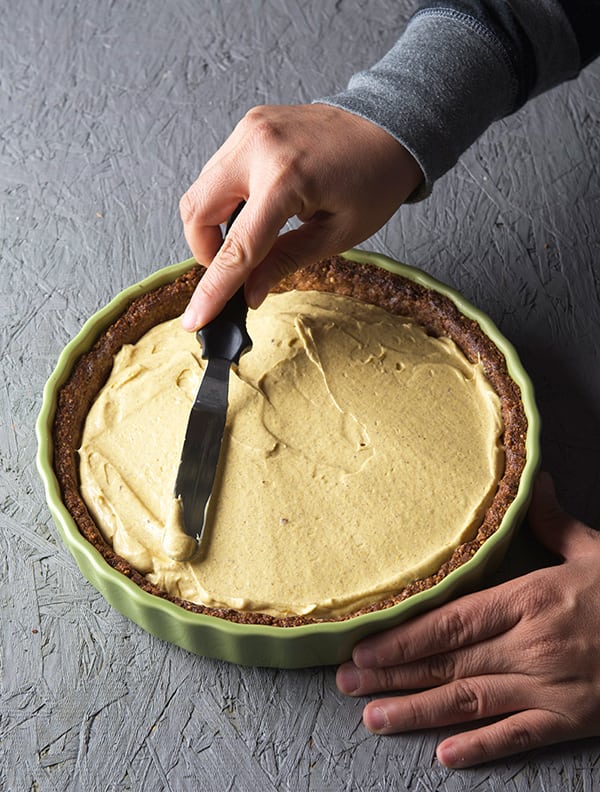 9. When ready to serve, whip up some heavy cream, adding a dash of vanilla extract, cinnamon, and some Svetia for sweetness about ½ an envelope, just a hint. and dollop up your pie.
Cut pie slices, cleaning the knife in between each cut, to get a clean nice sharp slice, and serve with a generous spoonful of the cinnamon whipped cream. Enjoy!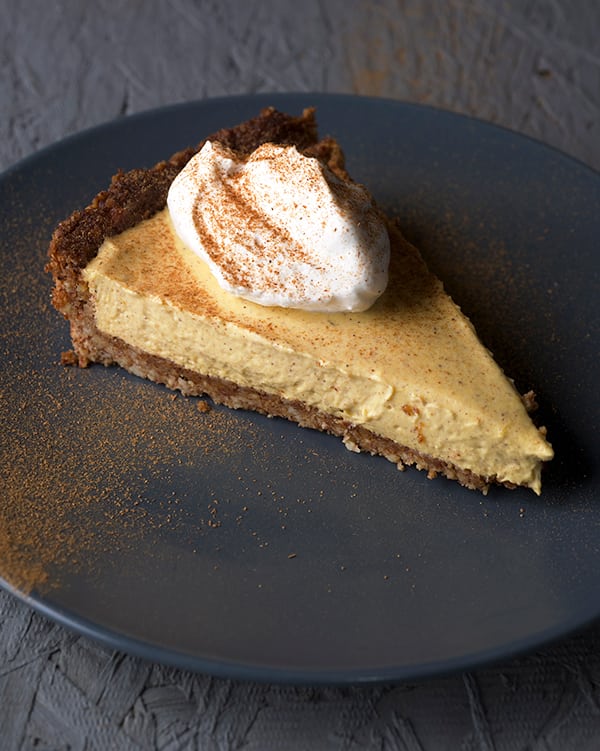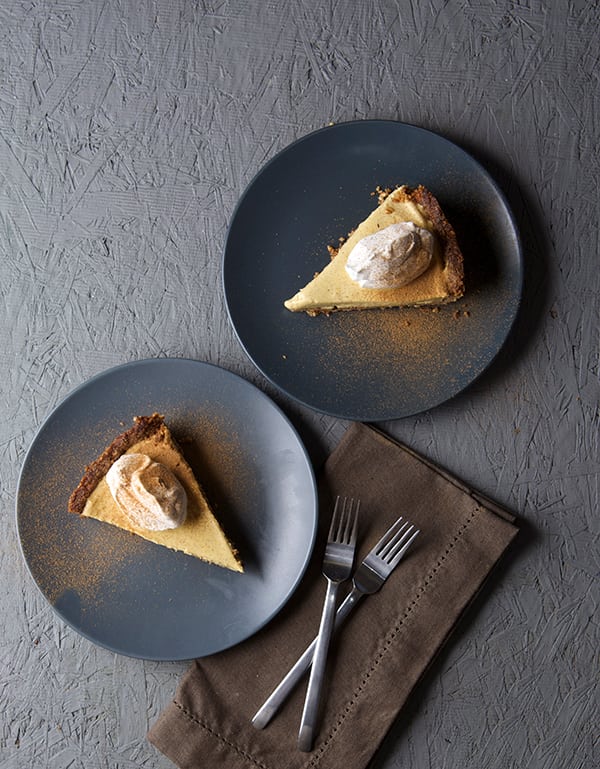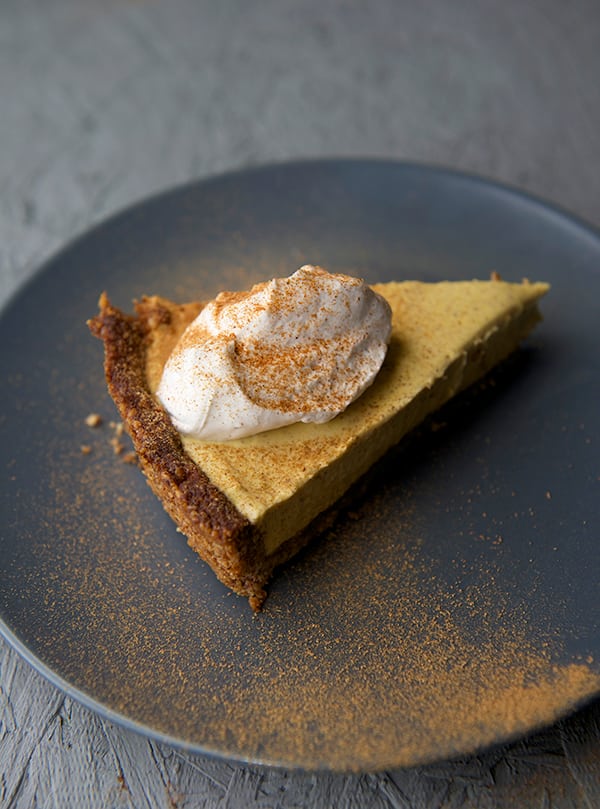 This post was sponsored by SVETIA.US
The opinions are completely my own based on my experience.*
Thank you SVETIA! for providing the product and sponsorship.