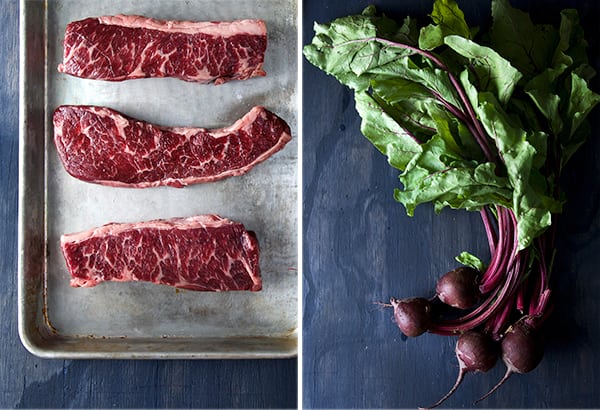 I got these fabulous under blade steaks similar to the infamous Denver steak. The Under Blade Steak comes from the same muscle as the Denver steak, however the under blade steak is cut against the grain for better texture. Where did I get these beauties? At one of my favorite butcher shops here in Austin, Salt &Time. These steaks are full of flavor with great texture, and very fairly priced for their amazing punch of flavor they are good for you and your wallet. My friend Kristen (who I met at volunteering at Boggy Creek Farm) currently manages Salt & Time. She has always recommended awesome cuts to try. Besides the under blade we have sampled the Flat iron steak, Hanger steak, and next on my list the Babette…I hope it is as good as the last supper scene in "Babette's Feast". By the way if you are a foodie or food movie aficionado this is a good film to watch, just to enjoy seeing the woman cooking the feast of a lifetime.. keep in mind… Also ask for Kristen if you happen to visit the amazing Butcher shop & Salumeria known as Salt & Time, in Austin, Texas.
Any how, with this fabulous under blade steaks in my possession, one quote came to my mind,
"To eat steak rare… represents both a nature and a morality."
―Roland Barthes
I believe this man knows his semiotics well. I believe that under cooking a steak is an easy repair and forgivable, but over cooking a steak it's a sin. By the nature laws and morality, I would like to reply to Roland Barthes quote, " To the cook: when you are cooking a steak, please don't kill twice" Cooking a steak it's a serious matter to me. Few foods are so misunderstood like the steak. Forget the marinades, glazes, grilling seasonings and all those powders, and lets concentrate on the matter "maximus meat flavor" that's how I want to eat my steak.
Under blade steaks taste best if cooked, medium to medium rare, especially if you are pan searing them. I would say that if you like your steak more on the done side, this cut may not be for you since it can get a little tough.( But to tell you the truth I have not meet a well done steak that is not tough, heheh…)
After I cooked the steaks, I could not resist to leave all the good delicious bits of meaty flavor plus butter garlic and rosemary left in the bottom of the pan; so I decided to throw some vegetables I had in hand, yellow onions, beets, beet greens, added a pinch of cinnamon quick sautéed all and add a squeeze of lemon at the end for a punch of acidity. I put back my steaks and served straight out of the pan to the table…. one pan easy dinner, your protein and vegetables all happy together. Seared Under Blade Steak Greens and Beets It was epic!
Music Pairing: Sin, Sing, sing, Benny Goodman
Let's cook!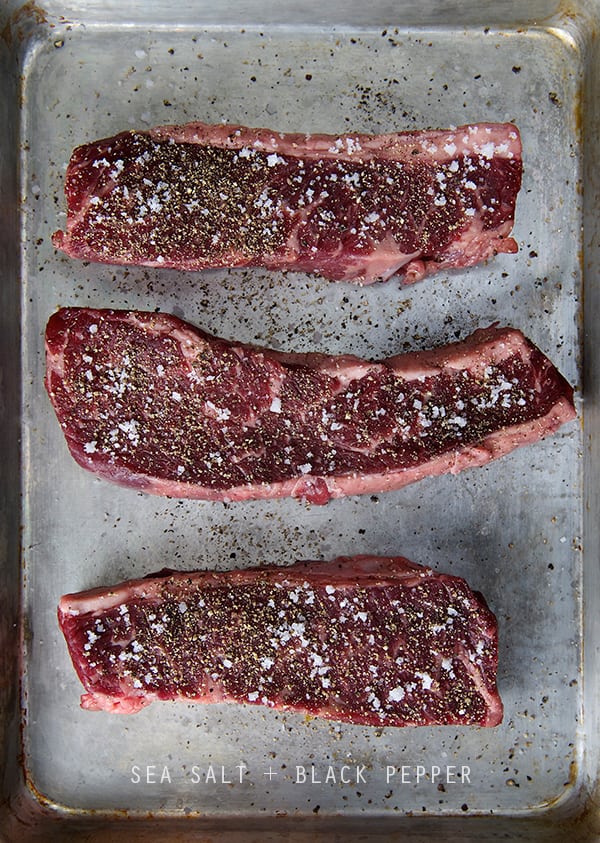 Seared Under Blade Steak Greens and Beets
Serves 4
4 under blade steaks (also known as Denver steak) room temperature
1 glug extra virgin olive oil
2-4 tablespoons of butter
2 garlic cloves crushed
4-5 sprigs of rosemary
Sea salt
Freshly ground black pepper
For the Onions, Greens and Beets:
5-6 organic baby beets per person combine yellow, chioggia, red, or any kind you have available, Save the leafy greens if your beets are organic, we will sauté them along,
they are delicious and a great source of beta carotene, vitamin C, vitamin K, Calcium, Iron and Magnesium.
2 cups beet greens (spinach, kale, any green of your affection will work too)
1 medium yellow onion sliced in wedges.
2 sprigs of fresh rosemary
2-4 good pinches of cinnamon
4-5 cranks of fresh ground black pepper
1 good pinch of sea salt
The zest and juice of ½ lemon
Preparation:
1. Remove your steak from refrigerator and leave it on a fresh area of your counter. Allow them to come to room temperature for 20-30 minutes before cooking.
2. Mean time wash and remove the rough parts of the tops, leave the skin. Steam your beets until al-dente. 20-25 minutes depending on the size. Once cooked, under the water remove the skin very easily with your thumbs or using a paring knife. Cut into quarters.
3. Save and wash the leafy greens of your beets, make a leafy bundle and slice into a wide chiffonade.
4. Slice the onion into wedges.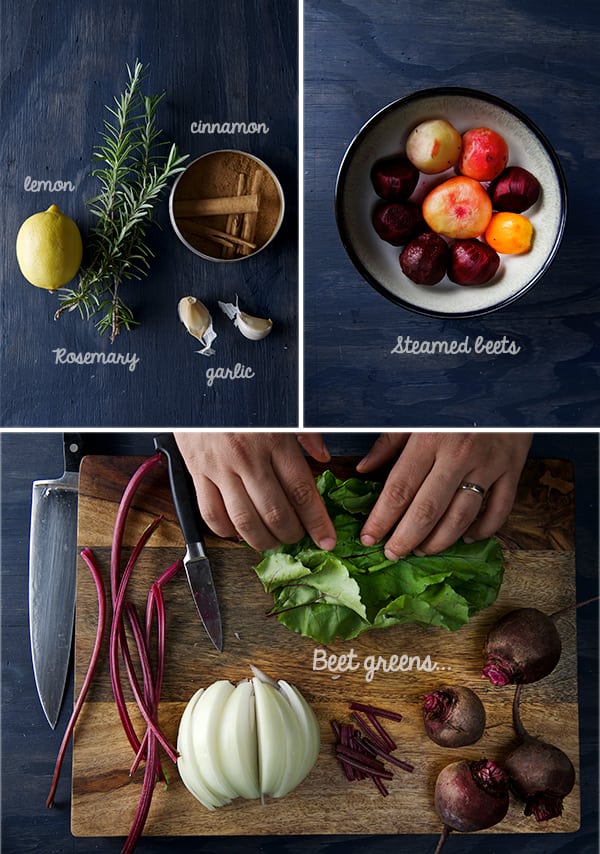 5. Once you have all the prep done on your vegetables start by heating your skillet. Use a heavy bottom stainless steel or a cast iron pan will work best.
6. Pat dry your steaks if needed, Season with a good pinch of sea salt and fresh black pepper on both sides. Be generous, do not be afraid of seasoning well.
7. Once your skillet is screaming hot, add a glug of olive oil. The oil should be rippling hot, then proceed to place the steaks. Remember not to overcrowd your pan. (I used a 12" skillet for 3 small steaks)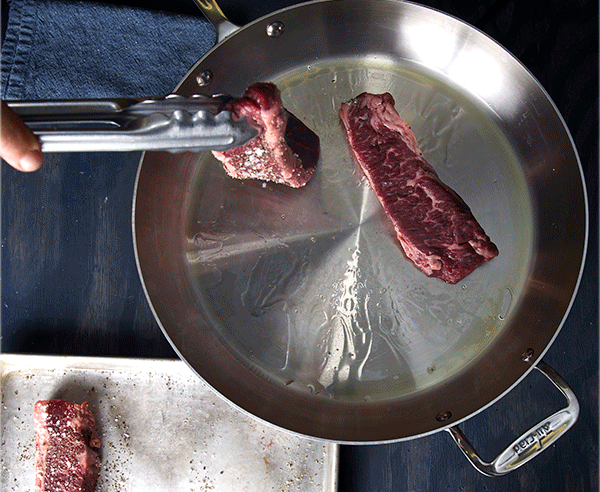 8. Give 4-5 minutes on each side, then once you turn on the second side, add the butter, the rosemary, and crushed garlic to the pan. Tip the pan and start basting the steaks with the melted butter. Using some tongs stand up the steaks to cook and caramelized and crustify the edges of the steak.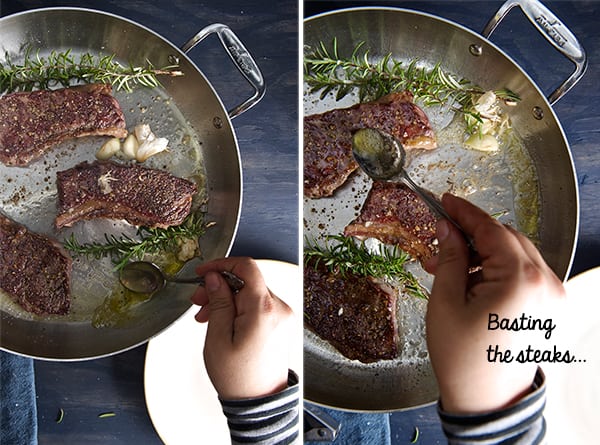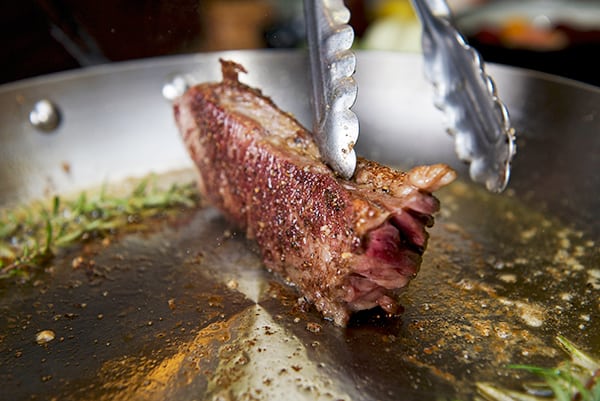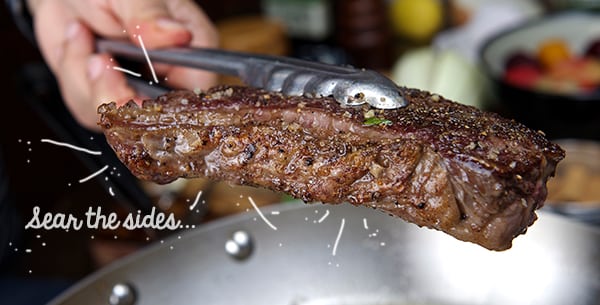 9. Check for doneness, medium rare about 4-5 minutes on each side, medium 6-7 turn 4 times for the extra 2 minutes to cook evenly, add the butter and herbs during the last 2 minutes, baste. Use your thermometer to check the temperature. Usually I will remove them a bit early than the maximum read on the desired doneness, the residual heat can keep cooking your steaks about 3-4 more degrees once the meat is resting.
10. Once your steak is cook to your desired doneness, transfer to a platter and let it rest.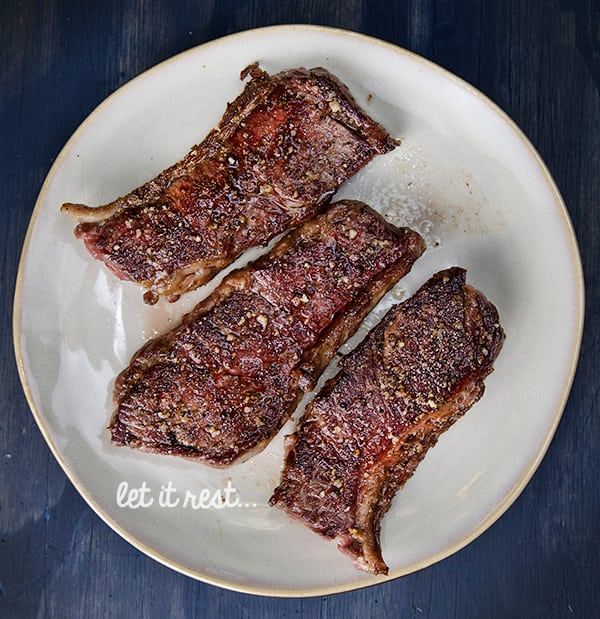 11. Meantime in the same pan, add the onions and sauté for 2-3 minutes, add beets and toss for a quick sauté, season with a pinch of salt, fresh black pepper, and 3-4 good pinches of ground cinnamon, keep tossing until the onions are tender . Then add the greens and toss and shake for 2 more minutes. Place the steak back into the pan over the beets and onions, squeeze some lemon juice all over and grate some lemon zest. Serve immediately. Enjoy! 
Note: Get creative, you can trow any vegetable combinations, sweet potatoes, little new potatoes,spinach, kale, chard,  zucchini, okra, mushrooms, cipollini onions, peppers, shishito peppers, serranos, jalapeños,… just rock it out!)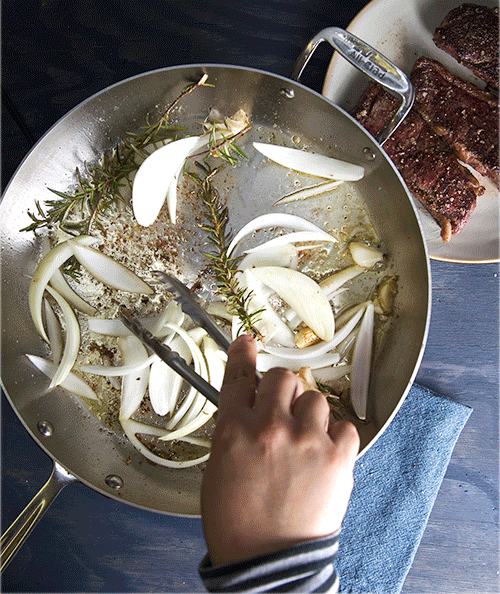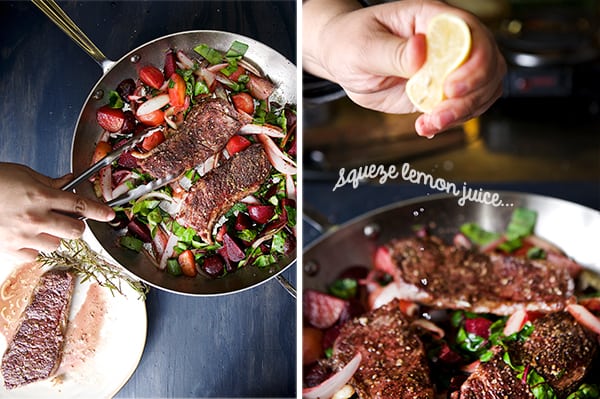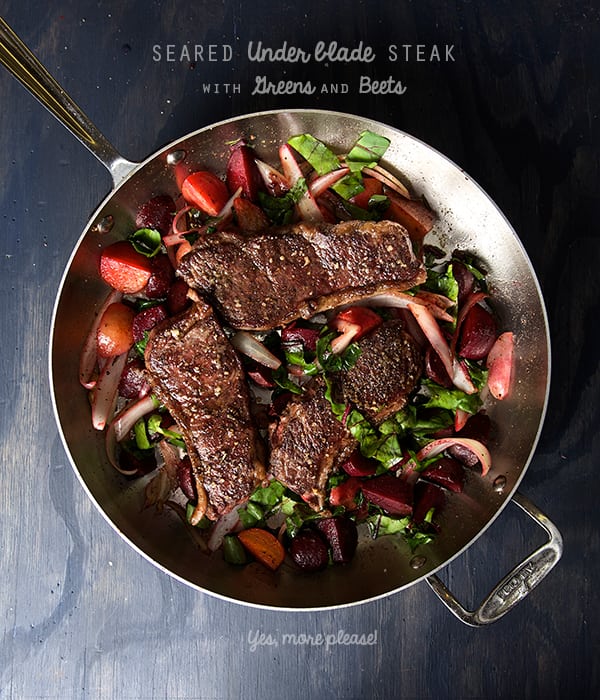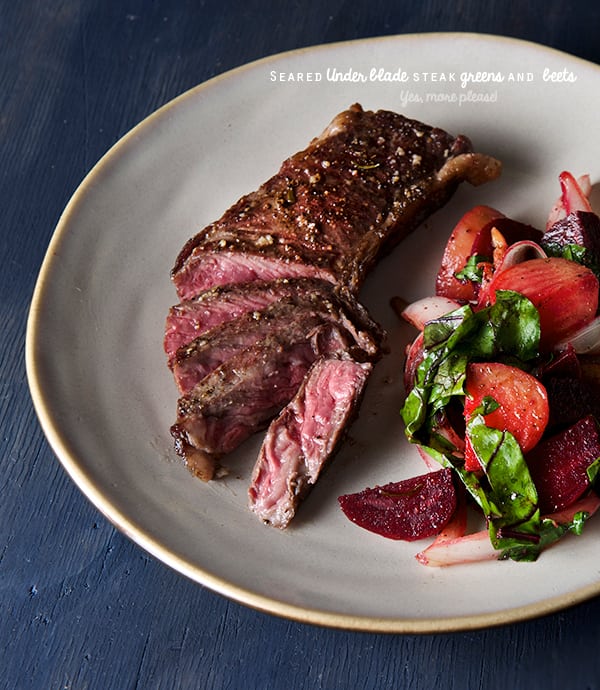 Sing, sing, sing, this  is the new steak of the goddess…
Seared Under Blade Steak Greens and Beets one pan epic dinner!!