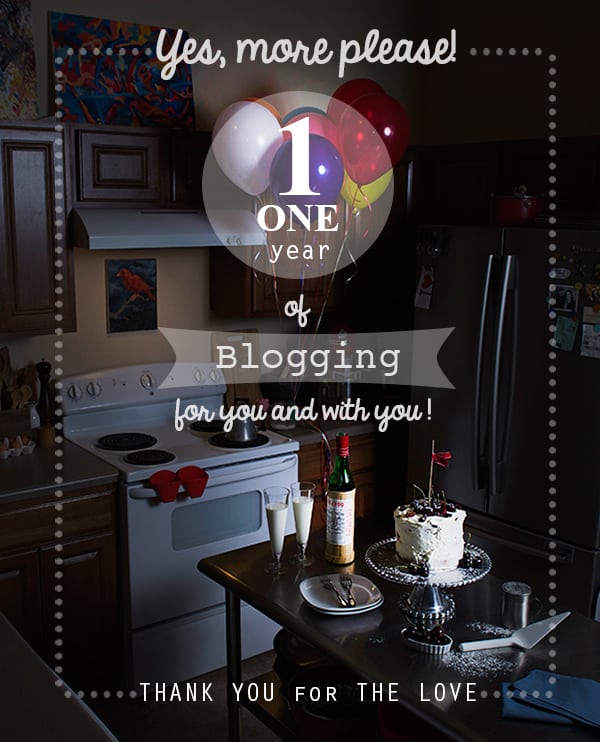 Its time to CELEBRATE. We are thrilled to have accomplished one year of blogging with you!
We truly cannot believe it's been one year already. This year has been an intense with constant learning and exploring in every sense. I remember a year ago I was in urgent need of a career change. Ian and I would talk for long nights and days trying to decide what to do and how to start pursuing a career that let us develop our passions. We knew we wanted to do something together that involved our skills and our love for visual arts and food. Not a restaurant, nor a food truck was not on our minds. We like to produce things but we wanted the option to create a new recipe every day. We preferred not to become accountants and administrators. Something good had to come out out of our years of college and acquired skills. Between Ian's Fine Arts bachelor plus his 14 year photography experience and my Bachelor in Architecture and a Culinary Arts two year certificate we felt we had good ingredients to start creating.
A Tale of Three Gabys…
So discarding the would-not's, we started filling the "YES" gaps on our list. But we could not figure out our what these conclusions amounted to!?…
I have three friends named Gaby ( yes I know, way too many Gaby's). They are close friends from my early years; each of whom I'm grateful to have in my life. When I talk to Ian about them I have to refer them by the city of which they live; Gaby-Barcelona, Gaby-Madrid, Gaby-Guadalajara. I keep in touch with them all through Facebook where I would often post photos of the dinners I made before I began blogging. I had great comments from my friends and they often asked for my recipes. On one occasion many of their comments synchronized. My dear friend Gaby-Barcelona, said "you should start a cooking blog" and I received the same comment twice more from each of the other two Gaby's.
~ Could I pull off a cooking blog? Who would look at it? Isn't my kitchen is too tiny? I hardly ever follow recipes!…You can imagine all the 'not's' and knots in my head. One night I had a dream about it. The next day I woke up and knew what to do. I quit my unfulfilling job and the next day I planned the first recipe. Ian was on board and fully supportive of the idea and the project, although a bit 'confuzzled' as to how we would make it happen (~believe me no more confused and puzzled than me!~). In our relationship, Ian is always the more thoughtful and careful character… He likes to "analyze and investigate" which is great as long as you do not get stuck in the search. I'm the crazy one, impulsive and the "lets' go and do it now" type of thinker which is also helpful but sometimes naïve. Nonetheless, despite these two extremes of character, we make a great team. We just decided to take the plunge into blog adventure.
Let's get started!
After we decided on the name of our blog and cooking theme (and this process deserves it's own post~ heheh), for more than two weeks I immersed myself into the tech-world of how to design and understand the "cosa nostra" of the WordPress world. This process is complicated for some one who has not been in contact with web technology for a long time. Eager and fully committed until my brain was about to explode… I kept going. I remember Ian leaving for work in the morning and he would come back home and we would celebrate the fact that I figured out how to change the color of the font on the titles!!!~Wha! Once that I recognized I was staring idly at the screen I knew I needed extra help. Tutorials were helpful but I did not speak "tech" and I had to look up two words out of three. Bottom line: I needed help. That's when my dear friend Andrea came to my rescue. She was my angel of mercy. She taught me with great patience and care. I will always be in debt to her. ~Love you Andrea!~ Now I was getting the ball rolling! Then I started to work on the logo. I made at least 37 logos with various fonts, colors, and names. The first one I finished did not look at all at "our"current logo. Even now we are thinking of refreshing it… oh boy! But at the time the most important part for us was to just get started and keep going.
The 1st shooting…
Our first shooting day was a long one; we spent at least 5 continuous hours. We had to figure out light quality, photo angles, and the composition. The recipe was the easy part. I have tested the recipe before and we have had it many times for dinner or lunch. A simple and delicious Jalapeno honey cornbread and tomato salad. Since it was tomato season I could not have being happier for a tomato recipe to be our first post. The best reward after the shooting was the recipe for lunch, and that's still true today. We shoot live. When I say "what you see is what we eat" it literally it is. In manny occasions we are so tired after the shooting that we just take the whole display board to the table and eat the "beauty shot" as we call the final image. That's when I do my final recipe adjustments if needed. Ian is my best judge.
The first post…
So with bits and ends on a Thursday July 11th of 2013, I managed to assemble our first live published post. It was terrifying and liberating. It felt like sending a message to the universe, with no answer but once we saw it on the screen. We felt really good about it. With crickets chirping in the background and our friends and family, we began to get views and a great little response. Our first day we had 153 views!lol!.. But how do you eat an elephant? One bite at a time right?
On the go!
So, we have kept going and shooting and creating recipes. We have had the worst fights of our life and the best happy feelings and joy at the same time. We have argued over a piece of radish, cutlery on the side of the plate, light placement, flavors, textures, colors, dishes, all in an effort to always give you the best recipes we can share with you.
The recipes represent who we are, what we ate, and what we are craving. I've learned tons about photography and Ian has learned lots about cooking. Its been the most intense year of our lives and one heck of a ride! And I'm sure we would not trade it for anything.
We can not put into words how rewarding it is to get to know new people and knowing they are enjoying the recipes. Our friends and family write comments that keep us going. Sharing who we are through our food and our visual journey is what we love to do. In total we have posted 84 times and around 82 recipes in 52 weeks. We have hundreds of viewers who visit every day in over 17 countries (shout out to Finland!). Food is a great universal language.
We aspire to inspire YOU to cook, to live up the experience and to enjoy the cooking process. Preparing a meal whether it is for one, or two, or two hundred will make your day a better day and when you share food with family and friends you are building up great memories for tomorrow. We believe homemade meals taste better when you put a little extra love to the cooking process.
To serve you cyber food its our great pleasure and we will continue sharing the love of food with you.
Thank you for being here with us all year long! Cheers for the next one to come!
I

a

n and Mari

a

na
Our Headquarters !!!
Check out our little kitchen. If we can cook, eat, shoot, dance, fight and have fun in this little happy place you can do it to! Nothing is stopping you to have an awesome time enjoying and making the most of what you have.
~ Let's cook!
We wish we could of invited you all… but as you can see it would be a bit crowded; hey! maybe next time you could come and cook with us?! Shoot us an e-mail if you want to be our guest, you are welcome any time.
Meantime welcome to our little happy place…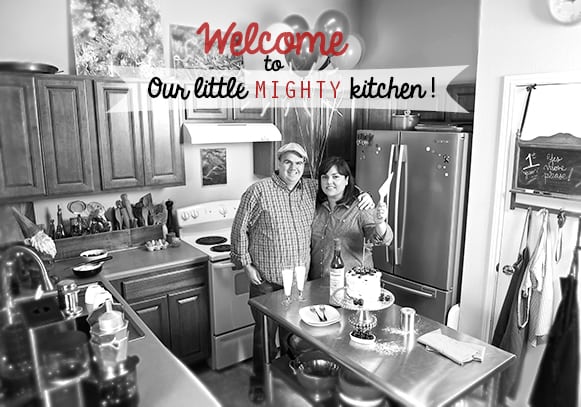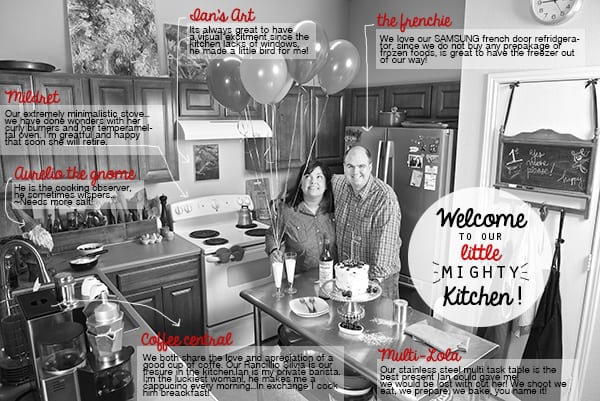 What the

new year

will bring us?
New web design coming soon…a refreshed look, printable recipes, tutorials, a section of our favorite ingredients, gadgets, books, and a more accessible music pairing gallery…stay tuned!
We are marinating the idea of publishing a book. Any ideas, contacts, or publishers are welcomed. ; )
We would love to travel our cooking, so invite us to your city, we will cook for you!
We would

love

to be closer to you!
The screen is our medium so shoot us a comment, tell us what you would like to see this year, what you need, what rocks your boat, what music or spice are you hooked on! We are here for and because of you!.. Don't be shy and please share your thoughts.
All along this year we had people who helped us to become better bloggers,
to all of you readers and followers THANK YOU so very much!
Musika! One of our favorite local bands : Spoon!!
Extra Special thanks to all the people who helped us to put the extra

cherry

on the cake!
My friend Drea for her continuous help, support, and friendship!
Thomas for all the patience in the world and great support on the "cosa nostra" of the WordPress. For teaching me valuable tips and hints and for rescuing me every time I had to do a back up!  ~Keep calm and ask Thomas~
To all our friends who helped us with the frantic voting for The Kitchn, "Homies awards 2014″contest, hehehe, it was an unexpected and fun experience.
To The Kitchn website editors… for picking our blog as an Editor's choice in the contest.
My Mother and our families who always have been our best cheerleaders!
Our number one follower Tamra!!! I think she has done almost all the recipes on the blog… if not all … almost close. Thank you!!!
Our Friends and bloggers from Austin Food Blogger Alliance, Adri and Matt, Maggie Perkins, Kristin Sheppard, Megan Myers, Katryn Hutchison they do an awesome work as leaders for the AFBA and in helping spread the Austin blog love! This is a great group of people in pursuit of good food and good information. I'm looking forward to a great year of active blogging adventures!
Our Special Supporters:
Sharlie Douglass from Nikon , Paul and Natalie Bardagjy unconditional friends and recipe lovers, Kirk Tuck , Mandy Earnshaw and all the good folks at Precision Camera and Video here in Austin, TX.
‪
Our Farmers Market Friends from:
Boggy Creek Farms
My favorite happy-enchanted place in Austin, hands down they have the best vegetables in the city!
Carol Ann, Stephen, Dana, Lorig, Tina.
Johnson Back Yard Garden at the Sunday's Muller Farmers Market,
Hector (Chef Boyardee) for always receiving us with a big smile at the farmers market stand, Thank you Hector!
Smith and Smith Farms
Great delicious eggs and the best chicken to roast. Thank you so much Colby!
Gilbert Market in Arizona
Thanks for loving sharing our recipes!!! We hope to visit you soon!!!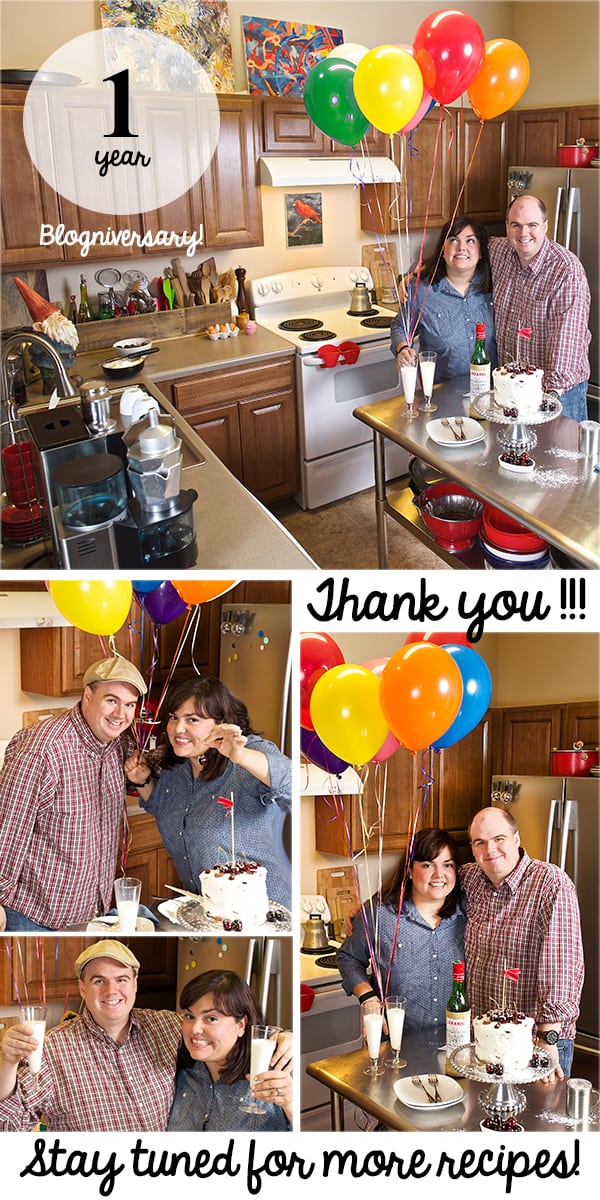 Thank you, thank you, thank you!