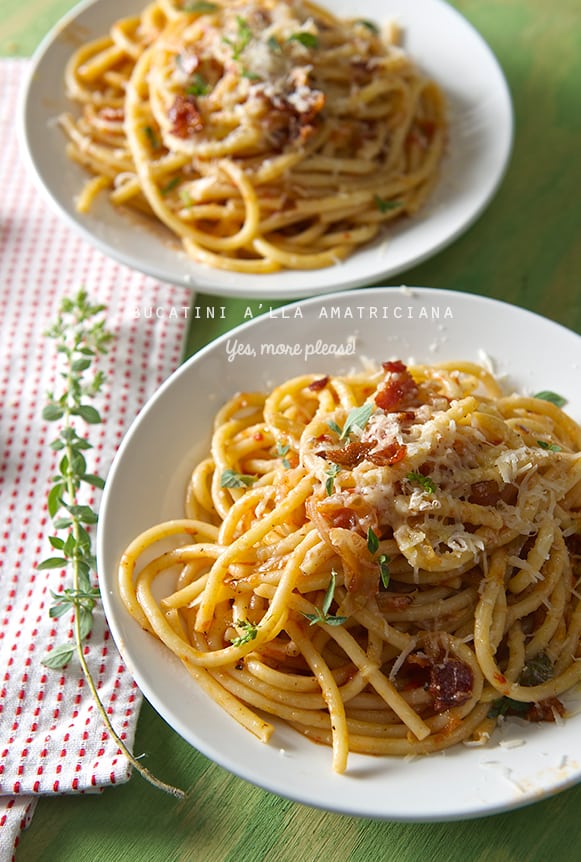 Tomato Season in full bloom, but we have to move quick because here in Austin, July is the end of it. These red jewels do not handle triple digit temperatures. We have been eating them faster than I can come up with recipes to share; adding them to omelets, frittatas, salads, or as simple as slicing them with a bit of lemon juice and sea salt. Yes, I love them that much! I'm in tomato season heaven.
So the search for tomato inspiration involved going through my cookbooks. In search of a classic tomato recipe I ran into this pasta recipe that is very dear to my heart, Bucatini a'll Amatriciana.
The first time we had this Roman classic, the way Italians intended, was in Rome. We spend almost one whole day at the Vatican Galleries walking and absorbing every single piece of art from the loooong corridors, from sculptures, tapestries, paintings, murals, jewels, did I say sculptures, murals, paintings? We finished the day at the Sistine Chapel, and Saint Pietro. Oh, my! we had an Art binge that day. After more than 6 hours, trapped and surrounded by the most amazing pieces of art and history we grew a voracious appetite. We felt like liberated lions in the Coliseum! Our stomachs were growling, we were in 'art coma'. Hungry, thirsty and desperate, we noticed that we were surrounded by religious and souvenir stores…but we wanted food!!! We walked and walked the narrow Roman streets, searching for a non touristy dinner… And suddenly we were lost. Oh no, that was not good at all! Hunger does not let you think and makes you disoriented. We were getting grouchy and tired.
But as you know there is no harm that lasts a hundred years. Suddenly we saw a place with a big sign that said "Forno a Legna", the most incredible arousing smell coming out of the door and a young man with a great smile (and the word buffalo mozzarella pizza). We felt like we had found the oasis on the desert, hypnotized and in a state of art coma, we sat down and this great polite man received us. We just told him "We need food; you feed us." We had Caprese Buffalo Mozzarella Salad, Wood Fired Pizza Capricciosa, a Green Salad and we trusted him to bring us his favorite pasta.
When food arrived to the table it was incredible, everything looked and smelled so good, except for the pasta which did not looked very promising. At first sight it looked like "that famous Italian chef canned pasta" were the tomato sauce is kind of scattered and looked a bit under sauced. The noodles where very thick and they had sprinkled it with copious amounts of Pecorino Romano. I thought he was pulling a tourist pasta on us… I was so hungry that we did not care at that point.
To our big surprise the first bite of that pasta was a revelation. I felt like the whole Vatican art collection pasted a slide show in my head. That pasta was the best pasta I've ever had. Bucatini a'll Amatriciana. Ian and I looked at each other incredulous of this amazing feast, we kept eating and making sounds of extremely joy and comfort. When we finished, all sort of questions were bombarding my head. This was by far the best pasta we ever had. Perfectly cooked, this thick spaghetti-looking pasta had a hole in the middle that was filled with all the juices from the sauce. The most luscious, salty and tomatoey sauce I ever had. And as we ate it we tasted the occasional piece of rendered guanciale, a cured meat. The Pecorino Romano added a perfect texture, and the pasta was silky and had the perfect balance of utterly delicious tomato flavor. This pasta would be best described as an Aria to tomato flavor.
At the end of our dinner, Ian and I just looked at each other amazed by what we just had eaten. I wanted to know everything about this pasta. I called the young man and he introduced himself. His name was Luca and he was the son of the owner of the restaurant. Like in most cases this restaurant was family owned. Luca told us all about the pasta; Bucatini a'll Amatriciana, his favorite pasta. He described the preparation and the ingredients. I was in awe of the fact that there where just four ingredients. This conversation brought me full understanding of the importance of pasta-sauce ratio, the importance of pasta shape and sauce type relationship, best pasta conversation of my life!.
We will always be grateful of Luca to have shared his pasta wisdom with us, to had been such a great hostess and to have enlightened us with this amazing experience.
This Bucatini a'll Amatriciana brings us lots of great memories and what a best season to make this recipe than tomato season. Please Enjoy!
If you would like to visit Luca in Rome:
Piccolo Buco
Via del lavatore n.91, Rome Italy (Trevi area)
Yes, this place have some funny lettering on the outside … nevertheless please do not measure food quality by this matter…hehehe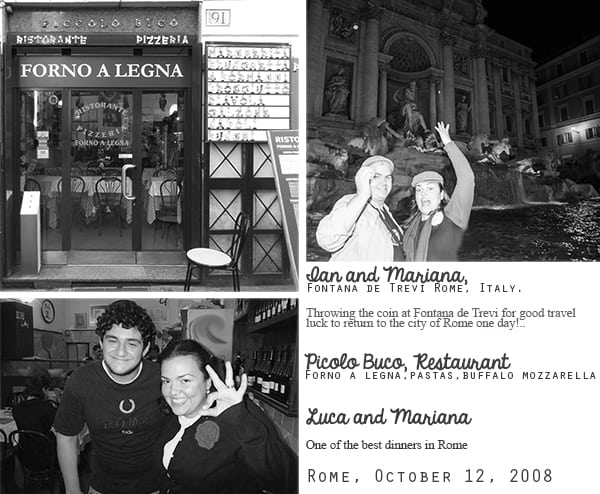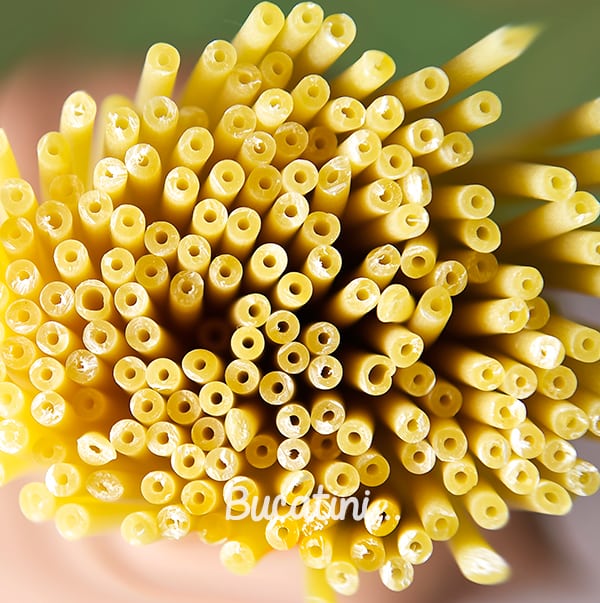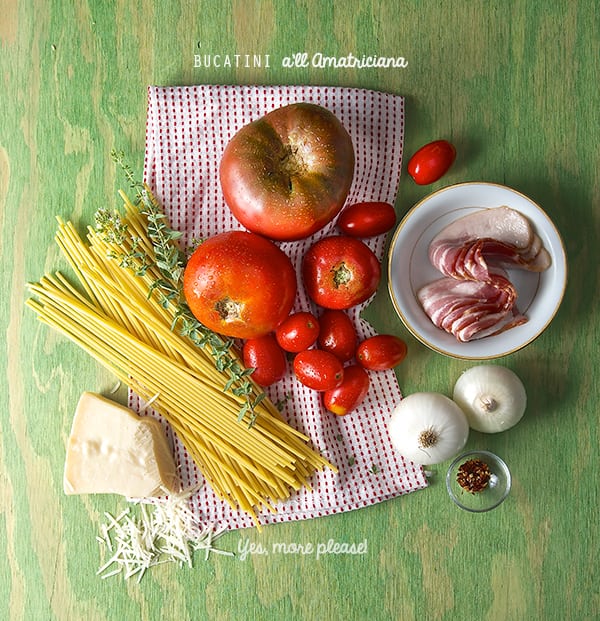 Bucatini a'll Amatriciana a Roman story…
Serves 4 or 2 hungry, lost souls.
1 lb. bucatini pasta, I used Rustichella d'Abruzzo, De Cecco, Del Verde, Garofalo, Barilla will be all good options.
4 slices of thick not smoked-cured bacon or pancetta or guanciale, diced. Best option of the tree: Guanciale. I used Bacon that was what I had available.
1 lb. fresh ripe tomatoes, I used a combination of heirloom and red plum tomatoes, San Marzano will be idyllic, I just wanted to use what is in season and it turned out fantastic!
1 small or half a white sweet onion, thinly sliced or diced.
2 pinches of red pepper flakes
1/4 cup olive oil
½ cup of freshly grated Pecorino Romano.
1 sprig of fresh oregano. (if you can not get fresh oregano omit it, dry oregano has too strong flavor profile for this recipe.)
Notes:
Italians traditionally make Amatriciana sauce with Guanciale, salt-cured pork jowl. It is similar to pancetta, but not as lean, and therefore has a richer flavor. Pancetta is the second option and a little more meaty. The third option is cured / NON-smoked bacon. I used the bacon of a well-known organic brand that makes a great cured/non-smoked delicious and leaner bacon.
Preparation:
1. In a large pot, start by heating up your pasta water and a couple of good sea salt pinches.
2. Mean time, with the help of a cheese grater, grate your tomatoes, omitting the skins.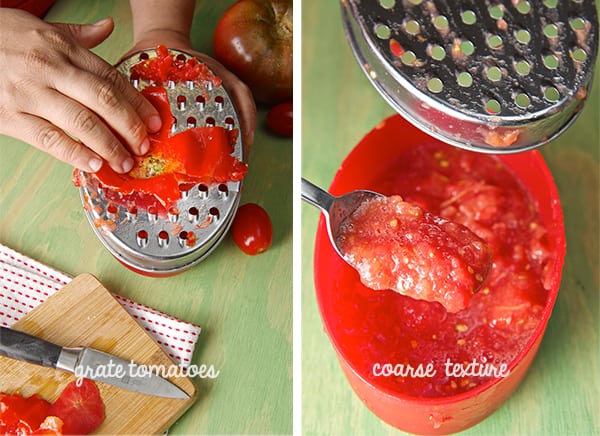 3. Cut your onions and Bacon.
4. In a non-reactive heavy bottom pan or a stainless steel pan add half of your olive oil and cook your bacon, pancetta or guanciale until crispy. Remove half of the crispy bits and add the onions.
5. Cook the onions until soft. And add the pinch of red pepper flakes. (see picture below)

6. Add your grated tomatoes, oregano sprig and cook for the same amount of time that it will take to cook your pasta.
7. Add your pasta to the boiling water and cook following the directions on the package to be ardent approximately 6-7 minutes or other wise.
8. Reserve some pasta water. Drain your pasta, and add the pasta to the sauce, add some pasta water if needed, add the rest of the oil and reserved bacon, adjust seasoning.
9. Marry the pasta by cooking for another 2 minutes…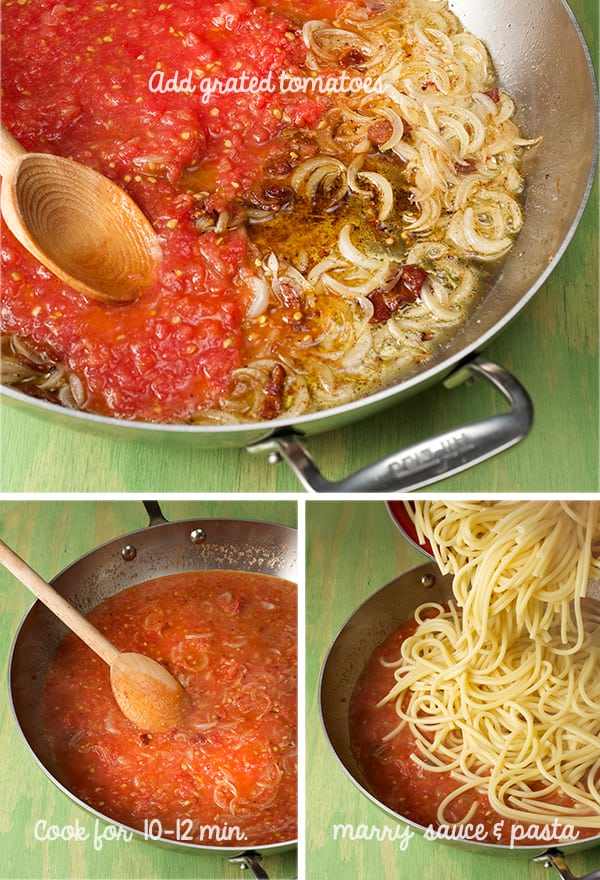 10. Serve immediately and sprinkle with generous amounts of grated pecorino Romano.
*Sprinkle some fresh oregano leaves if desired…Roman people will kill me I know…but it tastes so good!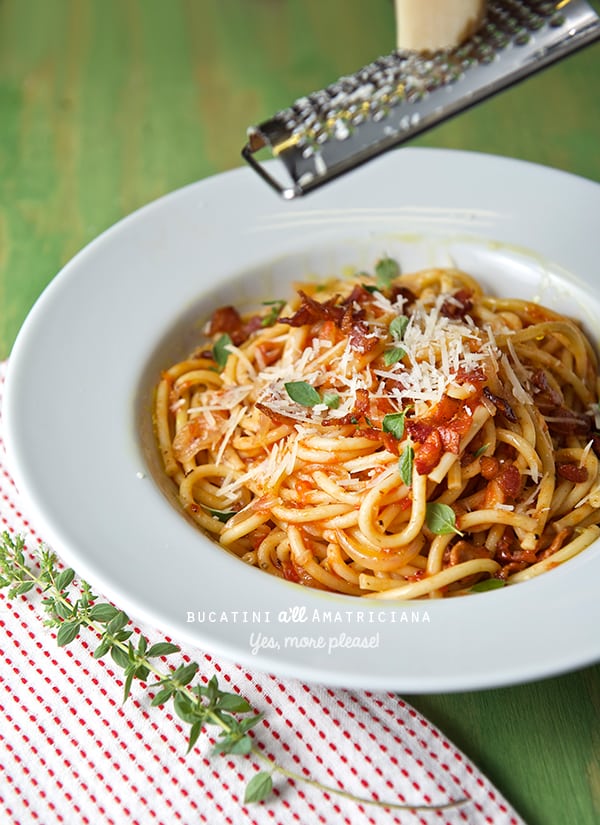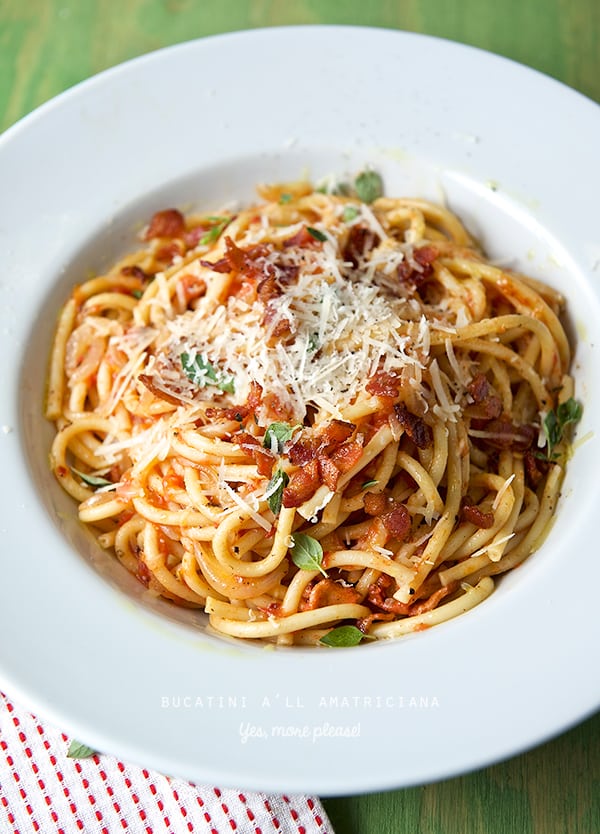 Viva Roma!
https://youtu.be/3o15UTomYsc