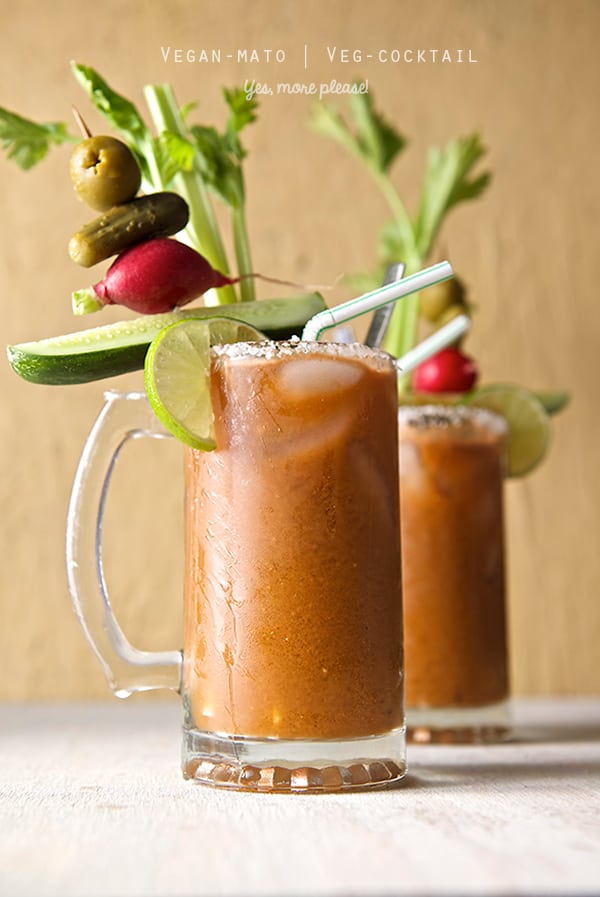 Need some veggies in your life? Let's veg-out!, I mean Veg-in, Vegan-mato is a vegetable cocktail that delivers a fun way to drink and eat your vegetables. Let's  throw a party in a glass!
Sometimes you just need something that boost your inner health and some vegetable motivation in liquid form is the way to go. Not sure what to do with left overs veggies of the week? juice it up!
This Vegan-mato is waiting for you, perfect summer power drink, made with fresh vegetables, all natural, extremely flavorful and fun to make.
It can't be easier than to throw all the veggies on a food processor, season, squeeze some lime juice, sea salt, a little hot sauce kick, some ice, a straw and some extra veggies to munch and crunch.
This Vegetable-non alcoholic cocktail is one of the best ways to drink you veggies.
Have a great weekend…Enjoy!
Do you need an umbrella to go with this cocktail? Perhaps, perhaps, perhaps…
Check our music gallery for our music-recipe pairings…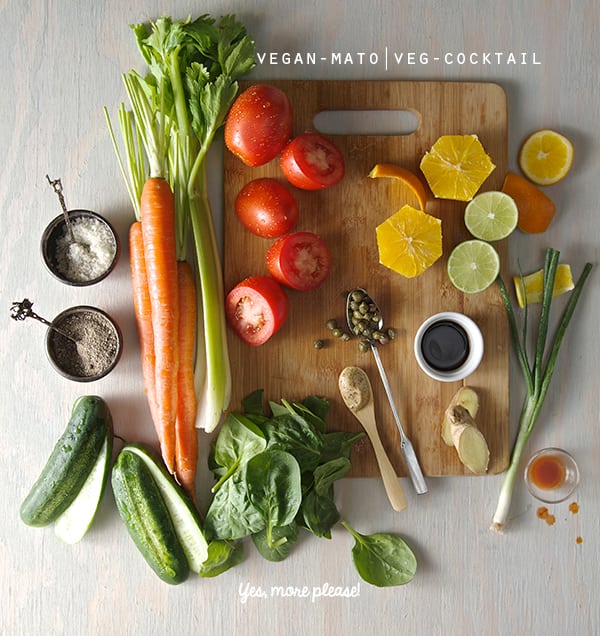 Vegan-mato a Vegetable Cocktail
Serves 2 large mugs or 4 short glasses.
4 Roma tomatoes
3 large carrots
1 medium orange peeled
2-3 small cucumbers
1 spinach handful
2 large celery stalks including the leafy tops (celery leafy tops are a great source of magnesium do not waste them! Drink them, include them on your salads.)
1 sprig of parsley
1 green onion
2 inches of fresh ginger
Season with:
the juice of 2 limes
2 teaspoons soy sauce
1 teaspoon sea salt
1 pinch of celery salt
2 pinches of freshly ground black pepper
1 teaspoon of spicy brown mustard
2, 3, 4 dashes of your favorite hot sauce.
Garnish with:
2 bamboo skewers
Celery stalks
Martini Olives, jumbo pepper stuffed olives or Jalapeno stuffed olives.
Pickles
Fresh cucumber wedges
Cherry tomatoes
Radishes and chopped capers
Some extra sea salt and a half of lime to cover the rim of the mug.
Note: It is very important to me to make emphasis on how important it is to buy organic produce when juicing. Flavor, nutritional value is superb when organic vegetables are used; believe me you don't want to be drinking pesticides. Please take this in consideration…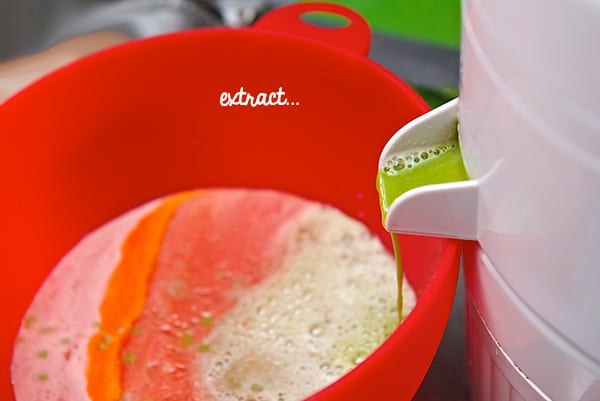 Directions:
1. Chill your Mugs, by placing them on the freezer.
2. Wash and cut the hard ends of vegetables.
3. With the help of an electric juicer, juice all your vegetables first and add the orange last. The juicy orange will help to clean up all bits of vegetable flavor on your juicer.
4. To this juice, add the soy sauce, sea salt, pepper, spicy brown mustard, a few dashes of hot sauce, and the juice of two limes. WHISK!!! until well combined. Taste to adjust the flavor.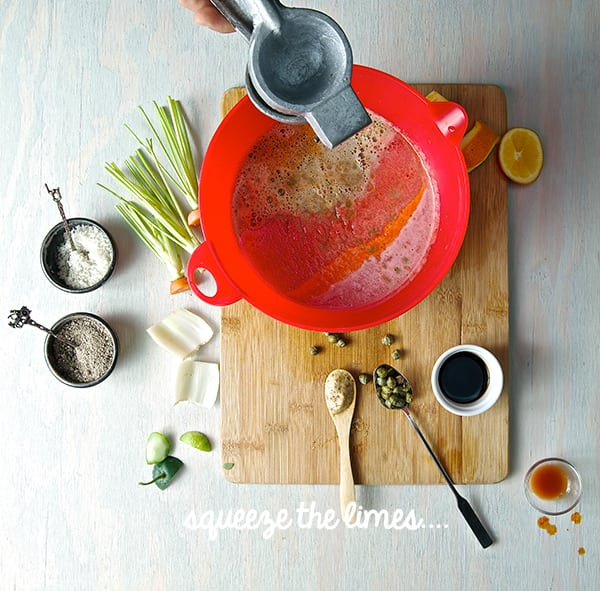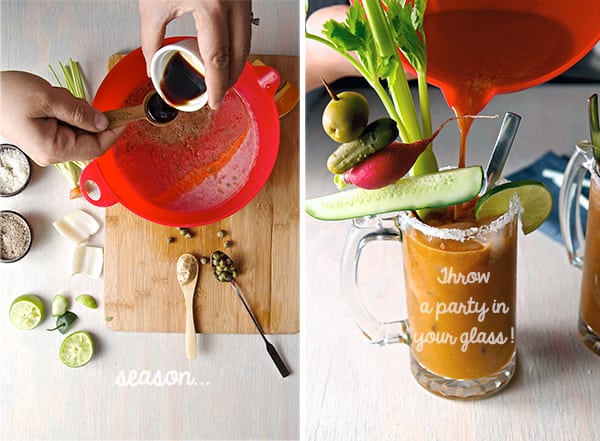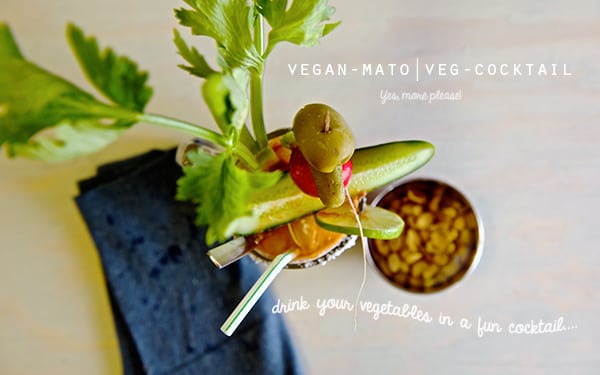 5. Make your vegetable skewers, using what ever you prefer for garnish, cherry tomatoes, radishes,caper-berries, olives, pickles the limit is your imagination.
6. Take the mugs out of the freezer, rub some lemon on the rim and dip it in salt. Add lots of ice.
7. Add your celery stalk, a garnish skewer, a straw, umbrella, sandals, a sunny porch and some great music check our music pairings here!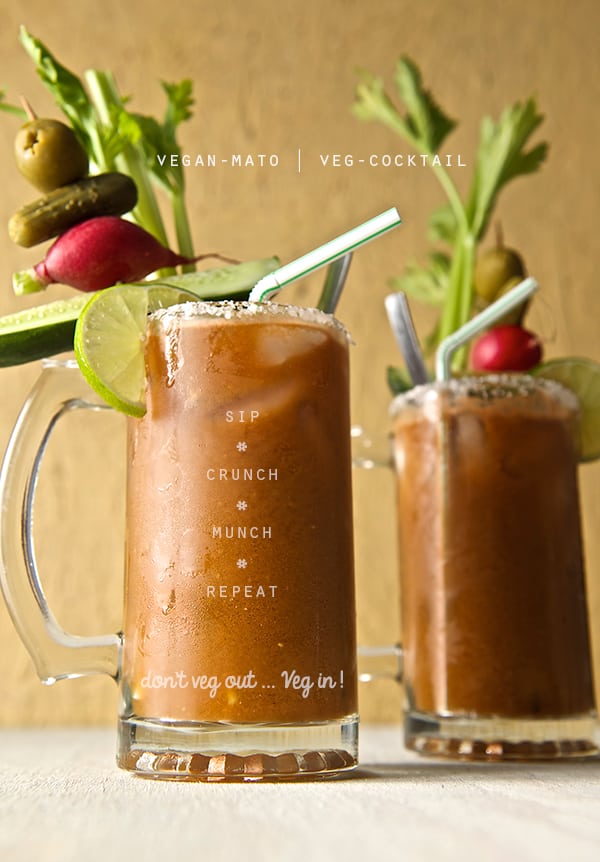 Cooking music Pairing: Guardians of the Galaxy- Awesome Mix Vol. 1