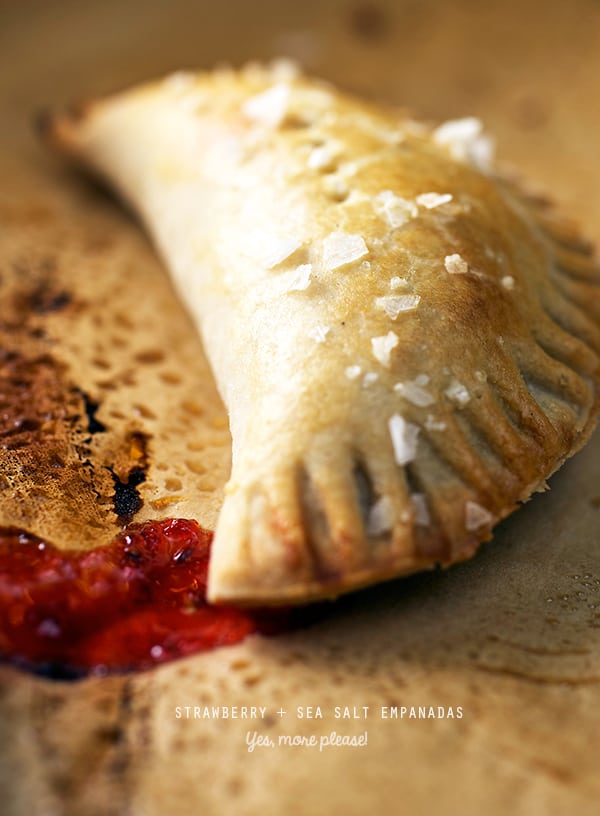 The Empanada is a classic pastry in Mexico. We inherited these pastry pockets of goodness from the Galician people of Spain. If we backtrack to the empanada's middle eastern cousins ,the samosas, we can trace their origins all the way to Persia. They have been around for a quite while. The common denominator of these pastries is a piece of dough that wraps in a half-moon pocket with any kind of filling; sweet to savory, meats, vegetables, fish, cheese, nuts, fruits, you name it! Your craving and the sky are your limit on this one.
What makes a good empanada? Is it the filling or the dough? Its like asking what was first the egg? or the chicken?…For me its all about the dough. If you have a great dough recipe even the humblest filling will shine.
This recipe is all about the dough and a very humble strawberry compote filling.
I woke up dreaming about these strawberry empanadas. Yes, I had the empanada voice in my head but my conscious belly did not want to have to deal with the caloric remorse. So I re-vamped my old recipe to make it a bit more nutritious. Its a recipe I've used for a long time. I adapted it, made it my own and it never fails, it always turns out great and it's easy to make. What makes it different from other recipes is that I replaced the water and leavening with white wine. Yes, you heard it well or shall I say read it clearly. WINE in my dough! any wine left overs?…  Why wine? Well the wine acts as the leavening and gives the dough a smooth and pleasant flavor, tender crumb and bit of sweetness. No worries about alcohol content please. Once you bake these babies the alcohol is gone leaving the great flavor on the dough. *sight*
The original recipe calls for lard, which with the years I've changed to butter. For this recipe in an effort to not use lard or any other heavy-duty fat I decided to replace the butter with coconut oil, a plant-based fat. This might seem like a fad, but I'm on a mission to demystify this trend. I've used it in a couple of recipes, with great success and flavor. So if the healthy bonus come along that's even greater!  Also I've substituted half of the white un-bleached flour for oatmeal flour.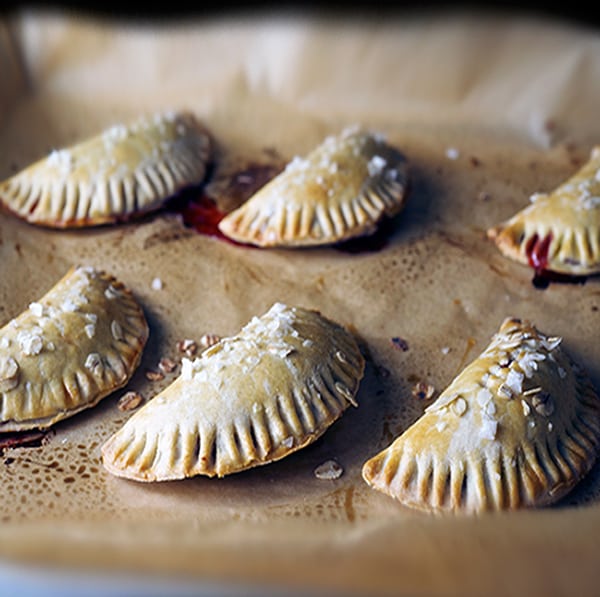 The results are delicious. The empanadas are light and flavorful, easy to digest, with no caloric remorse, and best of all an oatmeal empanada can technically be a breakfast of champions! Hehehe.
For the filling I used strawberries, honey and lemon to make a simple strawberry compote. Three perfect natural flavors in harmony.
And for the final touch some sea salt flakes on the crust. Oh my when you take a bite of these babies its heaven. They have a light crust, not too sweet, and the sea salt flakes add tons of attitude, they brighten up the strawberry filling and balance the sweet flavor. This recipe is a winner and I truly believe You are gonna love them. I would love to hear back from you if you make them, shoot us some comments do not forget to share…Enjoy!
Other empanada fillings: peach & ginger, apples, strawberry and peanut butter, raspberry, mangos, pineapple! Or any savory flavor will work too…strawberry & peanut butter wha?!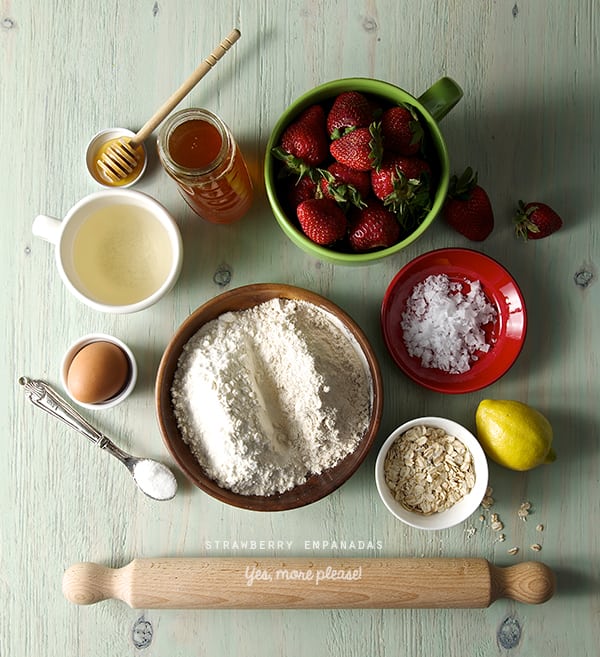 Strawberry Empanadas
Makes 12 empanadas, recipe can easily be doubled for a bigger yield.
1 cup unbleached all-purpose flour
1 cup oatmeal flour
1 teaspoon sugar
1 good dash of kosher salt
1 large egg yolk
1/3 cup coconut oil Organic Coconut Oil Pure Extra Virgin
½ cup white wine ...almost any kind will work, left over wine? Great!.. with the exception of a very dry and mineral-rich wine (Those flavor notes will be a bit harsh on the dough flavor.)
For the strawberry compote:
2 cups diced strawberries
the zest of one lemon
the juice of half a lemon
a pinch of salt.
¼ cup honey
¼ -1/3 cup turbinado sugar, upon how sweet or tart your strawberries are, start with ¼, taste, and add more if needed.
Top with:
Sea salt flakes
Oat flakes
1 egg + 1 teaspoon water for egg wash.
Preparation method:
Making the dough:
1. Combine dry ingredients, whisk.
2. Add coconut oil in solid form mix using your fingers until the flour resembles coarse sand.
3. Add egg yolk and mix.
4. Add white wine little by little and mix with your hands until well incorporated and you form a ball.
5. Knead the dough for about 3-4 minutes until smooth.
6. Cover with plastic wrap and refrigerate for about 1 hour.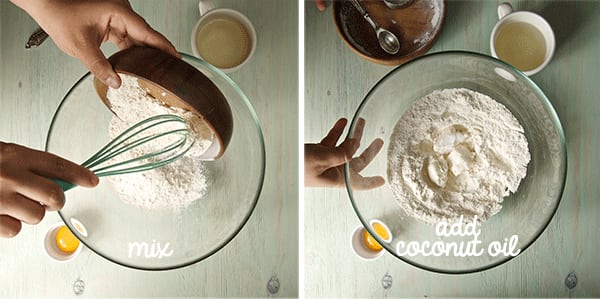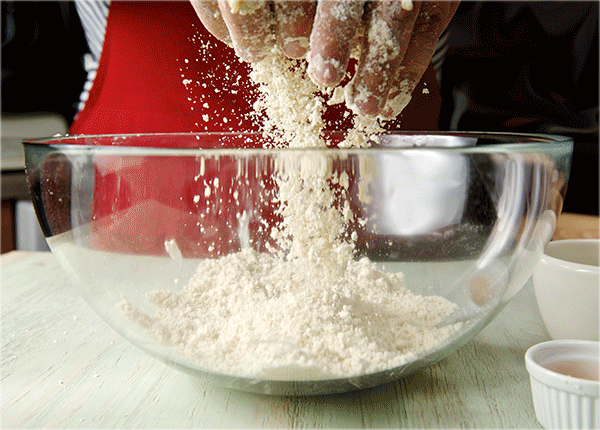 While the dough is resting, make the strawberry compote:
In a small non reactive pot (stainless steel preferable) combine diced strawberries, turbinado sugar, honey, lemon zest lemon juice. Mix well until sugar is dissolved by the strawberry juices.
Over medium heat, bring to a boil and simmer for 4-5 minutes. Attend at all times, you don't want a sugary foam all over your stove!. Remove from burner set a side and cool.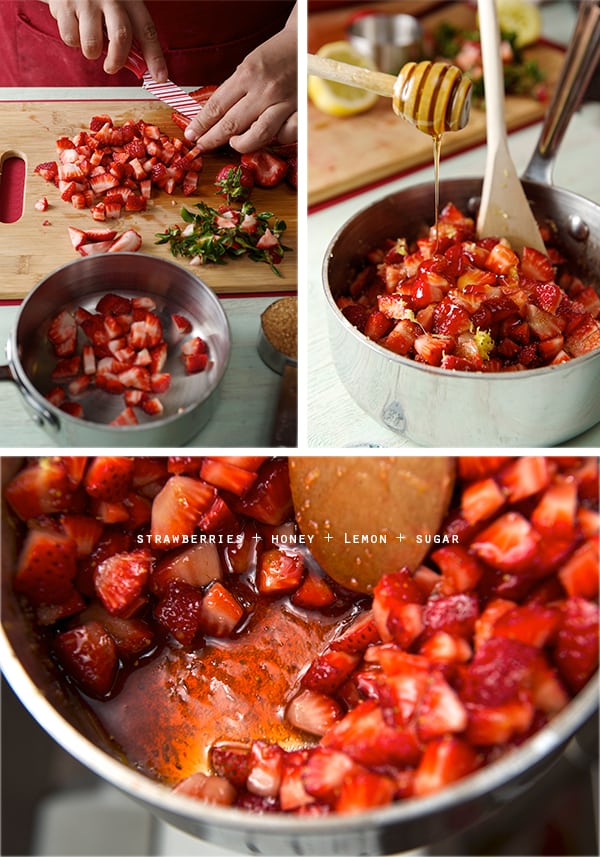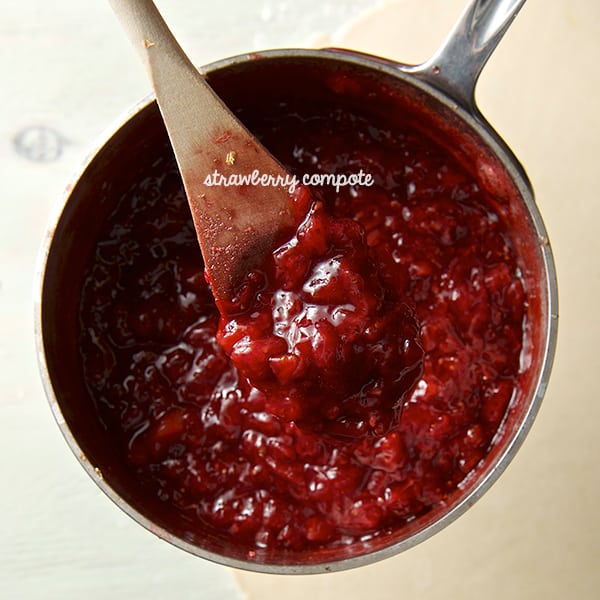 Making the empanadas:
1. Roll the dough into a large circle, start by shaping the dough into a disk, flour the surface and with your rolling pin start rolling from the center out. rotate your dough 90 degrees every time you roll to keep the dough into a circle . /this rolling and rotating allow you to keep the dough from sticking to the surface, and to keep it at an even thickness. You want to stop rolling until your dough is about 1/8 of an inch thick. (see picture below)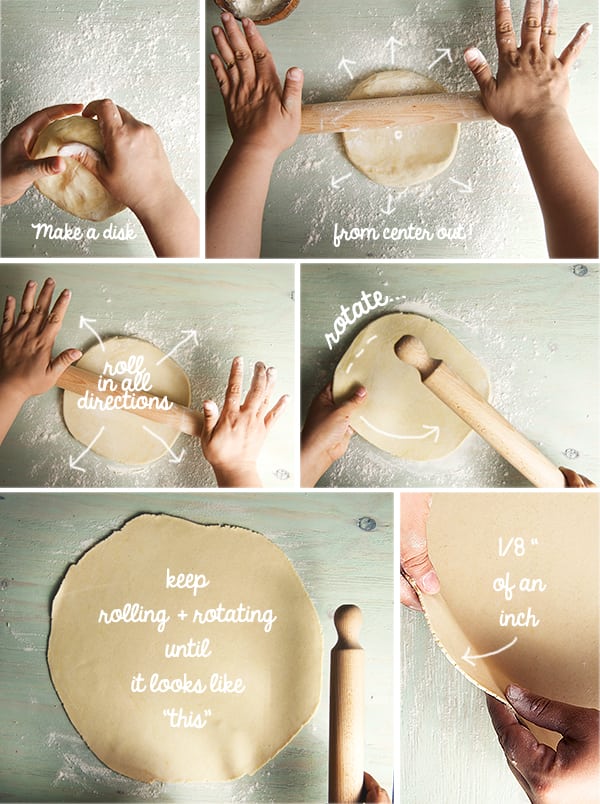 2. Cut 4" circles (I used a bowl with a thin edge for better results use a pastry or cookie cutter)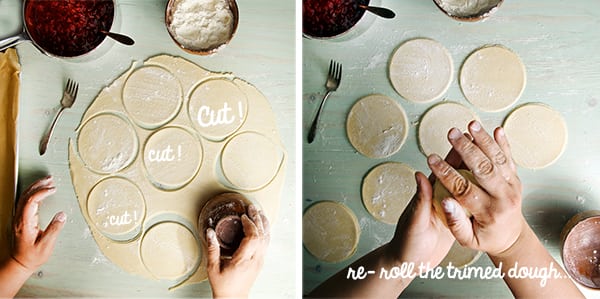 3.Egg wash the perimeter, place a little less than a tablespoon of strawberry compote on the center of the dough and fold the circle in half making a half-moon.
4. Slightly press the edges to seal the empanada, place on a floured surface and with the help of a fork press all the edge to seal it.
5. Place them as you go on a baking sheet lined with parchment paper or a silpad for best results.Proceed with the rest of the dough until you have about 12 empanadas.
6. With the same fork prick all the empanadas in the center so steam can get off as they bake and avoid leaks. ~Sometimes leaks happen ands thats ok; keep calm and carry on because they still taste delicious!~
8. With a pastry brush apply egg wash and sprinkle some sea salt and oat flakes. Bake at 375F for 10-12 minutes.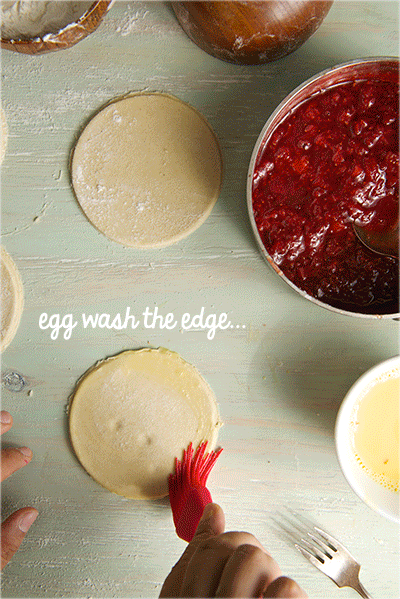 9.Remove out of the oven and let them sit for a minute or two, transfer to a cooling rack, before you eat them all!!!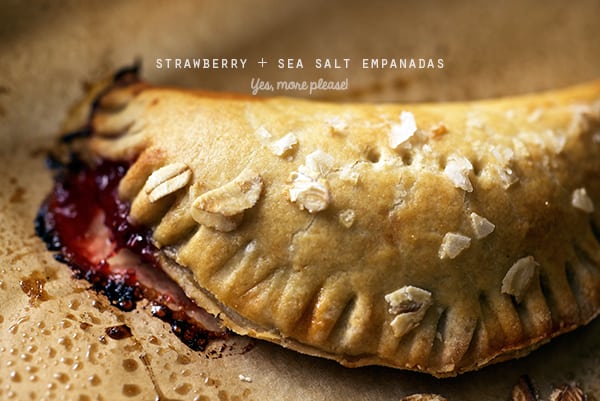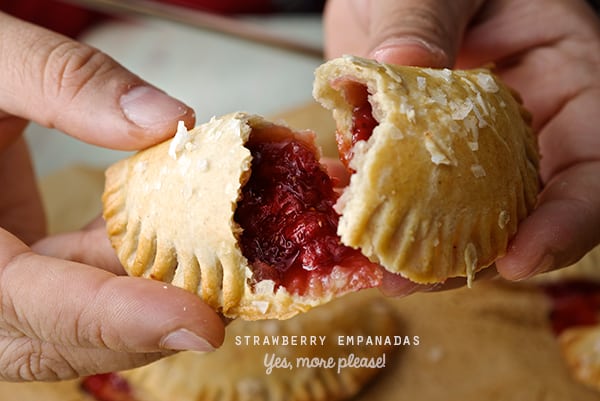 Eat a warm one with a small glass of milk…
and remember to share!