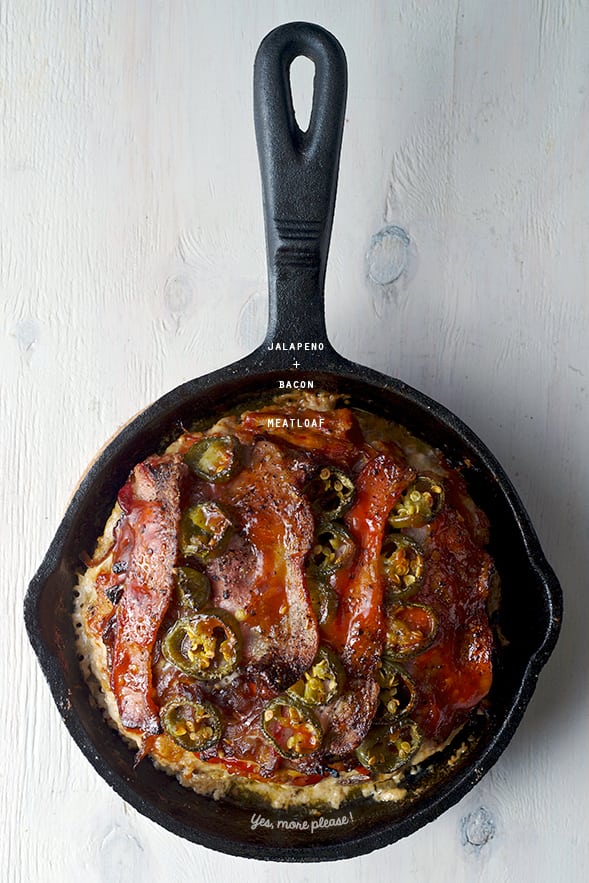 If you are a meat lover, carnivore, bacon-ator, you just clicked on this post at the right moment and the right time. This is for you baby!…
As you know, every now and then, we do appreciate and love meat. Not too often, but when we do, we tend to go all-out; a big steak, a visit to Franklin's BBQ, pork tacos. I'm telling you, Texas all the way. On this occasion, the meat craving translated into the form of meatloaf!
I asked Ian what would you like for dinner he answered: "not carrots", so I said 'be more specific', he said "Meatloaf".. Meatloaf it is!… I'll do anything for love. (and please do not even relate to "that" Marvin Lee Aday song… I won't do that.) I think this is the second time in my life that I've made meatloaf …and it was not too shabby, shall I say.
Meatloaf is pure comfort food, classic Americana recipe. There might be a million meatloaf recipes out there, the same as in Mexico for beans! Every family has their own recipe and spin, technique, breadcrumbs, no bread crumbs, beef, bison, ground turkey, ~ a mix ~ spices, ketchup, brown sugar, baked cover uncovered uff! lots of ways…
I did my research, and rescued the common thread of ingredients. I came up with a pretty good contender. This meatloaf put a big smile on Ian's face.
Since we are just two I decided to make a small one, using my little cast iron pan. I fell in love with the way the meatloaf turned out. Crusty bottom and edges, caramelized top, really moist and great soft crumb.
I've learned that meatloaf left overs translate into meatloaf sandwiches and hey that sounds glorious… but we are trying to balance the act here. Maybe next time I will just make this mini meat loaf for the sake of sandwiches…are you still with me?…great!
For this baby Jalapeño and Bacon Meatloaf I used red onions, bottom mushrooms, panko breadcrumbs, and yes a dash of that "W"sauce. I used half ground lean turkey and half ground lean pork. My little spin: I added a bit of jalapeño pepper vinegar to the meat mixture and I topped it with bacon, slices of jalapeño, fresh cracked black pepper, and the classic ketchup-mustard-honey~instead of brown sugar~ and a little jalapeño vinegar to loosen up the glaze. I baked and served it all in the same little pan. The way this little pan is awesome! It works like a charm, bakes evenly gives the meatloaf a bit of crust on the edges and bottom and best of all it's ready in 25-30 minutes… to die for… Meat it up!, Enjoy.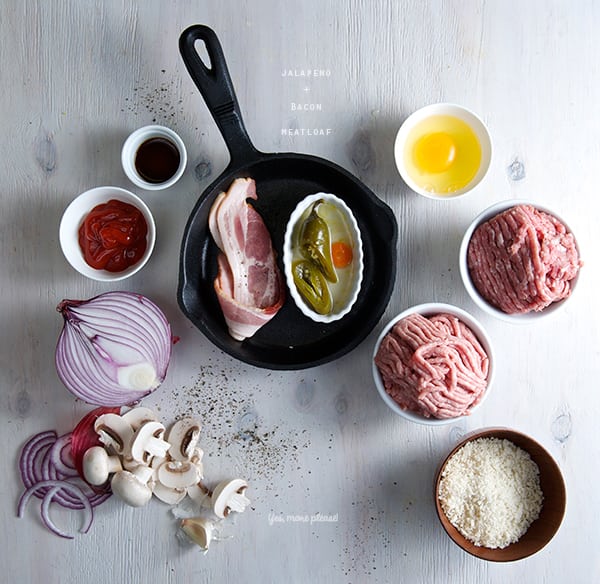 Jalapeño 

and Bacon Meatloaf
Serves 4 or two hungry caveman.
For the meatloaf:
8 oz of ground 85% lean pork
8 oz of ground 90% lean turkey
1 egg
1/3 cup panko breadcrumbs or almond flour will work great for those GF souls.
¼ cup chopped red onions
1 cup chopped or sliced mushrooms up to preference.
1 tablespoon ketchup
1 teaspoon Dijon mustard
1 garlic clove grated
1 tablespoon jalapeño vinegar
1 tablespoon Worcestershire sauce
1 teaspoon kosher salt
6-8 good cranks of freshly cracked black pepper
For the glaze:
1/3 cup ketchup
1 teaspoon Dijon mustard
2 dashes of Worcestershire sauce.
1-2 teaspoon of honey
Toppings for the meatloaf:
Caramelized onions
2 slices thick bacon.
2 pickled jalapeños sliced in thick wheels
Fresh cracked pepper.
Preparation method:
1. Start by caramelizing the onions. Slice them about 1/8 inch or thicker, place them in a pan with 1 tablespoon of olive oil, a splash of apple cider vinegar and a pinch of salt over medium heat, toss and then lower the temperature until they look soft, but hold their shape, and they have a mahogany color just like this: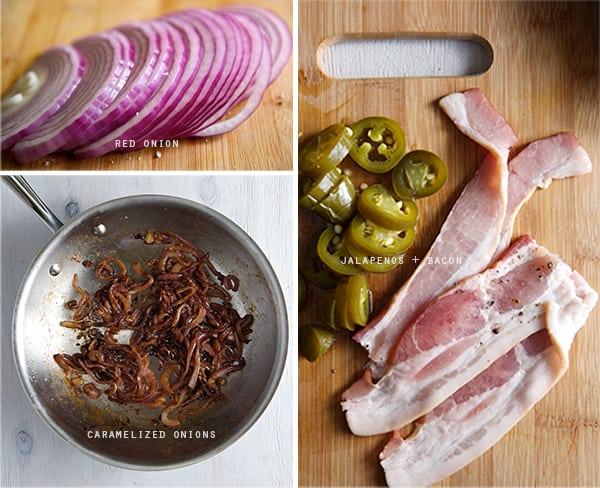 2. In a large bowl combine the 2 kinds of ground meat, egg, bread crumbs, chopped red onions, sliced mushrooms, ketchup, Dijon mustard, jalapeño vinegar, grated garlic, salt and black pepper. Mix until well combined and forms a ball. (look picture below)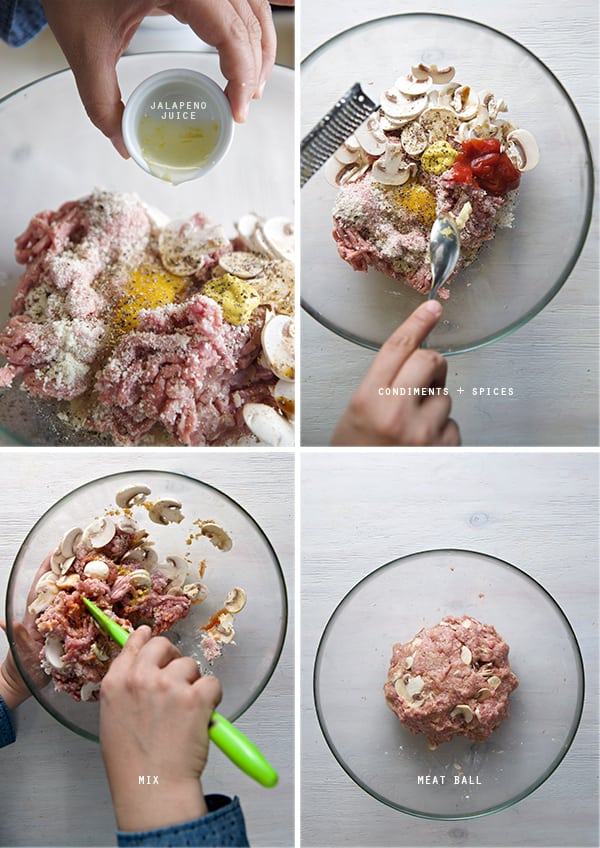 3. Place the meat mixture into a 7″ cast iron pan , creating a slightly domed center.
4. Apply some of the glaze top with caramelized onions.
5. Cut the slices of bacon in half so you end with 4 short slices. Place one slice across the meatloaf and alternate with one row of the jalapeño slices, until your meatloaf is cover with all the bacon and jalapeño peppers. (see picture below)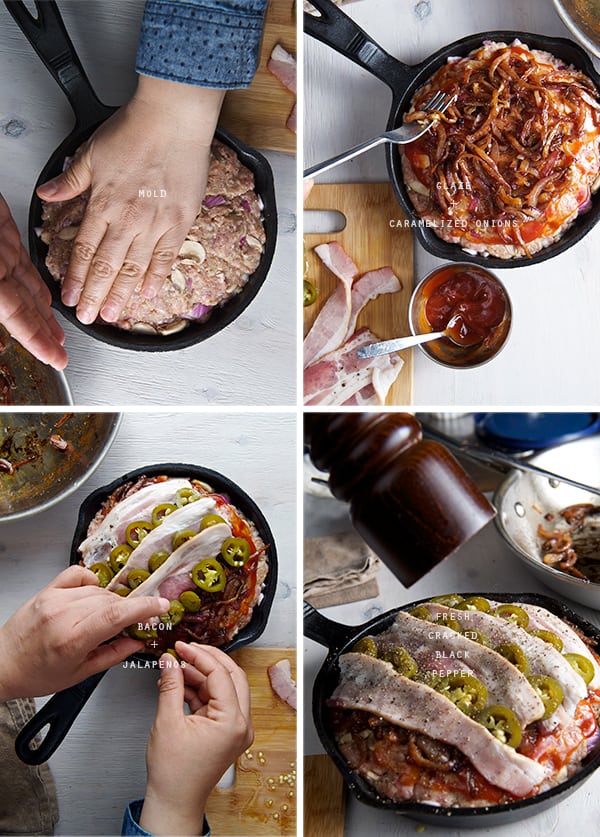 6. Bake at 375 on the lower 1/3 of the oven, uncovered.
7. Check in 25 minutes and apply the rest of the glaze on top, bake for another 5 minutes.
8. At this point your meat loaf is cooked, you can broil the top for a couple of minutes to crisp up the bacon.
9. Using a trivet, take the meatloaf to the table and serve! Enjoy.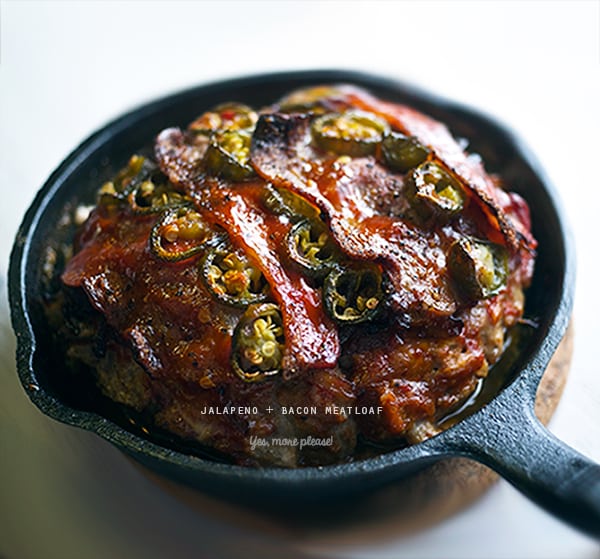 I served the meatloaf with this lemony mashed potatoes and peas  and a green salad on the side.
This was a great comforting meal, Enjoy!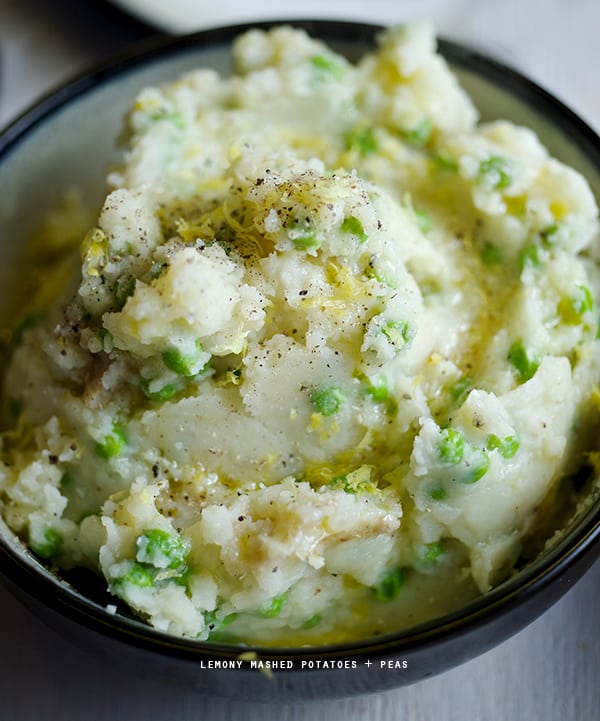 Lemony mashed Potatoes and Peas
Serves 2
2 small potatoes, skin on, cut in cubes. I used yellow wax potatoes, I love how creamy they are when smashed.
1/2 cup peas
¼ cup milk or reserve water from the potatoes.
2 tablespoons olive oil + a little more to drizzle.
the zest of 1 lemon
Salt and fresh black pepper to taste.
Preparation:
1. In a pot with enough water, boil the potatoes until tender. Drain and smash.
2. Add olive oil, peas, lemon zest, milk salt and cracked pepper.
3. Mix until peas are bright green but snappy and warm through. sprinkle some lemon zest, extra virgin olive oil salt and pepper.
4. Serve immediately.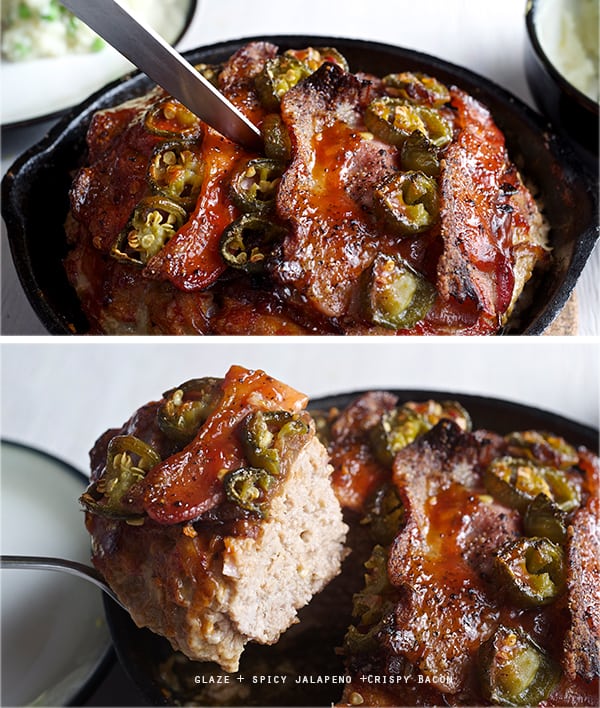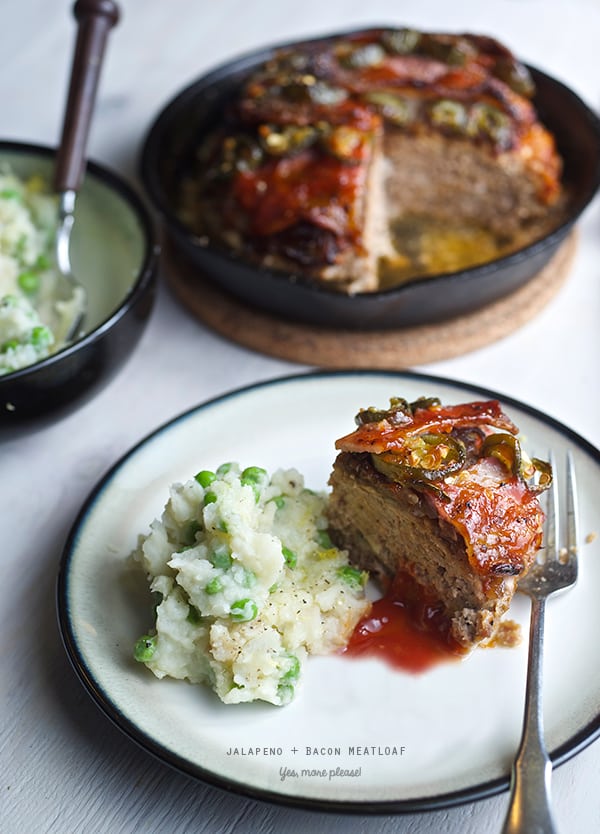 Enjoy!
Music Pairing: Pixis – La la Love You