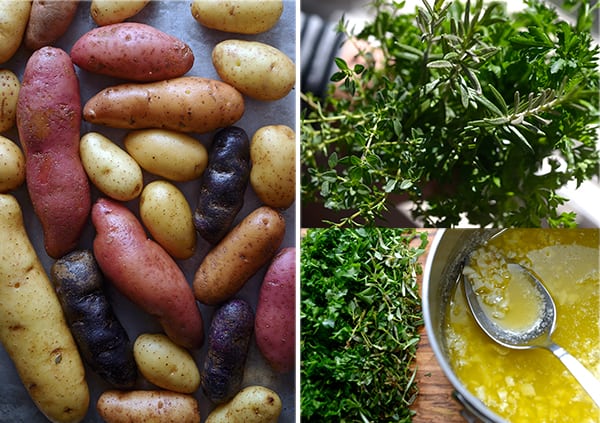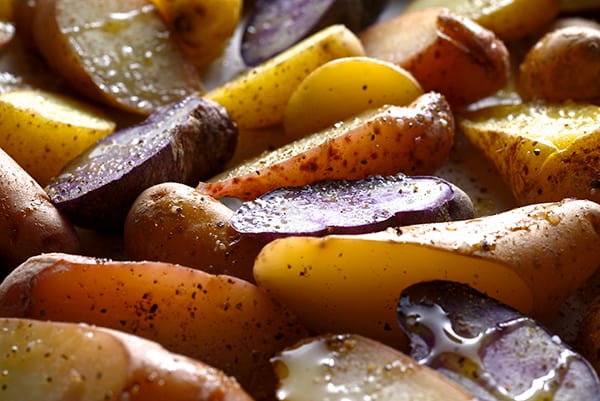 Hands down.. (heheh and fingers also) this kind of potatoes are in my top recipes list. Fingerling potatoes are a family of heritage potatoes that naturally grown much smaller than conventional potatoes. You will find them in season for Fall and they can also be grown at home, in temperate climates.
They have an elongated and a slightly knobbly shape, that resembles fingers. These little potatoes are extremely flavorful, they are waxy , starchy and colorful, from creamy white, orange to rich purple. They can be used just like regular potatoes in an assortment of roasted, broiled, baked, grilled, or boiled dishes.
What makes them so special is their texture; they are creamy and starchy but waxy and have a rich earthiness, especially the purple ones. I love the skin when you roast them, it becomes crispy and the inside creamy and tender. This recipe, combines the roasted potato, the herbed garlic butter with the toasted almonds that give an extra crunch. For me is all about the texture and flavor contrast, creamy-roasted potato skin, salty, buttery and lemony, herb-garlic and the nutty crunch, that makes this potatoes the bomb!
They cook pretty fast and they can be a show stopper for your Thanksgiving dinner… or any other special meal. Because of their shape I frequently serve them as an appetizer. They taste good warm or at room temperature… you will be licking your fingers after tasting this recipe!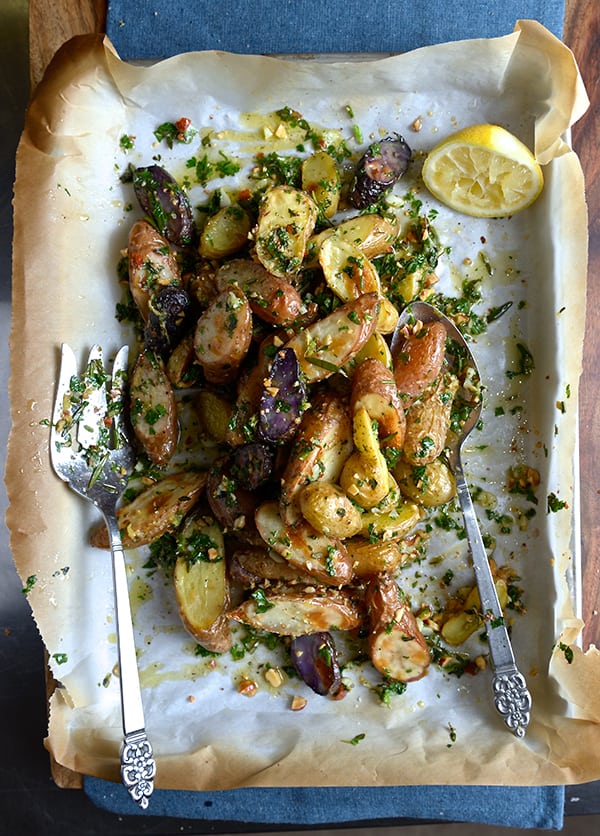 Roasted Fingerling potatoes with garlic, herbs & almonds
Serves 6 … or many more if served as an appetizer.
2 pound bag fingerling potatoes (organic preferable)
1 small bunch of parsley finely chopped
3 rosemary sprigs remove leaves from sprig and roughly chop.
4 thyme sprigs remove leaves from sprig and roughly chop.
1 teaspoon dry dill
3 garlic cloves finely chopped
1 or 2 drizzle of Extra Virgin Olive Oil
4-6 tablespoons of butter
the zest of one lemon and the juice of half.
¼ cup toasted almonds.
Sea salt and ground pepper to taste.
Directions:
In a medium size pot, parboil the potatoes for about 5 minutes.
Drain them, and cut the bigger potatoes on a bias.
Preheat the oven at 400F /200C
In a separate small pot, melt the butter add the garlic and heat for about 1 minute. Add chopped herbs and let stand at room temperature.
Place the potatoes on a baking sheet lined with aluminum foil, drizzle with olive oil, salt, and pepper. Roast them for about 20-25 minute. Check for doneness.
Once they are fork tender and show some color from roasting, remove from oven and drizzle the butter and herb mixture. Toss well and pop them back in the oven for about 3-4 more minutes.
Pull them out of the oven and sprinkle the chopped almonds, zest and drizzle with lemon.
Serve warm. Enjoy!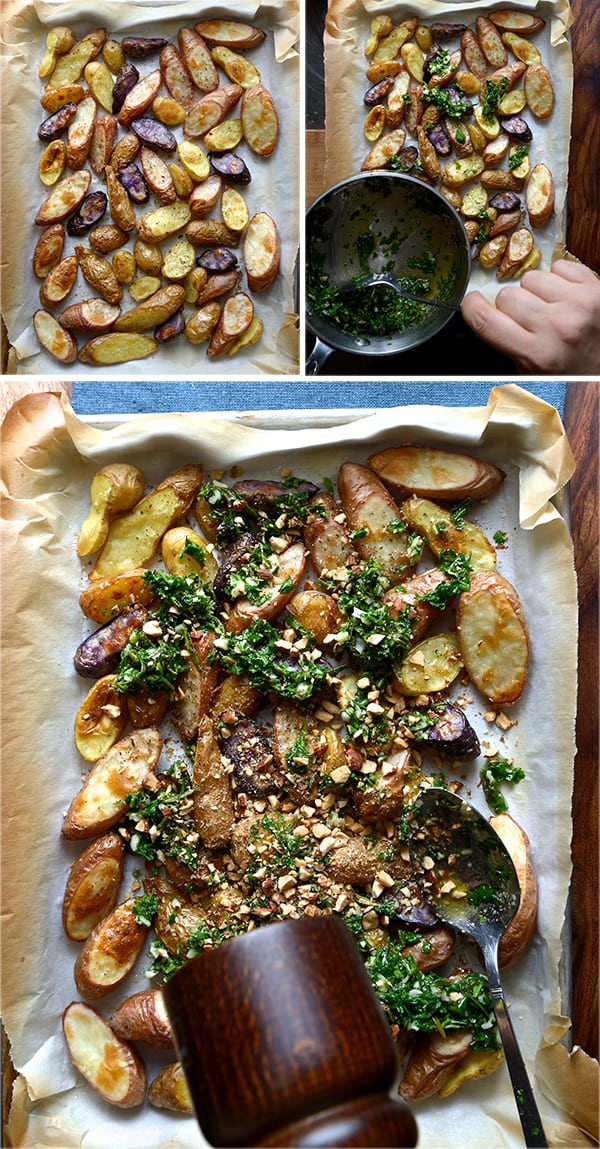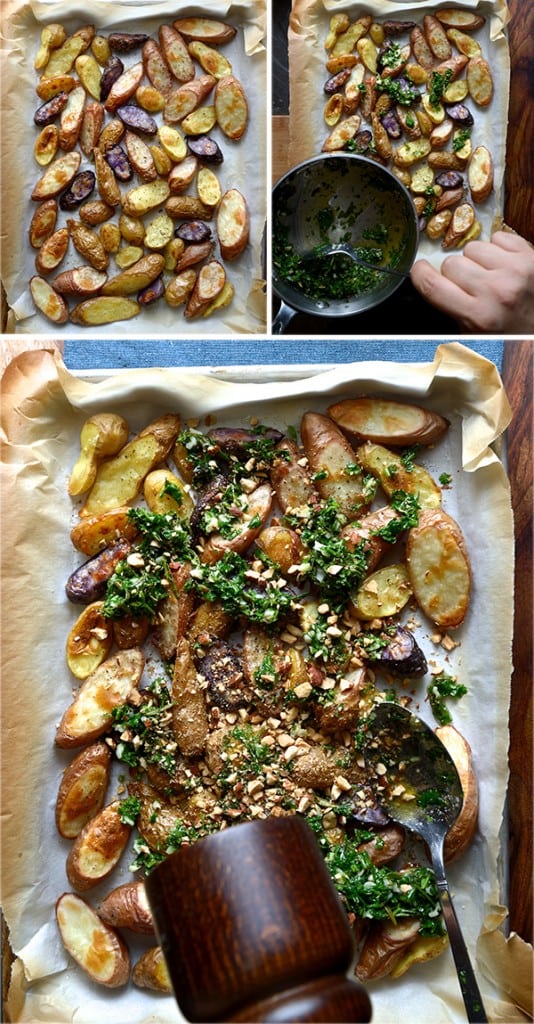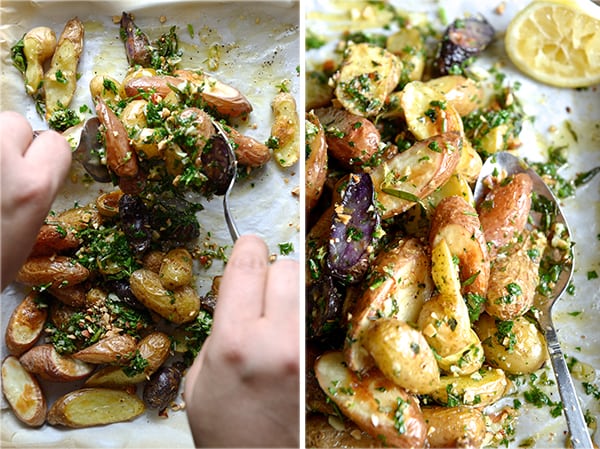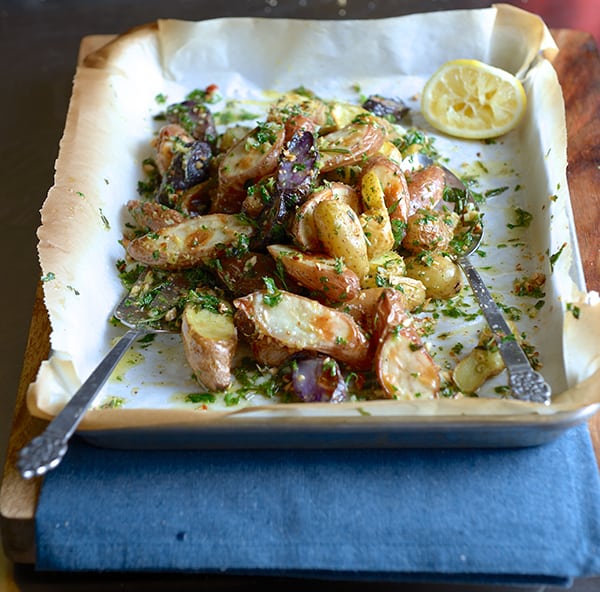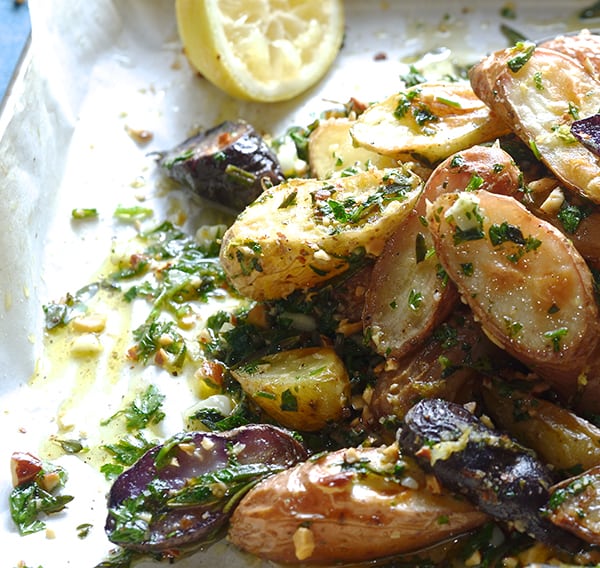 you know you want them…