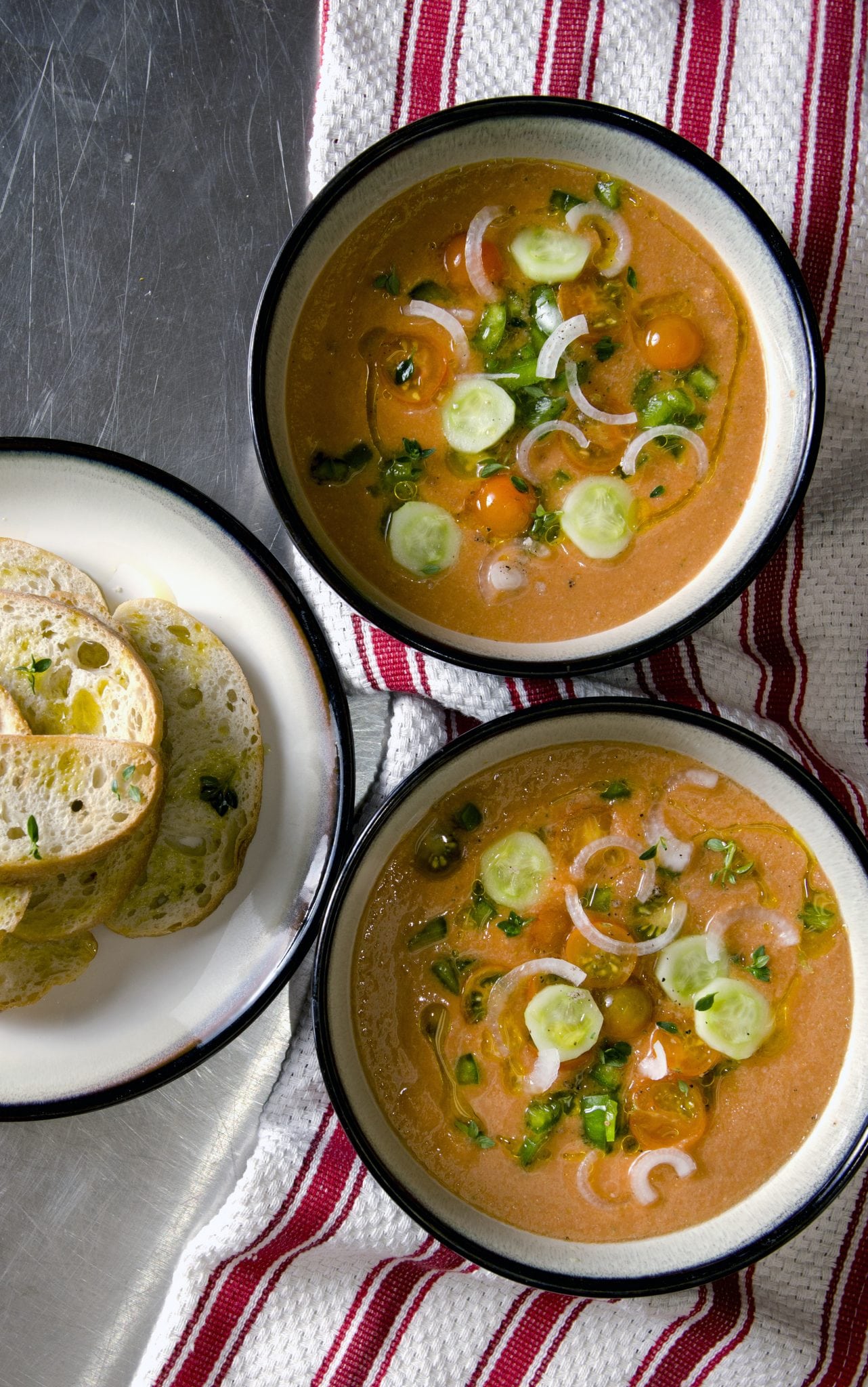 I had the fortune to travel to Spain in company of my Grandma Ana, she is an 80 years young Lady a globetrotter and highly energized with an incredible charisma. You can imagine what a trip I had with her! … it was one of the best experiences of my life. We traveled for two weeks, starting from Madrid, clockwise all around the country from Segovia, Valladolid, Burgos, Vitória, Bilbao, San Sebastián, Pamplona, Zaragoza, Barcelona, Tarragona, Valencia, Granada, Costa del Sol, Gibraltar, Sevilla , Toledo…Yes! This lady traveled for the 7th time to Spain, just for the pleasure of it and decided to take me along with her… I said it was about time grandma! Lol!…
We had very diverse food, a little sample from the different regions. Seville is a beautiful city and the Gazpacho Andaluz stole my heart. It was simply fresh, smooth, light, true to its tomato nature. Me being from Mexico and have studied culinary arts, I have had lots of different versions of Gazpacho, and frankly the mind of my palette always connected it to eating salsa with a missing ingredient!(oops I said it!). It had to be in Seville where I discovered the real deal… good place to be right?.
My grandma and I were having lunch at the hotel and of course I asked for Gazpacho as an appetizer. When I had the first spoonful I was hooked. Smooth, velvety, sweet, acid, fresh tomato flavored cold soup with little crunchy pieces (tropezones) of diced seedless cucumbers, bell peppers , white onion, seedless tomato, white bread, drizzled with a fantastic Extra Virgin Olive Oil from the region. I finished my bowl cleaning it with a piece of bread as is good manners in Spain; and before the next course, I apologized to my grandma and I had to get up from the table. I could not wait to talk to the person who had made this cosmic cold soup. Who made the Gazpacho I asked the waitress?… "Chef Fernando"he replied…
Chef Fernando was really friendly and share the recipe with me, I also I asked his secret to such a smooth velvety texture, He said "mucha maquina" meaning lots of time on the food blender, or food processor, he explained me that by blending it long enough it will marry the flavors and give the right consistency. Well now this is one of my favorite dishes to make in summer during tomato season. You have to have good quality tomatoes there's no way around. I'm sure you have access to a good Farmer Market in your city, go the extra mile to get them fresh, is worth it.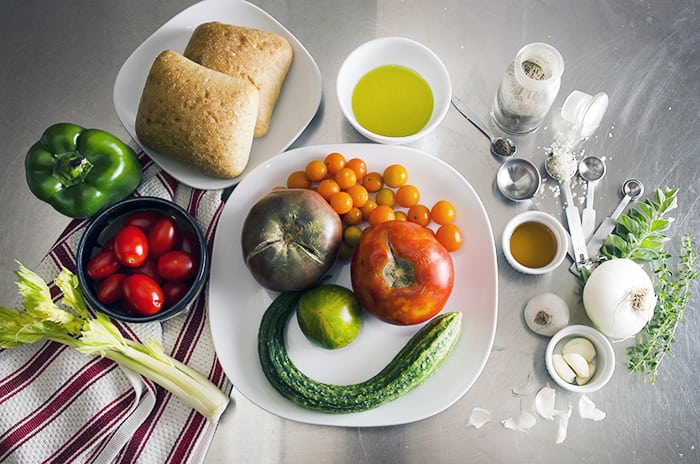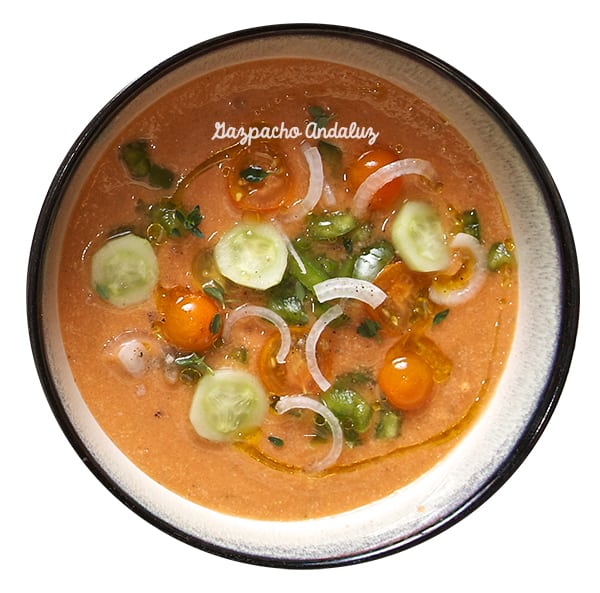 Gazpacho Andaluz
Recipe adapted by the Good Samaritan Fernando the Sevillian chef.
Serves 4 or 2 good-hearted Sevillians!
Ingredients:
2 small day old demi-baguettes or one small ciabatta bread
1.5lbs of ripe tomatoes skinned and (seeded optional)
10-15 Cherry and Gold tomatoes cut in halves.
1 Jade Cucumber (English cucumber is best if you are using regular cucumber remove the seeds it will work fine.)
1 green bell pepper
3 cloves of garlic
3 Tablespoons of Sherry Vinegar
½ cup of good fresh quality Extra Virgin Olive Oil.
½ teaspoon sea salt
1 pinch of white or black pepper
My spin: 1 sprig of fresh thyme and fresh oregano
Garnish:
Cherry and Gold tomatoes
Diced bell peppers
Finely slivered white onion
Slices or diced cucumber
Fresh thyme
Ciabatta bread toasted
Sea Salt, Extra Virgin Olive Oil to taste.
*(Cubes of ham, diced hard boil egg is also good variation).
Method:
First, break bread into pieces, and let it soak with about ¼ of a cup of water.( About 20.min.).In the mean time prepare the Tomato Concasse, this is a great french technique to skin the tomatoes (and is really easy and fast). Next get ready with medium size pot of boiling water and a bowl with cold ice water. With a paring knife, make a shallow cross on the back of the tomato. Blanch the tomato for about 20-30 seconds. (Depending if you store your tomatoes on the refrigerator, or at room temperature). Quickly shock the tomato in the ice water bowl to stop the cooking process. And proceed with the rest. Remove them from ice bath and with a paring knife remove the skin from the bottom cross of the tomato. It is so easy you will want to do this every time.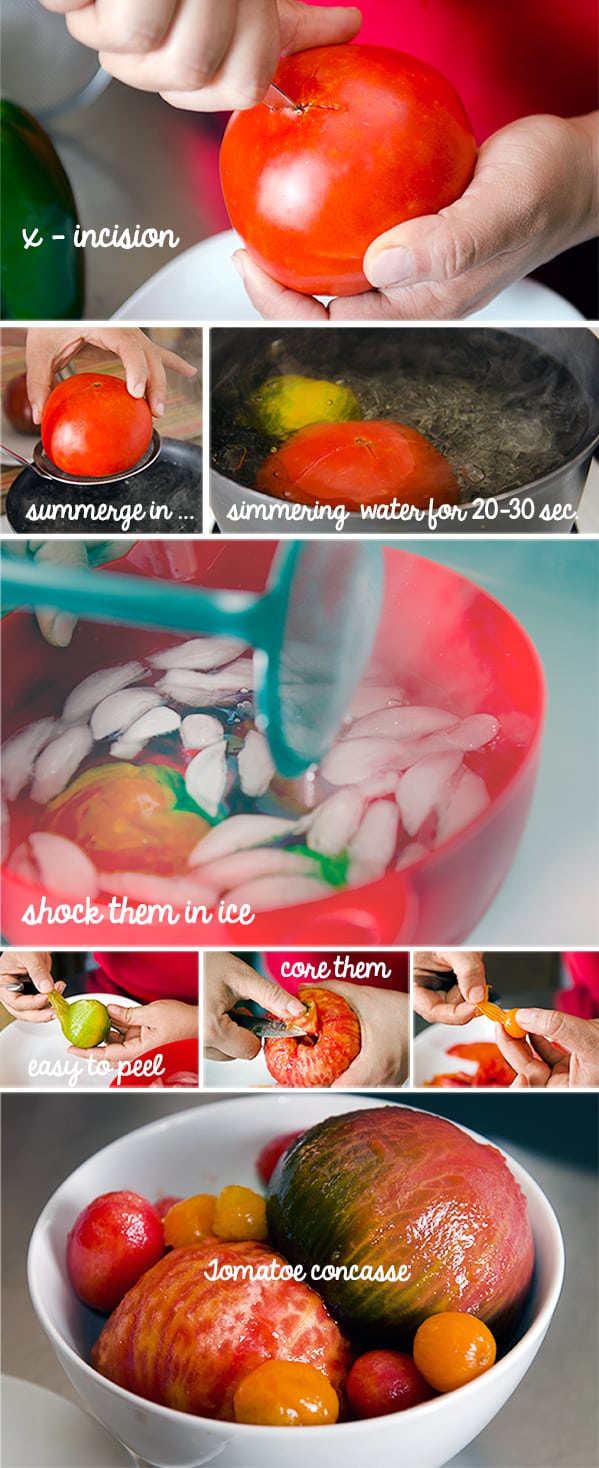 Cut the tomatoes in quarters and remove seeds. In a food processor or blender, place the tomatoes, cucumber, bell pepper, soaking bread garlic, herbs, sea salt, vinegar, and Extra Virgin Olive Oil. Add a little water for desired consistency, and just like Chef Fernando said "Mucha Maquina" Blend it throughly.
If you find it not to smooth you can pass the soup through a fine sieve. Refrigerate soup for about 30-45 min. Serve cold with garnishes on the side so each person can customize their soup. Enjoy!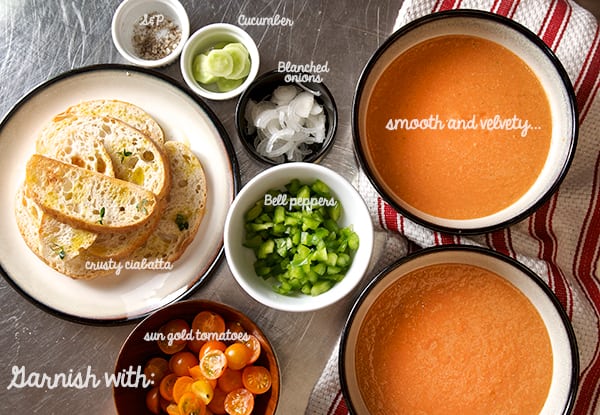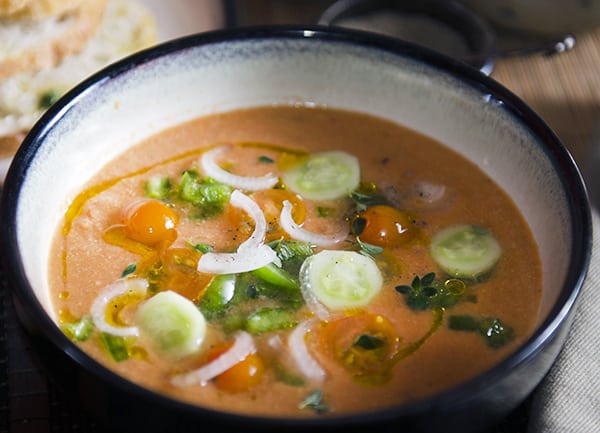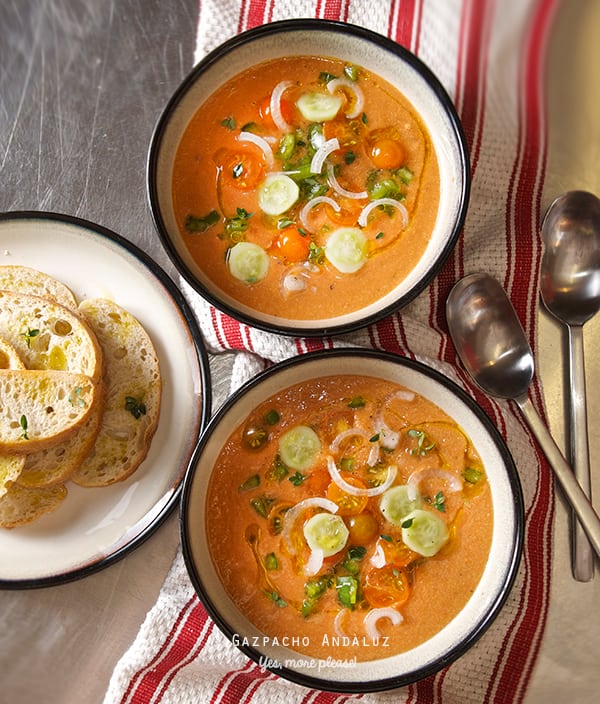 Gazpacho Andaluz, the greatest cold soup…Ole! ~
Enjoy!
Music Pairing: Paco de Lucia, Manolo Sanlucar- Sevillana a Dos Guitarras