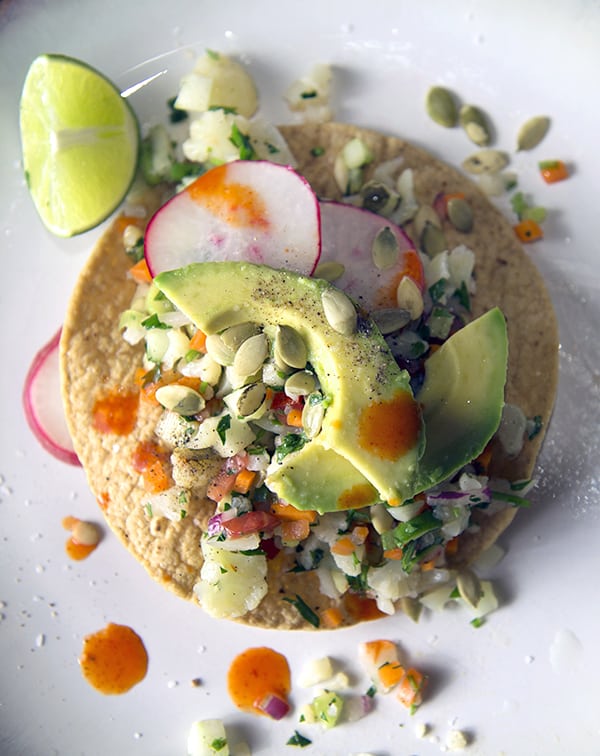 The full summer weather is here! Austin, Texas is burning hot! 101-106 Fahrenheit. With these kind of summer temperatures I can't even conceive the idea of "grilling". Can you imagine being outside with 101 on the thermometer in front of a grill trying to light up the charcoal?…Not my cup of tea i prefer the tundra if you ask me. But well this weather conditions fire up the indoors freshly made meals; light, crisp and lots of veggie action.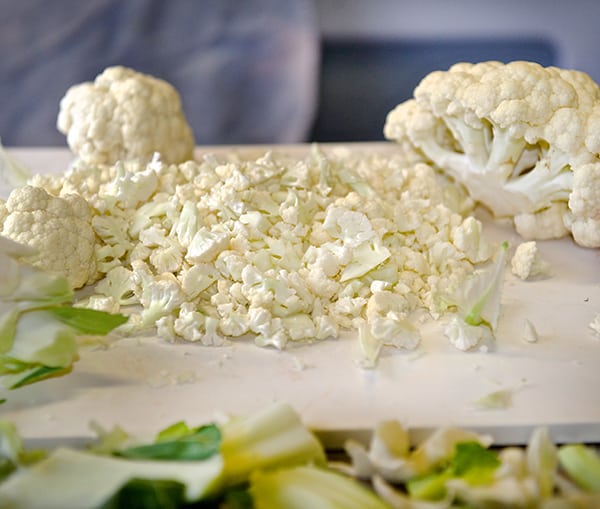 I tried to make this ceviche once in my years of college, not so good; it was really mushy and flavorless… but I loved the concept of using the beloved Cauliflower. Cauliflower is the vegetable everybody loves now because of its versatile flavor. It is evident that Cauliflower has a love affair with butter and cream. Mashed cauliflower can replace a good pile of mashed potatoes, cauliflower gratin, cauliflower chowder, griller, roasted, among my favorites. But what I crave in a Summery hot day is something light easy to digest, fresh and no oven or a long cooking time required.
So with this said, I revamped the cauliflower ceviche recipe from my College years by adding diced crunchy vegetables, steaming the cauliflower and lots of good fresh and dry herbs plus a punch of citrus goodness to add extra flavor. That acid, salty umami note that just makes your mouth water, as soon you start reading the recipe…
Cauliflower Ceviche is a great summery meal, for Vegetarian, Vegans and Carnivorus that won't even care about the difference once they have the first bite!
Margaritas on the side?…Yes, please!…Enjoy!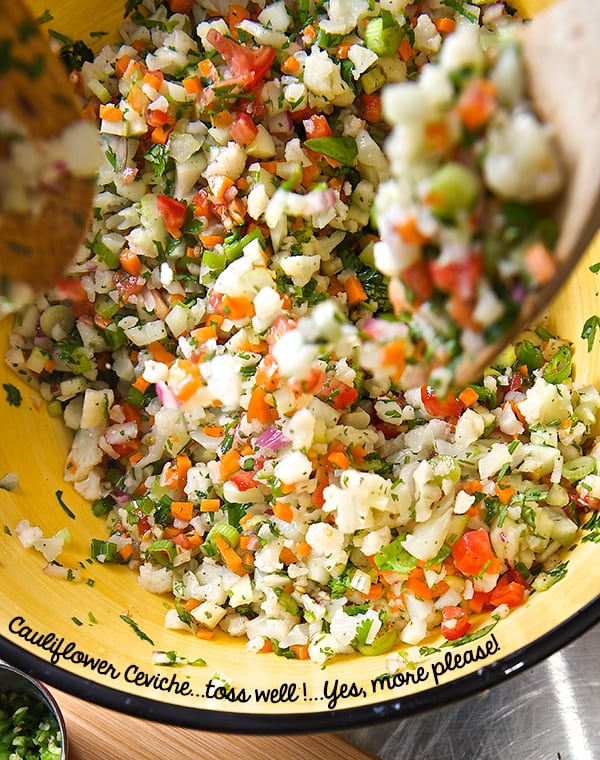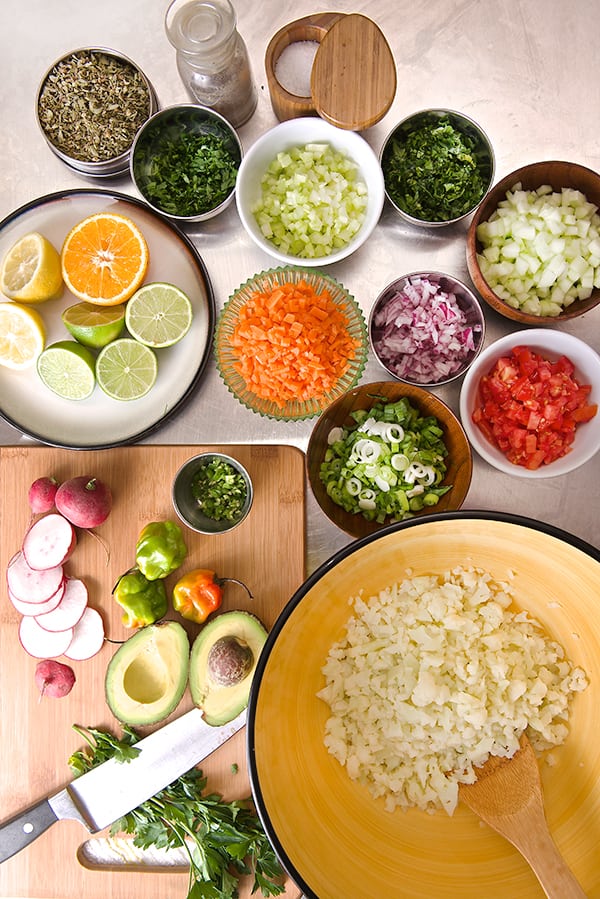 Cauliflower Ceviche
Serves 4
1 Cauliflower head, medium size. Remove the core and small diced florets.
Small diced:
2 carrots
1 tomato
½ medium size red onion
2 green onions including the green part.
1 cucumber seedless
1 long celery stalk
1 habanero, or 1 jalapeno, or 1 serrano. (Remove the seeds for a less spicy version.)
2 Tablespoons of finely chopped fresh cilantro
2 Tablespoons of finely chopped fresh parsley
2-3 pinches of dried oregano
The juice of:
2 Limes
1 Lemon
The juice and zest of ½ Orange
2 tablespoon apple cider vinegar
4 tablespoons Extra Virgin Olive Oil
1 teaspoon celery salt
1 teaspoon of sea salt
Black crushed pepper to taste.
Garnish with:
Radishes, Avocado Slices, Pumpkin seeds, Ketchup,( weird but delicious, it adds some sweet and tangy note)
Cholula hot Sauce, Limes. Serve with Tostadas or crackers.
Directions:
In a medium size pot steam the small diced Cauliflower florets until al-dente, for about 3-5 minutes. Remove from steamer place them on a tray in one single layer and let them cool off. Mean time chop all the vegetables. Place them on a big salad bowl, add the herbs, extra virgin olive oil, the citrus juices and S&P, toss well. Once the cauliflower florets have cool down, add them to the mix, toss well and let it marinate for 20-45 minutes. Taste and adjust salt and pepper if necessary. Serve with tostadas or crackers, avocado Slices, radish slices, and toasted pepitas (pumpkin seeds), and a dash of your favorite hot sauce…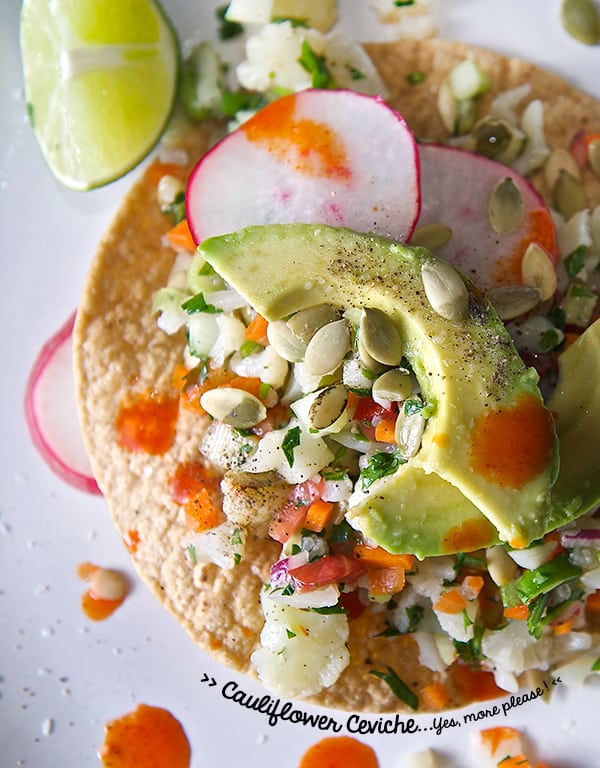 Refreshing, Vegetarian Ceviche, Enjoy!
Music Pairing: Mini Skirt, ESQUIVEL- Metropole Orkest