Print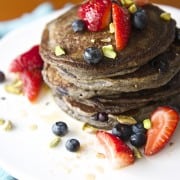 Blueberry-Orange Buckwheat Pancakes
Makes 6-8 4" small pancakes
wet:
1

cup

of unsweetened coconut cream

1

egg

2

tablespoons

of melted coconut oil

melted butter or a mild extra virgin olive oil.

1/2

teaspoon

of vanilla extract

The zest of one whole small orange.

The squeezed juice of ½ an orange

save the other half you will need it later!

Little extra butter for the pan.

You can use soy spread if vegan

For Vegan pancakes: substitute:

1

tablespoon

of ground flax seed + 3 tablespoons of water= 1 egg

1

cup

of Soy milk or Almond milk will replace the total dairy.

Other variations: Add a pinch of cinnamon and nutmeg instead of the Orange zest.
In a medium size bowl mix all dry ingredients. Next, whisk all wet ingredients. Proceed and mix wet and dry until well combined; small lumps in the batter are ok. This batter is a bit on the thicker side, If is too tick feel free to add a bit of water, milk or any non-dairy free will work great.

In a separate bowl, rinse and dry blueberries. I usually don't mix them into the batter, I prefer to place them individually so I can distribute them evenly.

Cut fresh strawberries and macerate with the juice of the other ½ orange.

Have your Ice cream scooper ready!. I'm a free shape pancake maker, never perfectly round!… but I find it helps portion and shape by pouring the batter with an ice cream scooper *(see picture below), especially with this batter since its a bit thicker than regular pancake batter.

Over a medium heat non-stick pan, proceed and start cooking the pancakes. Add a little butter to the pan, wait until bubbly and melted. Place one scoop of batter wait 10 seconds and start adding the blueberries. It takes approximately 1-2 minutes per side when you start to see burst bubbles on the edge of the pancake is ready to flip. Continue to cook until golden brown. Proceed with the rest of the batter.