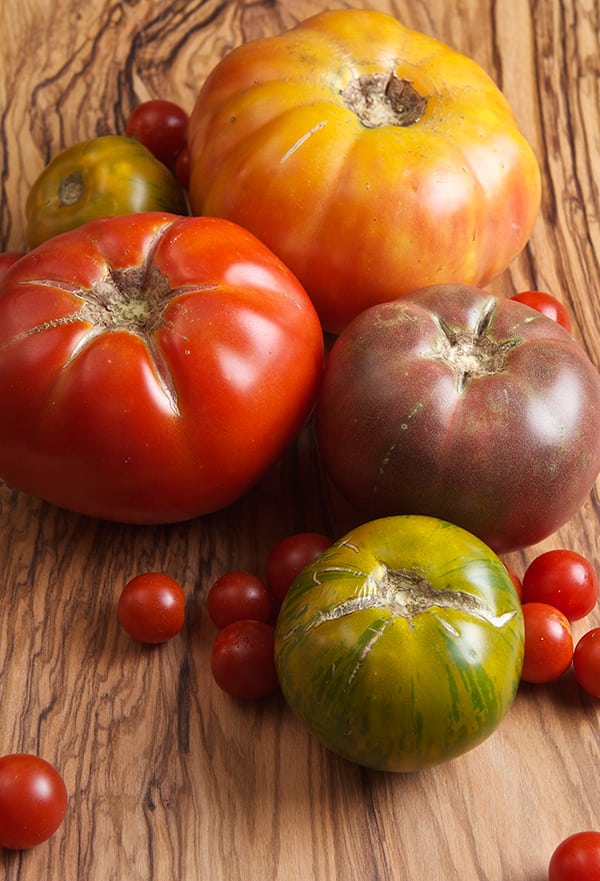 So I've being counting the days to tomato season, since is one of my favorite times of the year I'm in heaven. I live in Austin Texas and my mainly source of vegetables is a small urban farm call Boggy Creek, they open Wednesdays and Saturdays 8am-1pm two of the happiest days of my week. This year they have harvested: Heirlooms Cherokee Purple, Prudent Purple, Azoyscka, Oaxacan Jewel, Green Zebra, Regular Tomatoes ; Big read super fantastic, lemon boy, cherry and cherry gold tomatoes!!!…. This Farm resembles me a bit of my Mexico. The camaraderie, the beautiful freshly cut vegetables, and also and most important "seasonal produce". Waiting for the seasons creates a momentum between the ingredient and me I crave them. I imagine new dishes and the expectation grows momentum. Cooking with ingredients at their peak of the season is just about the best you can hope for when you are creating a dish. Little preparation is required to enjoy them. I compare them to a string quartet, where everybody is supporting the first violin.This recipe is one of the many examples of this string quartet ensemble, where the Tomatoe has the solo part and its accompaniments make it shine… lets start cooking!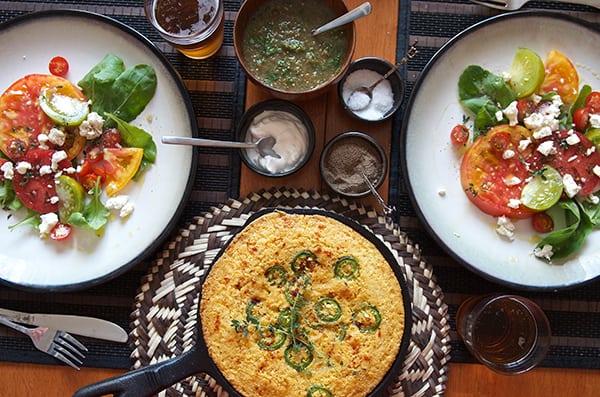 Tomato Salad and Honey Jalapeño Corn Bread
Serves 4 – Prep time 10 min.
Use at least 3 different kinds of tomatoes, choose what ever look best to you at your farmer market.
For the salad I made I used:
1 Heirloom Oaxacan Jewels
1 Heirloom Cherokee purple
1 Big Red super fantastic
2 Green Zebra
10-12 Cherry tomatoes
Arugula
Fresh Goat cheese
Fresh sprig of Thyme
Extra Virgin Olive Oil to drizzle
about ½ teaspoon per plate of Rice Vinegar
Sea salt and fresh ground pepper to taste.
Directions:
Slice the  tomatoes a little less than ½ inch. Quarter the smaller tomatoes like the green zebras, half the cherry tomatoes. On a Large platter (or in 4 plates) place a light bed of arugula, and approximately one big slice of the heirloom, one slice of the Cherokee Purple, some quarters and halves of the little ones. Theres no rules, you can balance the plate as you like. Drizzle Extra Virgin Olive Oil and ½ teaspoon of rice vinegar per plate, goat cheese crumbs, sea salt pepper and fresh thyme. Serve.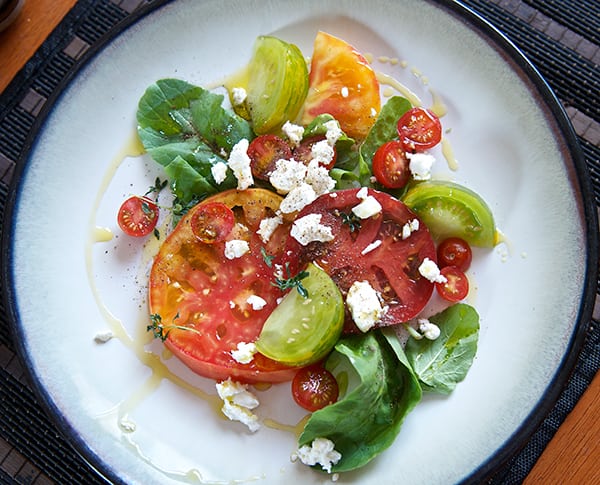 Honey Jalapeno Corn Bread
Adapted from : "Boggy Creek Farm recipe"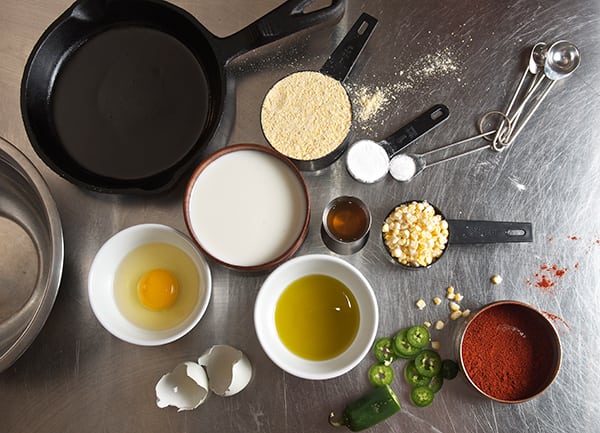 1 cup of Corn Meal (use the best kind you can find, organic and non-GMO is always preferable)
I used our local, Larry's Fresh-ground Corn Meal
(Organic, non-GMO fresh Texas Dent Corn from Coyote Creek Organic Mill)
1 Tablespoon of Aluminum- free Baking powder
½ teaspoon sea salt
1 or 2 pinches of paprika
1 cup Milk (you can substitute almond, soy or rice milk)
1 egg
1 teaspoon of Honey (I used Local Texas Honey off course!)
2 Tablespoons of Extra Virgin Olive Oil.( you also can use Butter, Canola, Coconut Oil)
½ -1/3 of a cup fresh corn kernels
Thin slices of fresh Jalapeno Pepper.
– 2 extra teaspoons of Oil for Pan-
Directions:
Preheat the oven at 400* F degrees.
Measure all your Ingredients and Place a small 8" Cast Iron skillet in the oven to heat. Add the 2 teaspoon of Oil.
Combine all dry ingredients. Add wet ingredients mixture into Dry mix. Stir until combined small lumps are allowed. Add fresh corn Kernels to the Mix.
Carefully using an oven mitt at all times, remove the pan from the oven and pour the batter into the hot skillet, quickly top the batter with the thin jalapeno slices,drizzle a little more honey, bake for about 20-25 minutes until a light golden top. Take the skillet to the table to serve warm with the salad.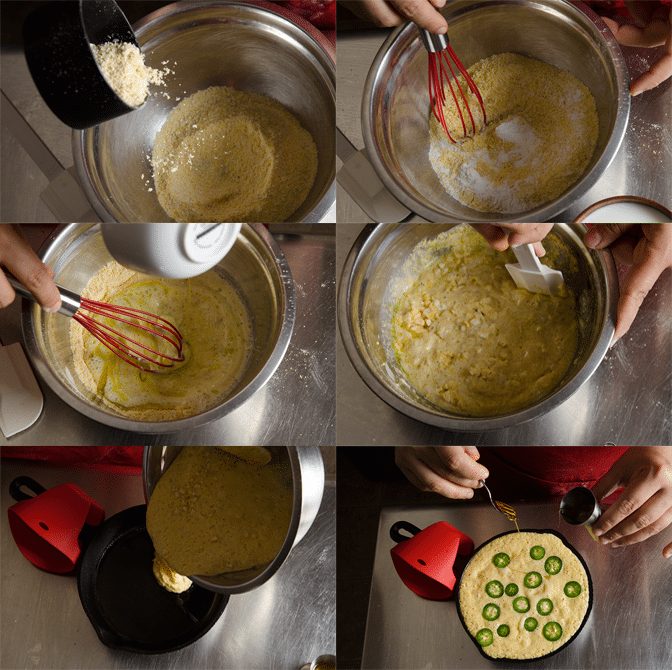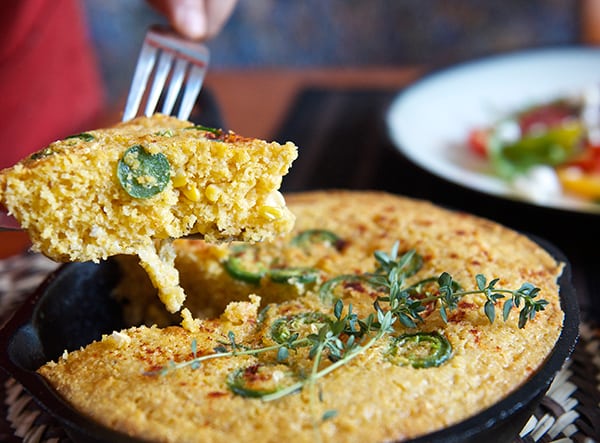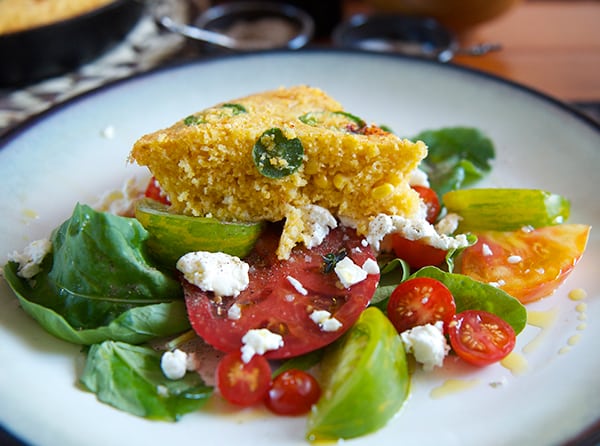 *Note: For the summer if you are grilling you can bake this on top of the grill just cover the pan with a lid, it will be fantastic and smokey. This meal will go so well with any light or amber beer. Take into consideration that you can substitute any herbs, I'm just in love with Tomatoes and Thyme, I think the aromatic lemony taste of the thyme goes perfect with tomatoes…. is my new fav! Enjoy.