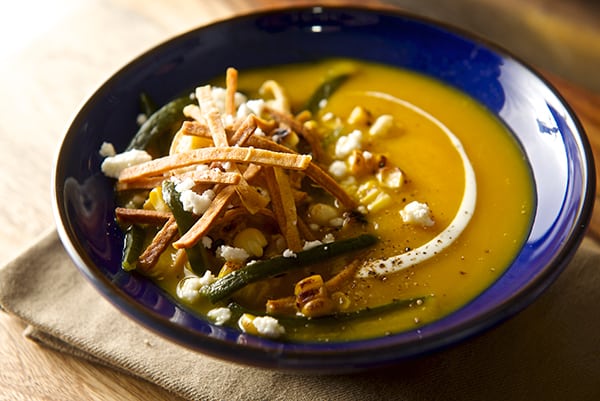 Warm and velvety and with a hint of roasted sweetness….It is inevitable to succumb to the cliche of pumpkin soup. I assure you there are 1,000 recipes out there with all different combinations spices, creamy, vegan, vegetarian…This version is my humble version of Roasted pumpkin-poblano soup.
For the past few years I've been making my vegetable soups under one principle: "do not add chicken stock". Yes, it is that simple. I don't want, under any circumstance, my broccoli soup to taste like chicken (or my potatoes, carrots, or any vegetable to taste like the bird). I want to savor the flavor of the vegetable. It is certainly a challenge to follow this principle, because our inner chicken stock flavored souls desperately want to add more "depth of flavor". For me this is totally wrong. The way I make my vegetable soups is by enhancing the vegetables using different cooking methods like roasting, grilling, braising; all these cooking methods bring out the vegetable qualities, enhance the sweetness and flavor concentration to the soup. And yes, at times just a little help from other vegetable friends can harmonize the flavor.
Pumpkin has a delicate flavor so it is easy to mask, yet easier to harmonize. I love roasting or braising. In this case I chose to roast the pumpkin and add some caramelized sweet onions to bring out the sweet and earthy flavor of the pumpkin. Roasted poblanos, charred sweet corn, and some tortilla crisps play perfectly in this soup and add contrast in texture. With no doubt it is one of my favorite soups to make, so easy and comforting. It freezes well if you want to store it for a quick-thaw meal and I just can tell you that after the photo shooting this soup was our good comforting dinner…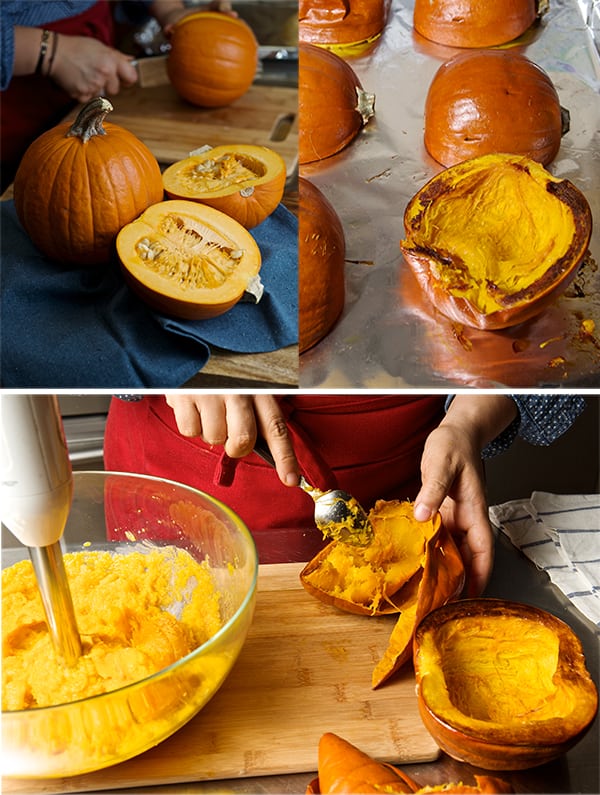 Roasted Pumpkin-Poblano soup
Serves 2 hungry persons as main dish for dinner or 4 starters soups.
2 cups roasted pumpkin purée (I do prefer natural and roasting my own, you can use canned, but it is definitely not my favorite option)
4 cups water
1 small sweet yellow onion caramelized
1 tablespoon of butter
1 tablespoon olive oil
1 teaspoon salt
1/2 teaspoon white pepper
1/4 teaspoon freely grated nutmeg
To garnish:
2 poblanos roasted, skin, devein and cut into stripes. 1 cup of corn kernels (about 1-2 ears of corn depending on size)
¼ cup of cream or greek yogurt.
2 corn tortillas thinly cut into strips, baked or fried.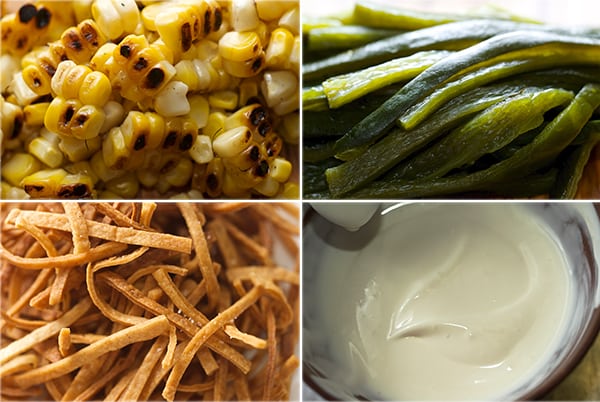 Directions:
Over medium high heat in a soup pot, place the oil the onions and a pinch of salt. Until they are soft and translucent. Lower the heat and let them become brown and caramelized.
Add pumpkin puree, water salt, pepper nutmeg. Let it simmer until bubbly hot. Adjust the liquids for desire consistency. At last add the tablespoon of butter and stir until melted and incorporated.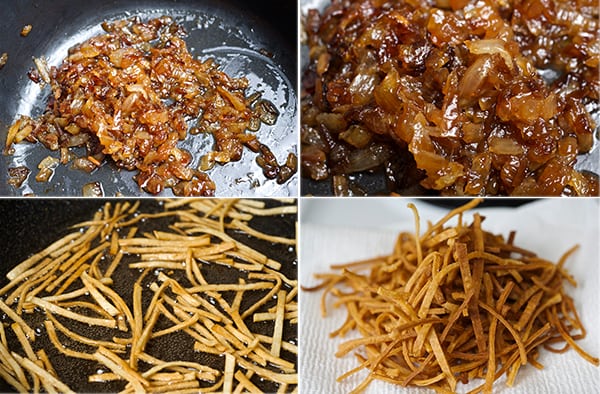 Serve warm in a soup bowl and garnish with the poblanos, charred corn and thinly fried tortilla strips.
You can add a dolop of greek yogurt or swirl of cream.
For vegan:
Use : vegan butter and replace cream swirl with any soy or coconut or almond based cream.