What is this all about ?!…
We are Ian and Mariana McEnroe, together we are ~ Yes, more please!
We created this blog as an outlet to join our art forms. We want to recreate and share with you our cooking experiences, from the colors, textures, visuals, step-by step photos, even the music we listen to when we cook. 
Why?….Because we believe that cooking not only should be fresh and delicious, but  fun, enjoyable and a creative process!
Yes, What you see is what we eat.
Real food drives our love for cooking, using wholesome ingredients, farm to table, local products is what usually follows our crave. We have learned that by knowing the source of our food, the people who care about that tomato that we are about to eat, and what that tomato taste like in the peak of the season, this is what inspire us to cook. Vegetables, fish, whole grains, fruits, a little mooh, oink and a little sweet dessert can't hurt. Balance is the key.
We have learned that by cooking with wholesome fresh ingredients keep us happy, healthy and feeling alive.
By sharing the way we have learned to love and prepare our food, we believe and hope it will inspire you to enjoy the recipes and the cooking process by embracing it and making it your own. Illustrating our recipes with step by step photos, it's key ingredient for us. We want to provide you with the expectation that you can make it happen!
If you are here reading this and getting excited about enjoying a refreshed and creative cooking experience, you will enjoy our recipes… let's cook!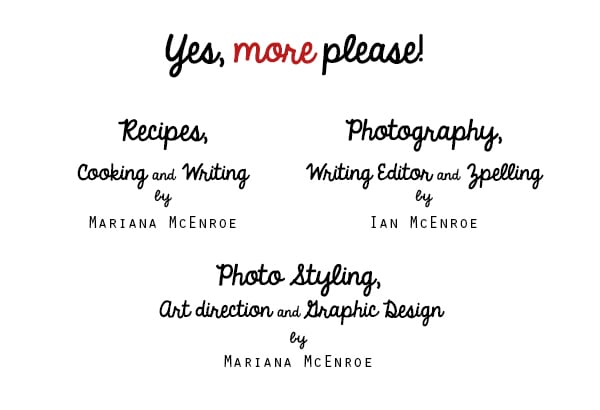 * * *



*    *    *

My husband Ian, for being the one helping with all my madness and for being the fearless food critic!
My Mom for all your support, kitchen gadgets, dishes and the will!
My dear friend Andrea Gomez for her infinite help on the web-programing!!!!
Max, just because he is such a good friend!…
All in all our friends who always are there for us… Thank you!
*   *   *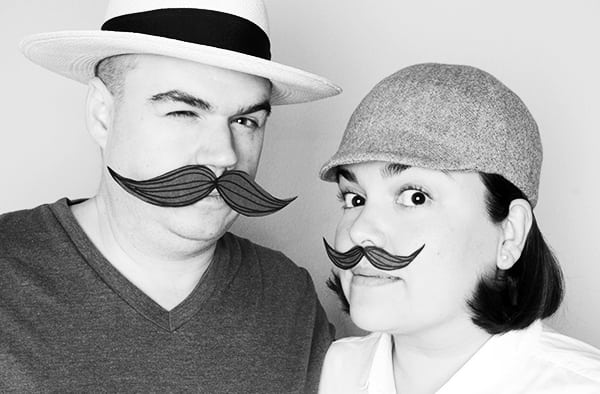 All images and content are copyright of Ian McEnroe and Mariana McEnroe and cannot be used without permission.
If you would like to feature some of our images in your blog or web site, please be kind and contact us first  to ask for our permission and inquire about licensing rates.
For commercial use, publication and general distribution, please inquire about licensing rates at:
 yesmorepleasemail@gmail.com