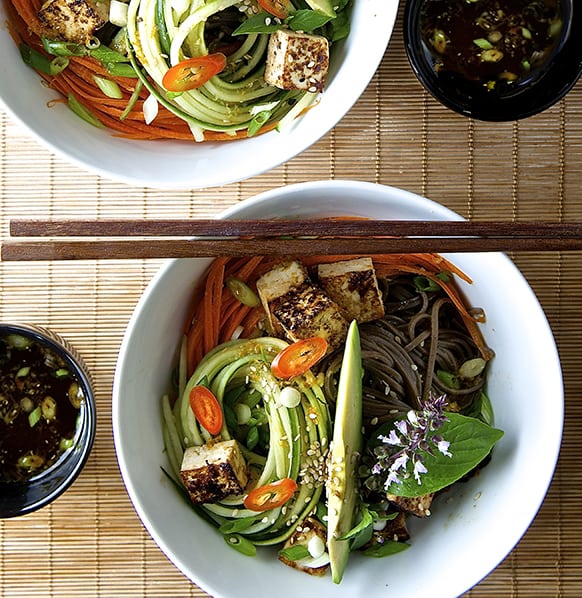 Lusciously light noodles, that's my description for this dish. Cold soba noodles are a popular summer dish in Japan. The Japanese people are very wise by eating like this; light, savory, vegetable based; a good way to stay cool. The traditional way to serve them is without toppings; just the delicate flavor of the noodle with some dipping sauce on the side. You dip them as you go.
In my version I decided to give the dish a little kick and add some fresh vegetables and tofu. We usually have this for lunch or a light summery dinner. The combination of fresh crunchy vegetables, sweet savory sauce and creamy tofu cubes, pairs really well with the tender noodle. The preparation could not be easier, and if we measure preparation time versus rewarding flavors it is a winner.
If you think this dish looks complicated, don't worry, its easy to make. To save you some prep time I recommend you invest on a little kitchen gadget: get yourself a julienne peeler. It is one of my favorite tools. Its fun, easy to use, and easy to clean. You can use this peeler for any other vegetable or fruit. One of the best kitchen gadgets to have. Let's cook!
Summer Soba Noodles
Serves 2-4
3-6 Soba noodle bundles approximately 1.5 bundle per person ( I recommend you to get the Japanese kind. You can get them at any Asian specialty aisle of a supermarket )
2-4 green onions/chives – finely sliced
2 carrots (shredded, julienne or grated)
1 seedless cucumber (julienne or thinly sliced)
½ avocado
1/4-1/2 cup unshelled and cooked edamame beans(optional)
1 block of extra firm Tofu, remove the excess water patting it with paper towels and cut into small cubes.
For the sauce:
3 tablespoons soy sauce.
3 tablespoons seasoned rice vinegar
2 tablespoons sesame oil + one extra tablespoon for finishing.
2 tablespoons of honey or agave nectar.
1 tablespoon brown sugar
1 tablespoon grated fresh ginger
1 garlic clove grated
the juice and the zest of one small orange.
In a bowl Whisk all the ingredients. Reserve 1/3 of the sauce to marinate the tofu squares.
Garnish with:
Thai Basil to garnish
Black or gold sesame seeds
1 Red chili, thinly sliced
Directions:
1.-
Start by making your sauce. Place all its ingredients in a bowl and whisk. Set aside 1/3 of the sauce and marinate the tofu. While the tofu is absorbing all the flavors, proceed to cut and prepare your vegetables and garnishes.
2.-
Bring a large pot of water up to a boil. Unlike regular pasta, you do not need to salt the water. Once the water is boiling place the noodles and monitor constantly, using a pasta spoon to prevent the noodles sticking. Bring the water up to simmering. Do not let it boil. Follow the instructions in the package, taste, it should have some elasticity to it. Usually takes around 4-5 minutes because they cook through quickly . Keep an eye on them to avoid over cooking. When the pasta is ready drain the noodles into a colander. Immediately return them to the pot and fill the pot with cold water. Leave the water running into the pot a bit until the noodles cool down. Gently with your hands rinse the noodles in threads.*( see picture below) until they feel less starchy. Drain them again into a colander and allow them to drain. You can transfer them to a bamboo mat, to remove the excess water.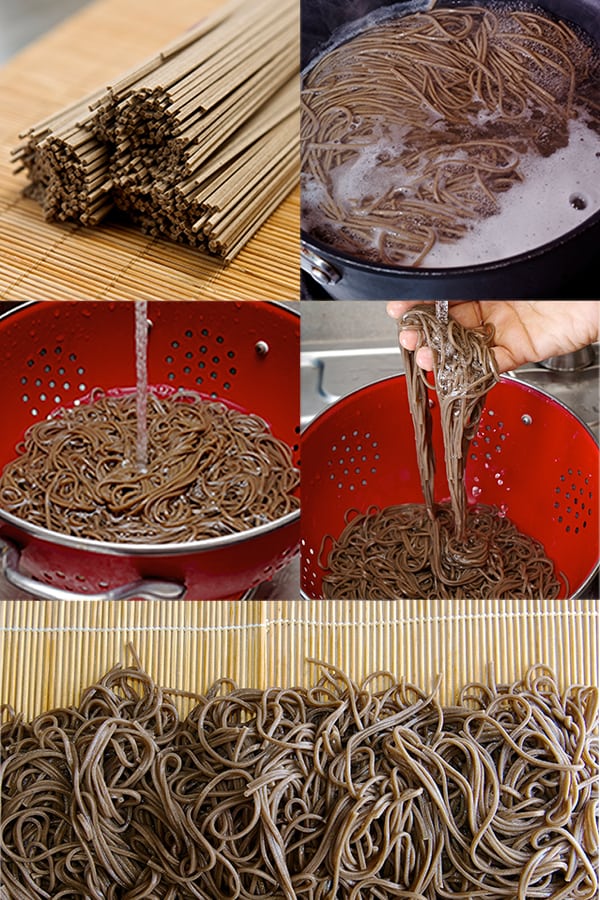 3.-
In a non-stick pan proceed to saute the marinated tofu until golden brown. A little scorching doesn't hurt either.
In a large bowl season the noodles with a tablespoon of sesame oil and add sesame seeds.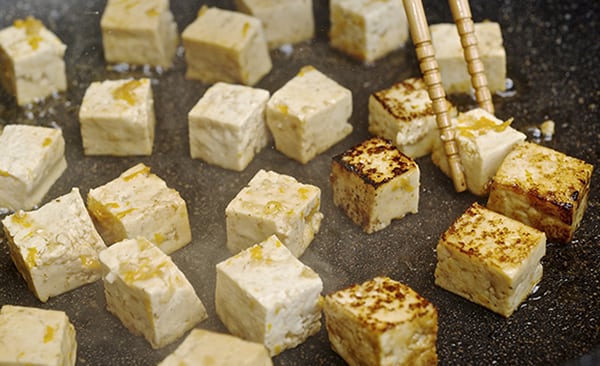 Divide all noodles evenly into 2 or 4 bowls, garnish with the Juliane carrots, cucumbers, avocado, sautéed tofu, edamame, red chilli.
Serve a small sauce bowl per person for extra dipping the noodles. Enjoy!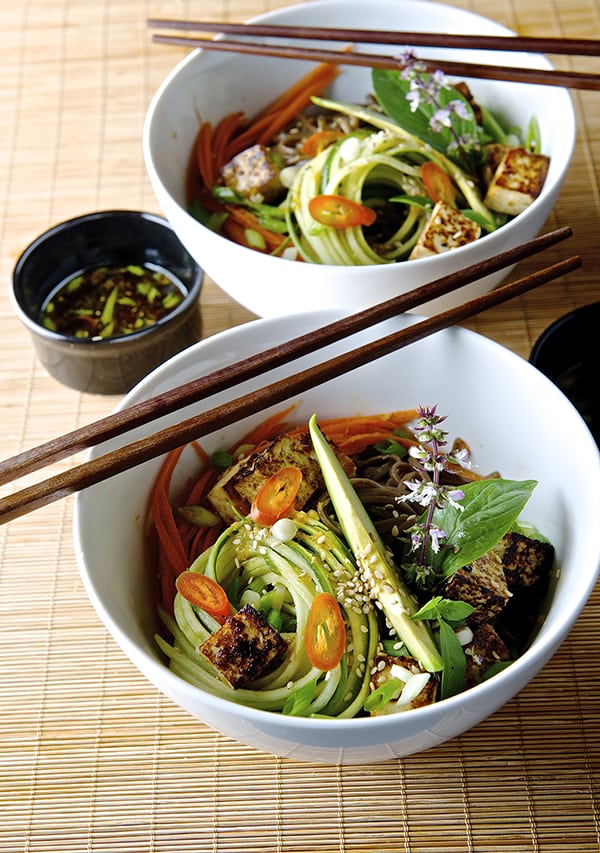 ~Enjoy!~