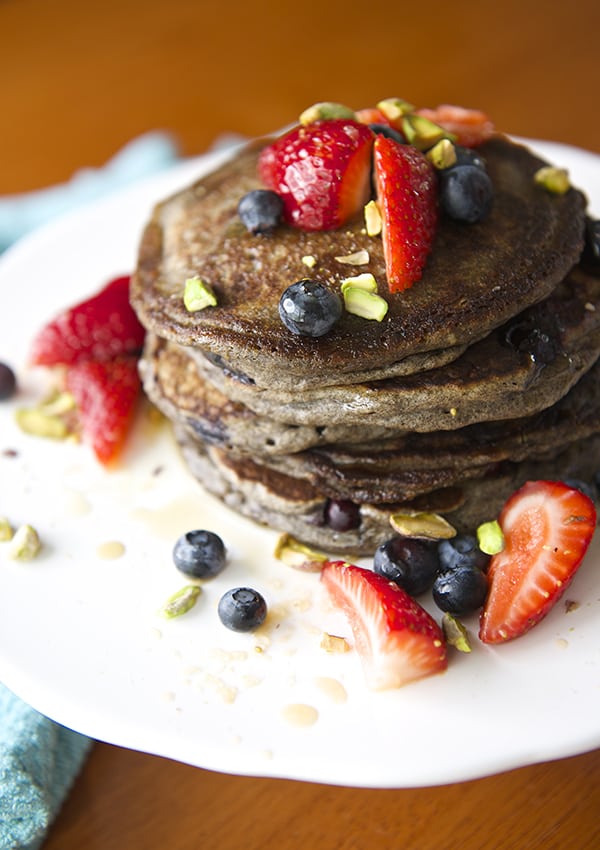 If I have to choose between pancakes and French toast, I will choose French toast, except when it comes to Buckwheat pancakes. Everything changed the day I tried Buckwheat flour. I'm not gluten intolerant, but in the recent years I've noticed how much better I feel when I omit processed white flour. This is huge for me because at one point in time I was really committed to baking as a full time career; I even considered opening a business. Life takes you in mysterious ways, and my body did not like to be in a daily contact with a high content of sugars, white flour, or saturated fats. I always think of the analogy of an alcoholic opening a bar or being a bartender… not the best choice right?…So in my research, changing my habits to better quality foods and whole grains, I stumbled upon buckwheat while I was watching an episode of "No Reservations" with Anthony Bourdain. He was visiting Brittany, France (it is a great episode you should look it up).  It featured the beautiful French peninsula surrounded by the English channel, the Celtic Sea, Atlantic Ocean and the Bay of Biscay; lots of amazing scenery. Buckwheat is a staple of this region, pancakes, galettes, and crepes are made with this type of flour. If I remember well, he was served a galette and my mouth just dropped!. So there I was, trying to find Buckwheat flour and not a lot of stores carry it. I found a brand that I still buy and love: Organic and Whole Grain Bob's Red Mill Organic Buckwheat Flour. For my friends in Mexico it is "Harina de Alforfón or Trigo Negro"( Im sure you can find it in an ecotienda or Mamá Coneja).
Despite the name, buckwheat is not wheat; not a grain but a fruit seed, It is high in Omega-6, protein, fiber, all the B vitamins, Magnasium, Potassium, Rutin and Selenium. It is easy to digest, and GLUTEN FREE!!! So if you have experienced a burst of sleepiness after eating a short stack of regular white flour pancakes, try this recipe. You will feel great and energized after eating them. No bloating, no crawling for the antacid.
Buckwheat flour makes light and fluffy pancakes with a nutty flavor that goes very well with any fruit, maple syrup, or agave nectar.  This recipe is easy. Listed below is the standard recipe followed by the vegan version, with substitutions. I hope you like it as much as I do!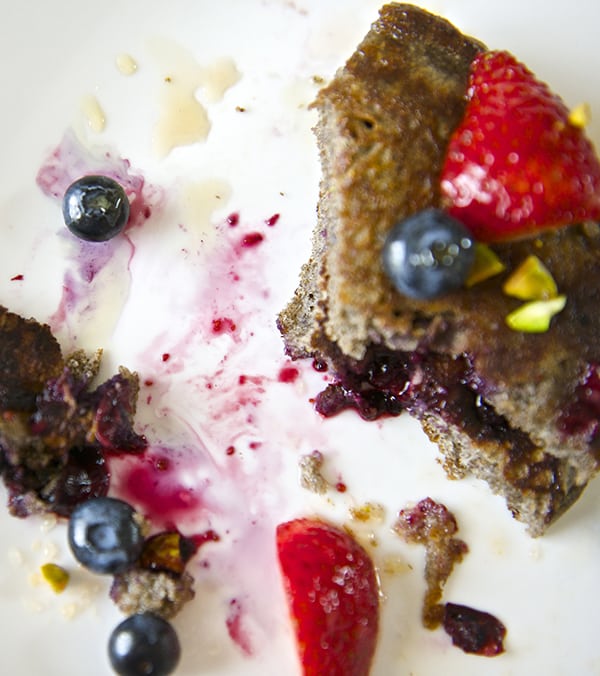 Blueberry-Orange Buckwheat Pancakes
Makes 6-8 4" small pancakes
dry:
1 cup of buckwheat flour
2 teaspoons of Baking powder
2 tablespoons of coconut sugar
1 good pinch of kosher salt
wet:
1 cup of unsweetened coconut cream
1 egg
2 tablespoons of melted coconut oil, melted butter or a mild extra virgin olive oil.
1/2 teaspoon of vanilla extract
The zest of one whole small orange.
The squeezed juice of ½ an orange, save the other half you will need it later!
Little extra butter for the pan. (You can use soy spread if vegan)
For Vegan pancakes: substitute:
1 tablespoon of ground flax seed + 3 tablespoons of water= 1 egg
1 cup of Soy milk or Almond milk will replace the total dairy.
Other variations: Add a pinch of cinnamon and nutmeg instead of the Orange zest.
Method:
1. In a medium size bowl mix all dry ingredients. Next, whisk all wet ingredients. Proceed and mix wet and dry until well combined; small lumps in the batter are ok. THis batter is a bit on the thicker side, If is too tick feel free to add bot of  water, milk or any non-dairy free will work great.
2. In a separate bowl, rinse and dry blueberries. I usually don't mix them into the batter, I prefer to place them individually so I can distribute them evenly.
3. Cut fresh strawberries and macerate with the juice of the other ½ orange.
4. Have your Ice cream scooper ready!. I'm a free shape pancake maker, never perfectly round!… but I find it helps portion and shape by pouring the batter with a ice cream scooper *(see picture below) , especially with this batter since its a bit thicker than regular pancake batter.
5. Over a medium heat non-stick pan, proceed and start cooking the pancakes. Add a little butter to pan, wait until bubbly and melted. Place one scoop of batter wait 10 seconds and start adding the blueberries. It takes approximately 1-2 minutes per side, when you start to see burst bubbles on the edge of the pancake is ready to flip. Continue to cook until golden brown. Proceed with the rest of the batter.
Note: Because of the darker color nature of the flour, you will have to monitor the heat a little more than normal, and do not worry if they look a little more than golden brown.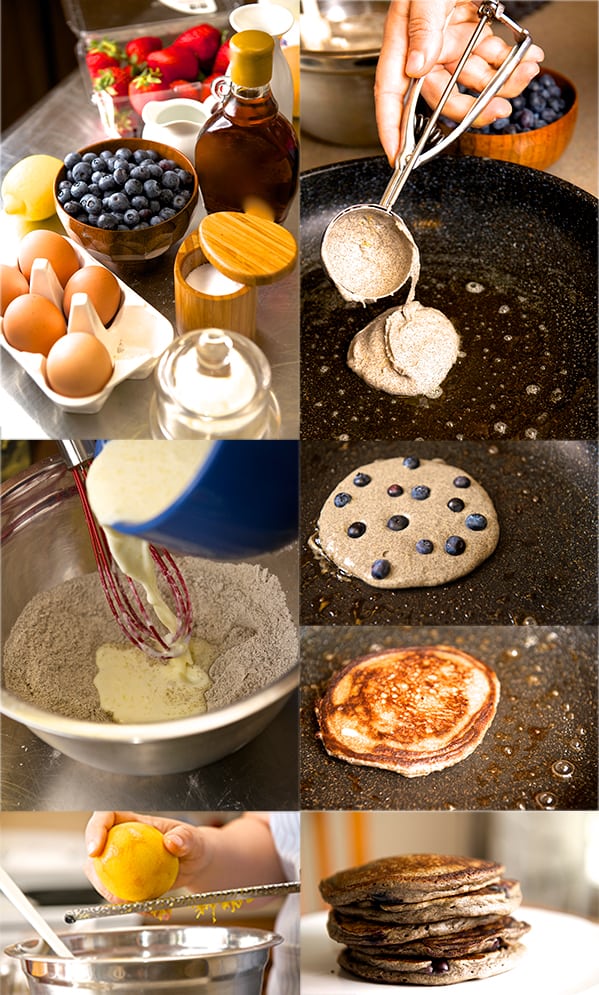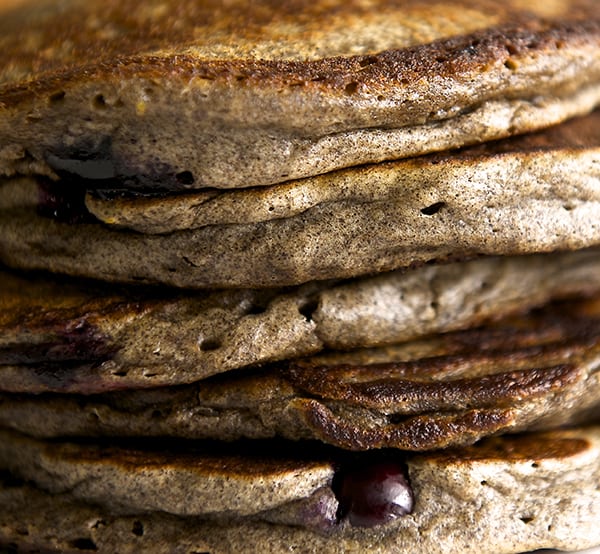 Warm up your Maple syrup and serve with the macerated strawberries, fresh blueberries and pistachios.
I love the contrast in flavor between cooked and fresh blueberries so don't hesitate to double up on them! 
 Can you smell the love?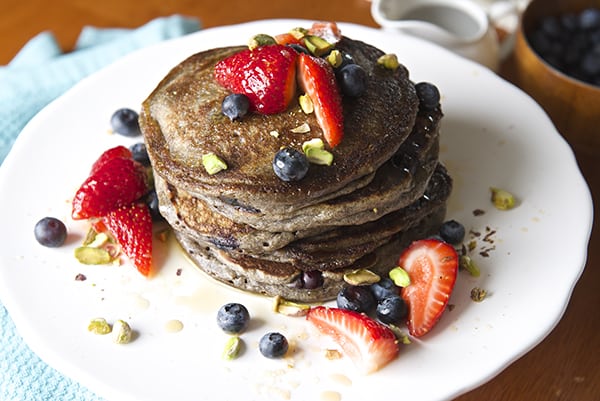 Sorry, but I have to say that I will never miss
the refined white flour… No More!… Enjoy!