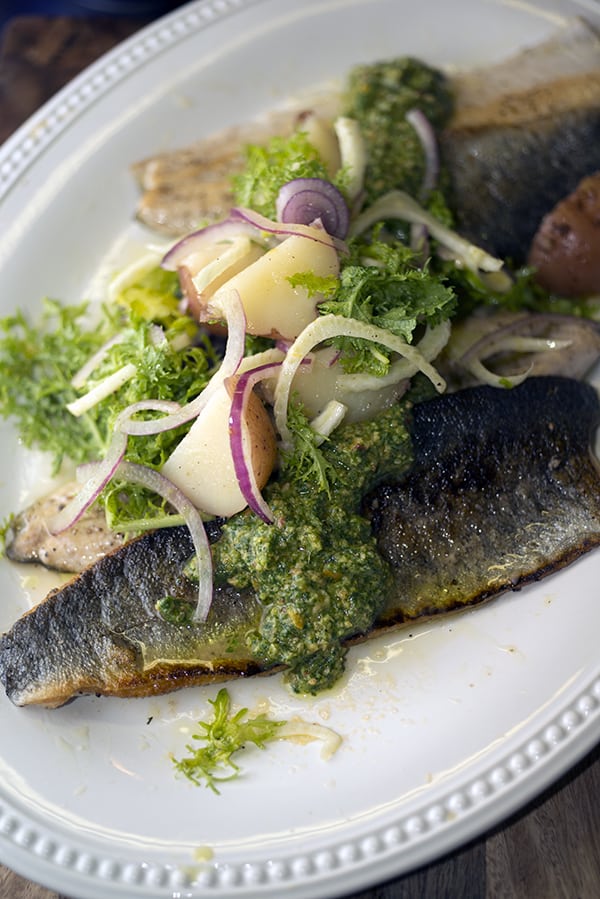 This summer my basil plants have not done really well. I think my mistake was not being able to see that I had 3 plants in the same pot. Oh well! I separated them, but they are a bit annoyed with me at this time. If just they knew I love them. The reason I planted them is because I love pesto and with out basil my next favorite herb for pesto is cilantro.
Cilantro is really hard to grow but easy to find fresh at the store or market so I decided to give it a shot and it seems I came up with a pretty exciting recipe. It is like a cross between pesto and the Argentinean chimichurri; not to creamy not to oily, right in the middle. I'm loving it. I used fresh cilantro, peanuts, and chilies. A hint of lemon zest and Extra Virgin Olive Oil. I skipped the Parmigiano cheese and still  It's creamy and  light  at the same time.
With this premise, I went to the seafood market and run into this gorgeous Rainbow Trout fillets. Done deal! the perfect pairing for my pesto. Rainbow trout is a delicate fish but with enough character to old up the herb and zesty flavors. Trouts belong to the family of Salmon, so it has a firm flesh and good fatty acids, Therefore lots of flavor.
Fish intimidates a lot of people, and oh my God, "Fish skin" forget it!. Well it is time  for you to get out of your comfort zone and just doit.  Get resources, talk to your vendor, fisher man, fish aficionado , how to choose fish, where to get it in your city, how to choose a good  one. For me  there are two clues to go by smell and texture. I do not buy fish that smell like fish and the flesh to the touch needs to be firm. The next intimidating factor  comes from the not knowing how to cook it or which method works better. My friends, if you follow this simple instructions you are on your way to have a feast of kings!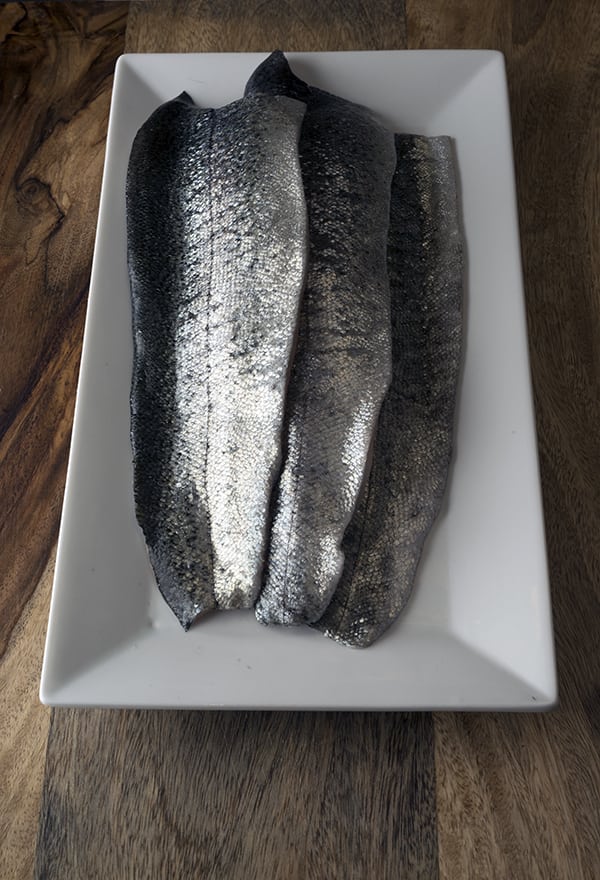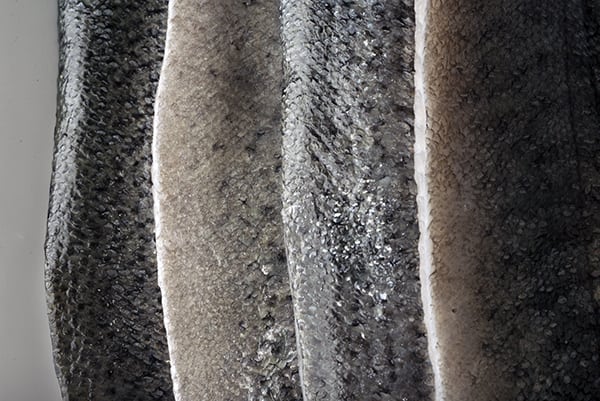 Seared Rainbow Trout + Citrus-fennel-potato salad + Cilantro Pesto
Serves 4
For the Seared Rainbow Trout:
4  Rainbow trout fillets skin on.
Kosher Salt &  Fresh Cracked Pepper
Extra Virgin Olive Oil.
Directions:
There are five rules to leave by when you are searing skin on trout fillets:
1- HOT skillet, I mean sizzling hot; water droplets dance in the skillet at this temperature.
2- Room temperature fish. Pull the fish out of the refrigerator at least 20 minutes before you gonna start cooking.
3- Pad dry the fish before season.
4-Proper seasoning salt & pepper both sides of the fillet.
5- Skin side hits the pan first. One flip. That's it!, yes one flip you read it well. So lets start cooking…
Preparation:
Heat up your non-stick skillet . Place your trout into the very hot skillet remember the fish enters the pan Skin side down. (do not crowd the pan you don't want to lose heat). Now do not Look at it, don't flip it, do not move it around. Don't please!. 1-2 minutes later you will start to see that the edges of the fillet are turning white (like a halo all around the perimeter) ten flip it with all your conviction in the knowing that ONE flip is enough. The skin will be golden brown in areas and crispy edges . Once you flip it is over. Give your fillets 1-2 minutes tops. Remove from heat let it rest a bit 40-60 seconds. Ready to serve!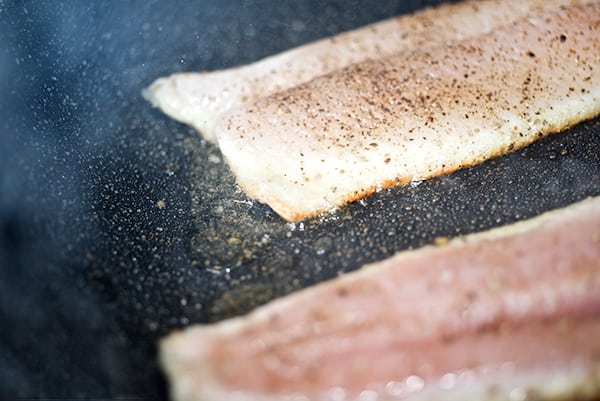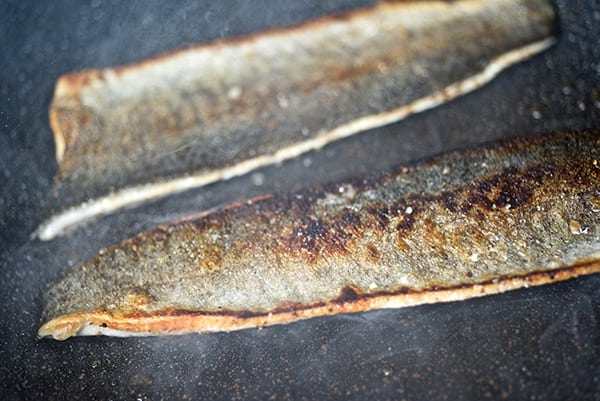 For the Cilantro Pesto: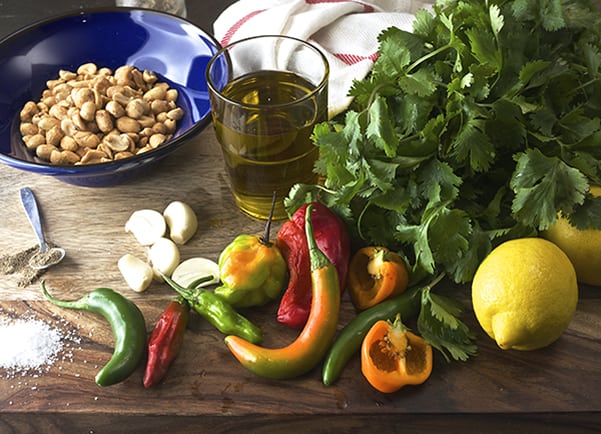 4 cups= 2 bunches aprox. of Cilantro
1/2 cup roasted peanuts
3-4 chilies  2  serrano, 2 red sweet peppers (you can interchange chilies, like habanero, jalapeño, shishito, just add one at a time so you can control the spicy level.)
3-4  garlic cloves
1/2 – 3/4 cup of Extra Virgin Olive Oil.
The juice and zest of 1 lemon.
1 teaspoon of salt
1/2 teaspoon of  black pepper.
Preparation:
Add everything to the blender or food processor, blending and pulsing to desired consistency. You can live it more chunky or smooth is up to you.*
For the Left Over Pesto:
I've being using it in avocado sandwiches, pasta and cucumber salad is a hit!. This recipe makes about 2-1 1/2 cups and stays good for about a week. Keep it on an Air tight container and cover with plastic wrap touching the surface of the pesto. This will prevent air from oxidizing it and turn it dark gray.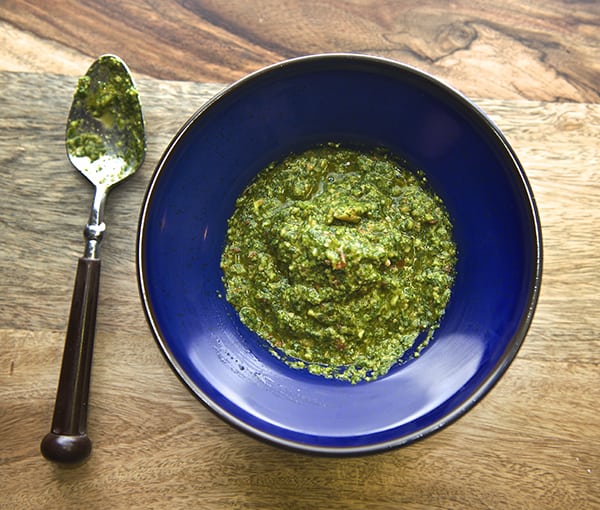 For the Potato Fennel Salad:
4-6 medium-small New red  potatoes cook al dente.
1/2 a large bulb of fennel finely sliced
1/2 small red onion finely sliced.
1-2 handfuls of frisse (or arugula)
The juice of one mediun orange.
A splash of Rice Vinegar
A splash of Extra Virgin Olive Oil.
Salt & Black pepper to taste
Preparation:
Place all ingredients on a bowl. Toss a few minutes before serving.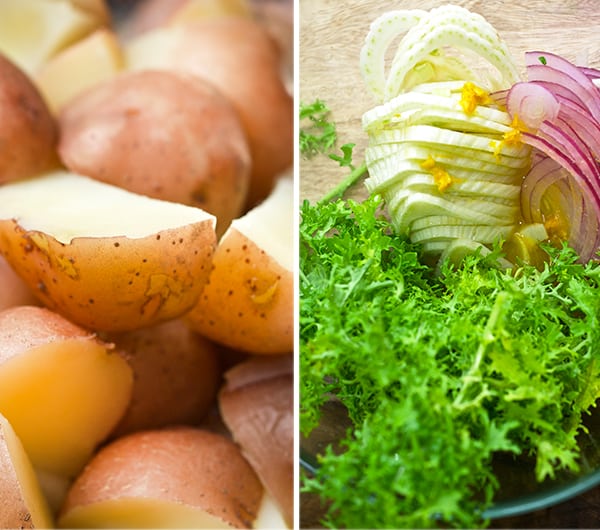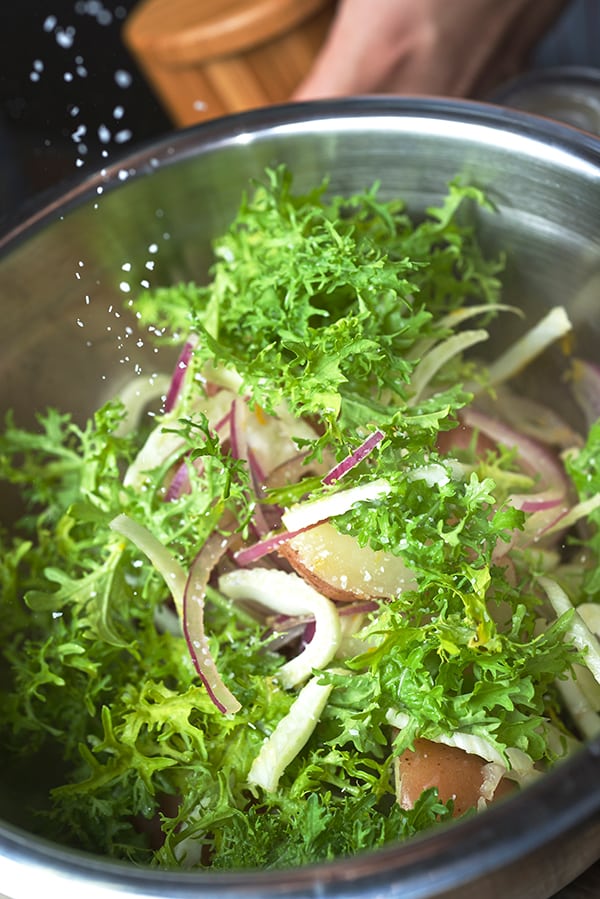 Serve trout skin side up so stays crispy, top it with a generous spoonful of the pesto, roasted chopped peanuts and drizzle some lemon juice to finish it. Family style serving works great, top with the red new potato and fennel salad.  Serve immediately accompanied by a good glass of Vinho Verdhe like Casal Garcia from Portugal, or an Albarino 2009 La Cana, from Galicia Spain. Enjoy!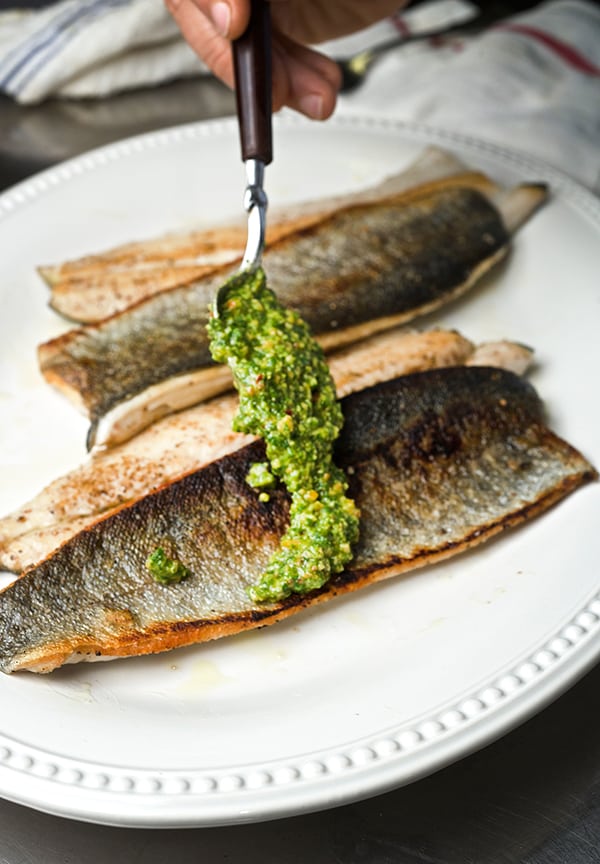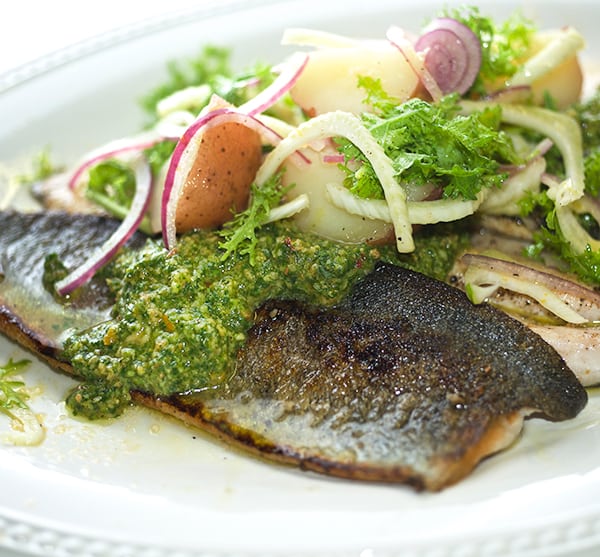 Enjoy!