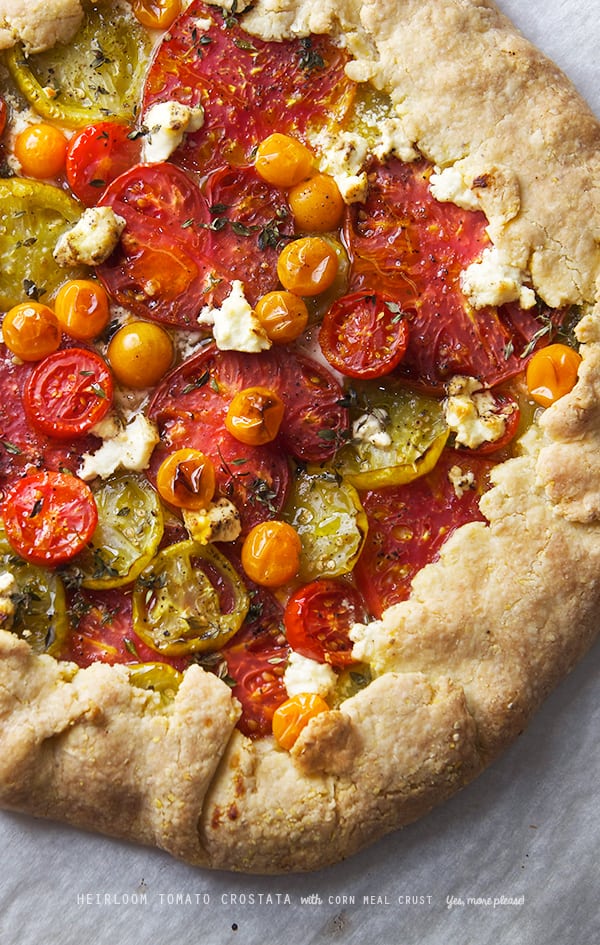 This is one of the recipes I being waiting to make with the gorgeous tomatoes from the market, Heirloom tomato Crostata!…Last time I went to Boggy Creek Farm,( my favorite urban farm here in Austin, TX.)  I bought about 5 different Kinds I could not resist!( honestly If you have 3-2 or even just one kind it will be good too) Looking at all this colors and shapes made me turn my sweet crostata dough into a savory one. I read about this tomato pie with Corn Meal, and honestly I'm not very fond of Pies, I love crostata because of the dough-filling ratio. In a pie usually you have thin crusted and lots of filling versus a crostata in which you have little more crust-less filling (which makes it lighter and balanced to eat. The exposed fruit or vegetables or in this case the tomatoes can get a little roasted and it adds lots of character to it.  I hope you like it. Enjoy!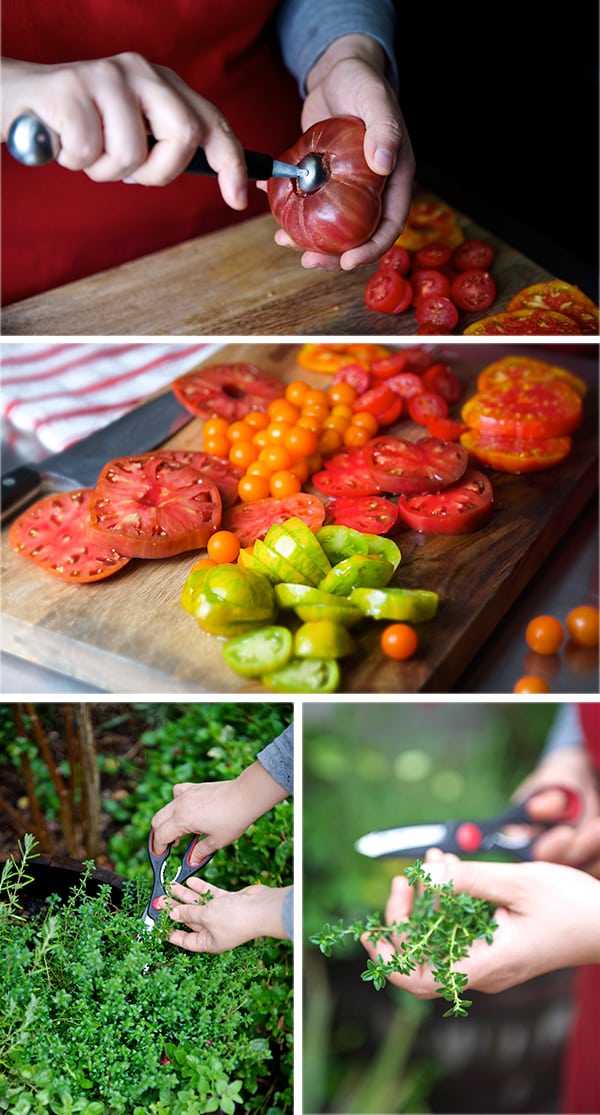 Heirloom Tomato Crostata
Serves 6-8
For the Dough:
2 Cups of Unbleached All-purpose flour
¾ Cup Corn Meal (I used Larry's Corn Meal from Boggy Creek Farm, I highly recommend to look for a good quality Organic no GMO coarse ground corn meal it really makes the difference!)
1 teaspoon of kosher salt
1 teaspoon of sugar
2 sticks (1 cup) unsalted butter, cold and cut into small cubes.
1 tablespoon of Greek yogurt
¼ to ½ cup iced water
How to make the crust:
Measure all your ingredients, and place all the dry ingredients on a bowl and mix. Place bowl in the freezer. Meantime cut your cold butter, and Iced water ready to measure. Remove the bowl of dry ingredients from freezer and add the butter. With a pastry Blender incorporate the butter and flour until the mixture resembles to a coarse meal, and the butter pieces are small like the size of a pea. Slowly add the cold water and carefully with your hands form a dough that just holds together. Do not work the dough.
Once that the dough barely holds together cut a piece of plastic wrap and place your dough. Wrap it and shape it into a disk.
Refrigerate for at least 1 hour, 4-6 is best.(see pictures )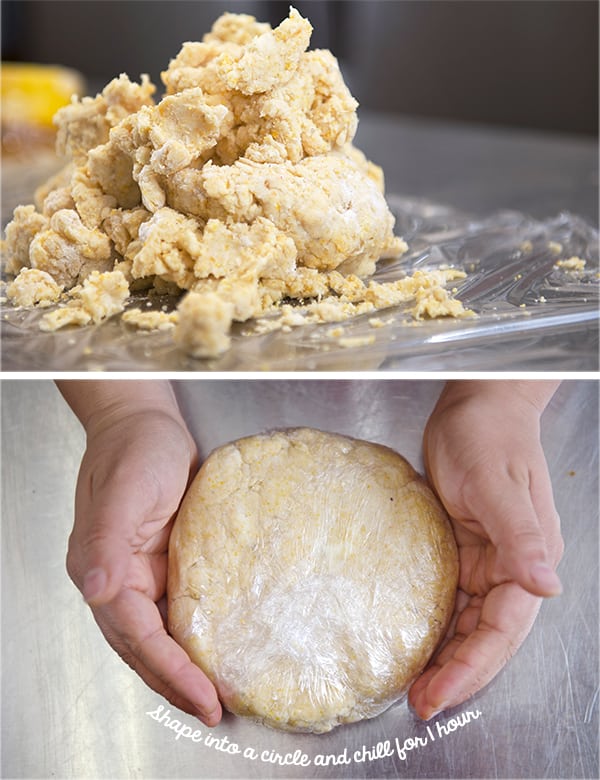 When the dough is ready Preheat Oven at 400.
In clean work surface, dusted with flour unwrap the dough let sit for a couple of minutes and roll the dough into a 20-22" round and about 1/8 " thick. Once is rolled place it into a sheet pan lined with parchment paper.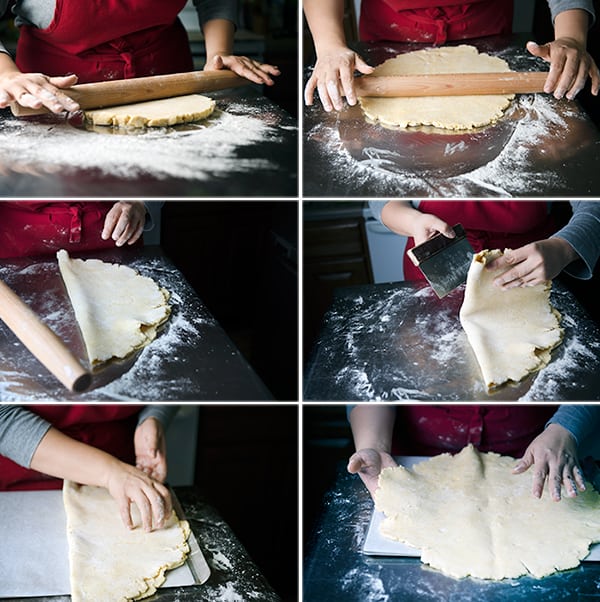 For the Filling:
4 medium size heirloom tomatoes cut into ¼ inch tomato slices, from at least 2 kinds of heirloom tomatoes. I used green zebra, yellow oaxacan, prudence and cherokee. Use what ever is best fresh available at your farmers market.
1/2 cup cherry gold or cherry tomatoes
I used:
1/3 cup of goat cheese.
3 fresh sprigs of thyme.
Sea Salt, freshly ground pepper.
Small drizzle of Extra virgin Olive Oil.
Directions:
Spread ½ of the Goat cheese into the rolled dough, place the tomato slices, thyme, rest of the cheese, salt pepper and drizzle Extra Virgin Olive Oil. Fold the edges in creating a 2" border. You can brush the edges with and egg wash and sprinkle sea salt to add crispness to the edge. Bake at 400 F/ 200C for 35-45 minutes. Serve warm.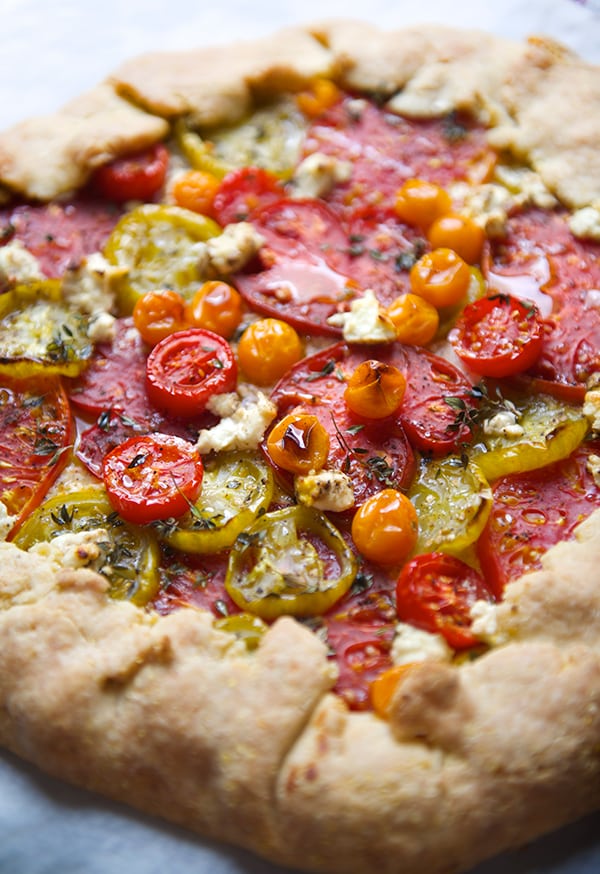 Heirloom Tomatoe Crostata
Music Pairing: Pink Martini- Hang on Little Tomatoe